DIY Holiday Gift Ideas for Teachers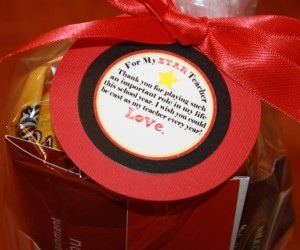 As far back as I can remember, my mother would break out a series of crafting books and allow us to choose an afternoon activity. Pipe cleaners, egg cartons, pom poms and glue littered the table (and floor!). And while our handmade treasures weren't the most pleasing to the eye, my mother always put them on display. In fact, 30-plus years later, she still has them in storage totes in the basement.
With the holidays here, parents are thinking about what to give their children's teachers. Many of us opt for the gift card (it's definitely the easiest way to go!), but these past few years I've chosen to draw on my childhood experiences and give our gifts a more personal touch. If you'd like to give it a try, here is a roundup of ideas to get you started--and they're easy enough that the kids can help out. So break out those glue guns and glitter. And for more kid-friendly activities, be sure to check out our Holiday Guide.
Colorful Name Frame

Materials:
1 frame with an 8x10 matte
1 box of 24 crayons
Hot glue gun
Kitchen knife
Steps:
1. Print out the letter than you wish to use (suggested: 500 font).
2. Tape the paper with the letter to the back of the mat.
3. Arrange crayons in the order you wish to use them.
4. Cut crayons to the length you'll need them and hot glue to the letter as you go.
5. When completed, put the matte in the frame and wrap with cellophane.

CREDIT: Dara Addonizio
Holly Handprint Towels
Materials:
Flour sack towels
Fabric paints
Steps:
1. Use your child's handprints to make green "leaves"
2. Add three red dots above to create a sprig of holly

CREDIT: Jaime Sumersille
Bountiful Basket
Materials:
Plastic or cardboard popcorn holder
Assortment of candies or microwave popcorn (the kids will enjoy picking these out!)
Gift card to the movies
Cellophane
Ribbon
Steps:
1. Arrange items inside the popcorn holder.
2. Put gift card sticking out in front so it doesn't get lost.
3. Wrap in cellophane, then with bow.
4. Optional gift message: "For my STAR teacher. Thank you for playing such an important role in my life this school year."

CREDIT: Laura Carolan/https://www.facebook.com/ElleCOccasions
Gussied Up Gift Cards
Materials:
Reusable plastic cups or coffee to-go tumblers
Gift cards: coffee shops, convenience stores, restaurants, etc.
Crystal Light, gourmet coffee sample packets, herbal teas
Decorative filler, cellophane and ribbon
Optional gift messages: "Thanks a latte!" "You've been tea-riffic this year!"
Steps:
Get creative with the contents of your cup. Arrange items/gift cards that go with one another. Wrap in cellophane, decorate with a bow and include a cute note.

CREDIT: Adrianna Cirillo
Marked Up Memorables
Materials:
Set of Sharpie permanent markers (fine point is easier to work with)
White porcelain mug, plate, pencil holder, etc. (must say oven safe on the bottom!)
Steps:
The possibilities are endless here. You can trace your child's hands upside down (into a heart shape) on a plate and write something clever underneath like "I love learning." Write the teacher's name and an illustration on a utensil holder. Stuff the inside with Sharpies, dry erase markers, stamps or other teacher supplies. On a mug, have your child write "Thank you for helping me grow." Add potting soil and a small plant, such as a spider plant or lemon balm.
Put in oven at 350 degrees for 30 minutes. This sets the marker from washing off in future uses.
Allow to cool, and then attach a note with some baker's twine or hemp twine.
Happy Crafting!