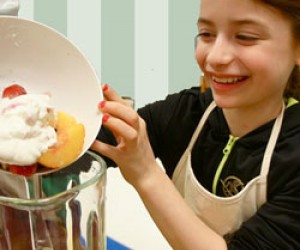 Cooking with Kids: 4 Recipes to Make During School Vacation
My kids are what you might call foodies. They love trying new dishes, and they are enthusiastic about experimenting in the kitchen, too. We've spent many a school vacation learning about different cultures through cooking. (The most memorable? The summer my son and I became self-taught experts on Indian food.) Foodies or not, kids can have fun in the kitchen at just about any age.
Workshops and classes are one place kids can learn about cooking, but there's no time like school vacation for them to test their culinary skills at home - plenty of time to experiment, and clean up, too. To help get you started, teachers from four local cooking programs have provided us with some easy recipes you can try at home (scroll down to find the recipes):
When you try one of these recipes, we'd love to see the results - send us a pic, and we'll post it to our Pinterest Good Food Stuff board. And for more kid-friendly recipes, please see our Food Fun Guide.
---
Breakfast: Multigrain Crepes with Warm Pear and Cinnamon Compote
from Kids Cooking Green
Sounds really fancy, but it's really easy!
Multigrain Crepes
Ingredients
1 cup 365 Brand multigrain pancake mix (found at Whole Foods)
1 egg
1 T. canola oil
1 1/3 c. milk
Canola spray
Directions
Blend all ingredients in blender until smooth. Refrigerate for 20 minutes, so flours can absorb liquids.
Heat crepe pan until HOT. Remove from flame and spray with canola spray. Pour 1/4 cup crepe batter into center of pan. While pouring, tilt pan and swirl, so batter spreads evenly across pan. Wait until the edges of the crepe turn brown, then carefully flip crepe with a spatula or a pair of tongs and brown other side slightly.
Remove from pan and set aside.
Repeat with remaining batter. Stack finished crepes on top of each other until batter is gone.
Top with:
Warm Pear and Cinnamon Compote
Ingredients
4 local pears, ripe but firm 1 t. cinnamon
2 T. brown sugar
1/4 c. water
Directions
Wash, halve and core pears.
Cut into even slices.
Place in a skillet on stove with cinnamon, brown sugar and water.
Cover and simmer for 35 minutes or until tender.
Whipped Cream
Ingredients
Directions
In a chilled metal bowl, whip cream with a hand mixer or a whisk.
Whip until the cream forms soft mountain peaks.
Serves 4
---
Appetizer: Roasted Chickpeas
from Tie Your Apron
An easy, nutritious, and delicious alternative to chips.
Ingredients
1 (15 ounce) can organic chickpeas(also known as garbanzo beans)
1 ½ teaspoons olive oil
½ teaspoon kosher or sea salt
Directions
Heat the oven to 400 degrees F. Rinse the chickpeas in a colander, drain thoroughly and place on a paper towel lined rimmed sheet pan. Blot gently with additional paper towels until completely dry. If the thin skins come off, remove and discard them.
Allow to dry for an additional 10 minutes. Remove the paper towels from the sheet pan.
Whisk olive oil and salt until combined. Pour over the chickpeas and toss with your hands or a spoon or spatula. Roast for 20 minutes, stir, then continue roasting for 10-20 minutes until brown and crisp. Check often to avoid burning. Let cool and enjoy!
These are best when served immediately.
Tip: Experiment with other spices of your choice such as cumin, chili powder, cayenne pepper, garlic powder, curry powder, cinnamon, the choices are endless!
---
Side Dish: Maple Roasted Sweet Potatoes
from Eurostoves Culinary Centre
Loaded with vitamins (A, C and B6 specifically) and fiber, sweet potatoes are a superfood that kids love. In this recipe, they are roasted with a touch of maple syrup and lemon to bring out their sweetness. Little kids can scrub and peel the potatoes and mix the cut potatoes up in a bowl with the olive oil, maple syrup and lemon juice. Bigger kids can work on their knife skills by chopping the potatoes into uniform pieces.
Ingredients
2 pounds red-skinned sweet potatoes
2 tablespoons olive oil
2 tablespoons maple syrup
1 teaspoon fresh lemon juice
1/2 teaspoon salt
Directions
Preheat oven to 350 degrees F.
Peel and cut the sweet potatoes into 1-inch pieces and put in a 9 by 13 baking dish. In a small bowl whisk together olive oil, maple syrup and lemon juice. Pour mixture over potatoes and toss to coat.
Sprinkle with the salt, and bake, stirring occasionally, for about 1 hour, until potatoes are tender.
Taste and add more salt if necessary.
---
A Sweet Treat: Peppermint Mocha Bark
from Panera
Prep time: 15 mins
Cook time: 3 mins (plus 1 hour of cooling time)
Ingredients
12 ounces best-quality bittersweet chocolate (not chips), chopped
¼ cup coarsely ground espresso beans
12 ounces best-quality white chocolate (not chips), chopped
4 peppermint candy canes or ½ cup peppermint sanding sugar
Directions
Line a baking sheet with foil.
Zap the bittersweet chocolate in a medium microwaveable bowl on high until almost melted, 1 to 2 minutes, stirring halfway through the heating time. Stir until completely melted; then mix in the espresso beans. Spread the chocolate mixture on the foil until it's about ⅛ inch thick. Chill until firm, about 30 minutes.
Meanwhile, crush the candy canes in a zip-top bag with a heavy pan or rolling pin until they're reduced to small bits (about ½ cup total); set them aside.
Melt the white chocolate as directed for the bittersweet chocolate. Stir in all but ¼ cup of the crushed candy canes. Spread the white chocolate mixture evenly over the hardened dark chocolate mixture. Scatter the reserved candy bits (or sprinkle the sanding sugar) evenly over the top. Chill until firm, about 30 minutes.
Break or cut the bark into irregular pieces and keep them refrigerated in an airtight container for up to 1 month.
Tip: To use this candy for gifting, package the pieces in small decorative boxes or tins tied with ribbon and keep them in the refrigerator.
---
Many thanks to our experts for sharing their recipes:
Image: Adapted from Kids Cooking Green