6 Unexpected Ways to Play as a Family--Even While Doing Chores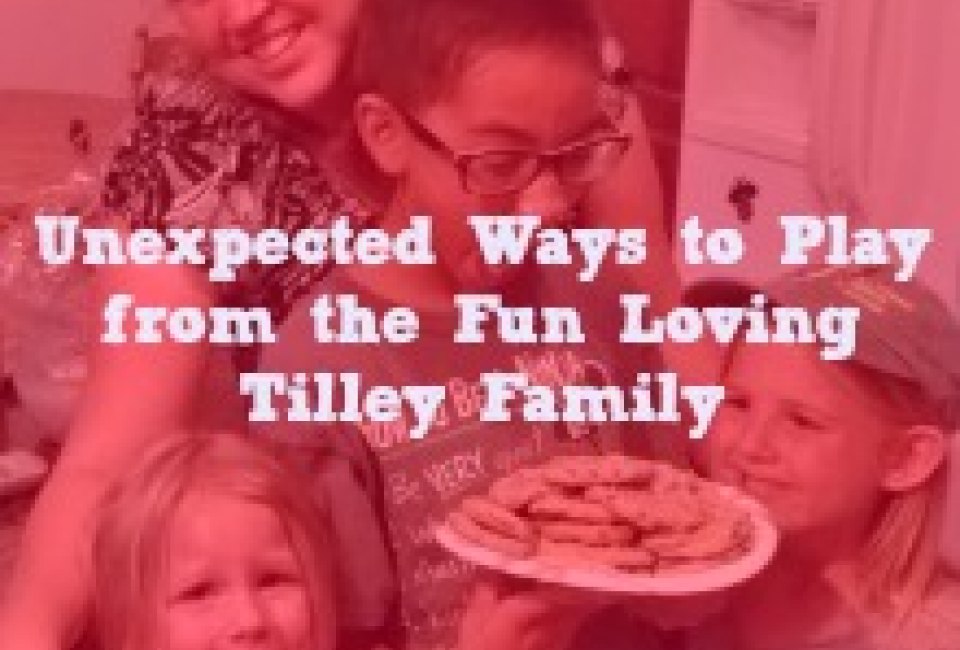 7/28/14
- By
Roberta B
If you were raising your kids in, say, Utah—or any other place that doesn't have a Mommy Poppins daily calendar to point you in fun directions—you'd have to work a lot harder to keep your summer days playful. Our SUMMER OF PLAY partner, KaBOOM!, works with community leaders around the country to create more spaces and ways for kids to enjoy balanced and active play. Mother of three and registered nurse, Cyndalynn Tilley, is one of these community leaders in Woods Cross, Utah, and she's shared some of her favorite ideas for finding opportunities to play while doing ordinary daily activities. Backyard games are great when you have the time and space, but what about when you have to bring kids along to do chores like shopping and laundry? Even then grown-ups can help kids get the play they need to thrive.

What are your secrets for finding play in mundane situations? Share pics of your inventive playtime ideas on social media for a chance to win great prizes in our SUMMER OF PLAY CHALLENGE. Then for even more inspiration, check out our SUMMER OF PLAY photo gallery on Facebook to see what others are posting.
Cyndalynn is a self-professed math nerd, so many of the ideas she suggests highlight fun ways to practice math skills while doing your daily tasks. But her family also sets aside an evening every week for a playful activity with a lesson, and everyone takes turns planning one—even four-year-old daughter Seleena, who once kicked off Barbie time by demonstrating how it takes four dolls working together to lift a book. Here are some of the Tilleys' other favorite ways to play and learn as the day unfolds:
At the grocery store
Waiting in the checkout line sounds boring; how about guessing how much the total bill will be? This is a great way to get kids engaged and interested in learning about the cost of food, the importance of sticking to a budget and getting the best value for your money. As the subtotal increases at the cashier, have your kids guess again to see where they added an extra dollar or missed a buck.
At the laundromat
Doing laundry today? This is another opportunity for playful learning. Kids can help separate whites from colors while making up stories about how each item got dirty. No need for reality here—the taller the tale, the better!
In lines
Kids love amusement parks, but no one loves waiting in line. So Cyndalynn keeps her kids focused on math challenges: Can they count how many people are in line and how many the roller coaster takes every time? How long does a full ride take? How long does that mean the wait will be? With any luck, not much longer than it takes to figure out the math problem!
In the car
The Tilleys like to play an ABC memory game instead of listening to the radio. They go through the alphabet and come up with a word for each letter by turn; the tricky part is that they have to remember them all!: If the first player says A for action, the next must repeat the word before saying B, basketball, and the third would then say A, Action; B, Basketball; C, Cactus, etc.
In the kitchen
When kids are young, they can spend kitchen time practicing reading and recognizing letters on food packaging. Once they're older, they can move on to practicing math by doubling recipes or explaining fractions. Children can also learn to identify various flavors: Close your eyes and taste, is it ginger, cumin or oregano?
At the dinner table
When the Tilleys sit down to dinner, sometimes they discuss the nutritional value of what's on the table and count the calories. As a nurse, Cyndalynn knows how important it is for kids to understand what they eat and why they eat it. Sometimes they count the calories in a whole dish, then in one plateful and finally in just a spoonful.
We want to know how you play. Post your playful pics on Twitter or Instagram with the hashtags #summerofplay and #playmatters or add them to our SUMMER OF PLAY Facebook gallery. Not only will you be entered to win great prizes in our SUMMER OF PLAY CHALLENGE, you'll help inspire other families, too.

Need more play ideas for your family? Check out our SUMMER OF PLAY GUIDE for hundreds of play ideas that don't require much more than a fun attitude.

Sign up for our free
newsletters.
Mommy Poppins is a family activity website that helps people find things to do with kids.
©
2023
MommyPoppins. All Rights Reserved.
mp-prod4-v4.32.99
We use cookies and other data collection technologies to provide the best experience for our customers.
Learn More