10 Reasons to Visit Disneyland California Instead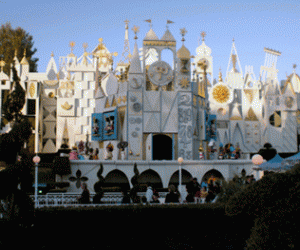 Going to Disney World feels like a can't-miss obligation for New York City parents: like if we don't take our children to the Magic Kingdom before they outgrow the magic it will just be another decade of therapy to pile on to all our other parental misdeeds.
I'm sure Walt Disney World is 100% as magical as it is said to be, but here are 10 reasons why New York parents should consider opting for Disneyland instead:
1) Airfares to California are often as cheap or even cheaper than round trip fares to Orlando.
2) Avoid the crowds. Californians have different vacations than we do, and while every other New Yorker is herding to Orlando, slip off to LA.
3) Orlando has your number. They know when our breaks are and airfares and hotel prices peak for them.
4) It's not in Orlando.
5) To elaborate, there are other things to do besides go to theme parks, like the Getty Museum, the San Diego Zoo...and, I think there's at least one more thing...
6) Disneyland has all the magic stuff, but it's a smaller, more intimate park. Perfect for visiting with little Princesses and Jedis.
7) California Adventure park, adjacent to Disneyland with Hollywood backlot, offers even more rides, and new hotels double the fun.
8) Jedi Training Academy. Awesome fun for boys and girls. (Yes, they have this at Disney World too. Don't bog me down with details.)
9) Now through April 24, book a three-day vacation package starting as low as $68 per person, per day at the nearby Quality Inn. Go to disneyparks.com for more Spring and Summer Disneyland deals and discounts.
10) It's not in Orlando.
Just kidding, Orlando. You're great. Coming up next. 10 reasons why you should go to DisneyWorld. ;)