Bromley Adventure Park: Summer Fun in Southern Vermont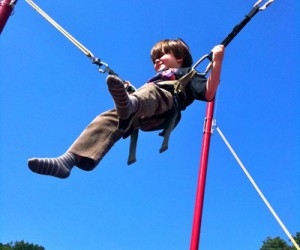 A vacation in southern Vermont can be bucolic and serene, filled with lazy days swimming in a lake, hiking, and visiting farm animals. But, when travelling with kids, sometimes adding a day of raucous fun can be a great addition to your Vermont family vacation. Luckily, there's one spot in the midst of the farms, lakes and woods that provides amusement park style fun with Vermont style adventure.
The Bromley Adventure Park is the only place in Southern Vermont where families will find rides that fling you in the air and swoosh you down the mountain, wet or dry, fast or slow. In addition to a water slide, an alpine slide, bumper boats, a bungee jumper, a climbing wall, a ziprider and other fun attractions, Bromley Mountain Adventure Park has recently added a Aerial Adventure Park where you can take to the trees on a challenge course in the treetops.

That the Bromley Mountain Adventure park is not like a big name theme park is part of it's charm. There may be fewer rides and things to do, but there's plenty to fill an afternoon of fun and the rides seem fitting to your Vermont vacation since they tend to be more athletic and challenging. My small children wouldn't approach the almost 500' water slide, but we loved the thrilling alpine slide, going again and again. I've never seen anything like the funky space bikes where you pedal yourself into orbit in a race against another rider.
There aren't a ton of rides for smaller kids, but they'll love the bumper boats, the bounce house, a big inflatable slide in the dedicated Kid Zone for children under 48" and they also had a blast on the bungee jumper.
Aerial or treetop adventure courses have become one of our favorite vacation activities. If you've never seen one, they combine ziplines, canopy tours and a challenge course. They can be physically challenging and if you are scared of heights, forget it. They're best for tweens, teens and adults. Doing an entire course can take 4 hours, so it's probably a separate trip. The Bromley Aerial Adventure is something we will definitely being doing on our next trip to Vermont.
Tickets for the Mountain Adventure Park are flat fee, so you can stay and play as long as you want without worrying about the cost of each ride. The Aerial Adventure and the Zipflyer are separate tickets or you can get a combo pass. Bromley Mountain Adventures are open on weekends from Memorial Day through Columbus Day and every day between mid-June and Labor Day. See the Bromley Summer Adventure website for current ticket prices and hours.