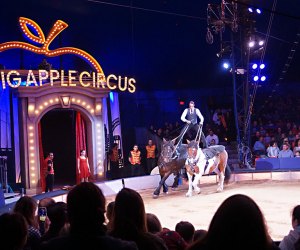 22 Things to Do Thanksgiving Weekend with NYC Kids
Only-In-NYC Experiences
Light Up the Night
Four holiday light shows are set to twinkle this season and three will be ablaze for the long holiday weekend. Take the ferry to Staten Island for the NYC Winter Lantern Festival at Snug Harbor; head to Randall's Island for the Luminocity Festival; or visit the Bronx Zoo for the return of its Holiday Lights show for the first time in more than a decade. Tickets are required for each show, so book now!

Dig into all the slime you've ever wanted plus take a dive into the squishies at the Sloomoo Institute. Photo by Jody Mercier

Dive Into a Slimy Good Time
Roll up your sleeves for a visit to the Sloomoo Institute in Soho for an over-the-top sensory experience. You'll touch and smell vats of slime in different colors, textures, and scents. You can sling-shot a wad at a loved one, see what your brainwaves look like when you're playing with slime, craft a unique-to-you blend to bring home, and film a YouTube worthy video while playing with the ooey-gooey stuff. Timed-entry tickets are required.
See Forever
After you've oohed-and-ahhhed at artist Yayoi Kusama's balloon in the Macy's Thanksgiving Day Parade, why not head to David Zwirner's Chelsea gallery to check out her latest infinity rooms installation? The art is infinitely Instagrammable, but probably best for bigger kids who can take a long wait in line. One very good piece of news: It's FREE.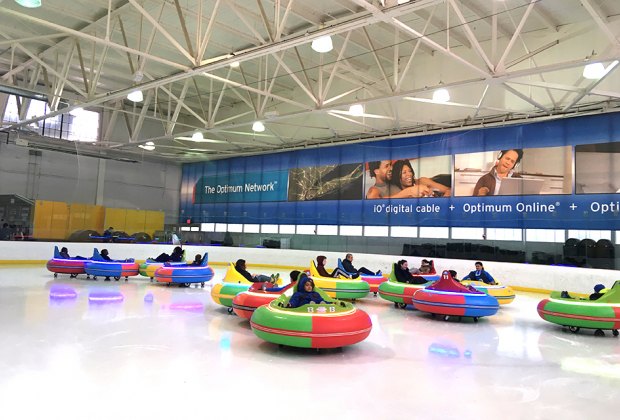 The super slick ice rink bumper cars have a new home at Aviator Sports. Photo by Siobhan Adcock
Slide Around in a Bumper Car
Following a sold-out run in Bryant Park last year, the ice rink bumper cars have found a new home at Aviator Sports in Brooklyn. Plan in advance, and book your 15-minute session early to guarantee your spot! Sessions are held Friday and Saturday nights and Saturday and Sunday afternoons.
Visit Anna and Elsa
Disney and Saks Fifth Avenue are teaming up for a memorable in-store holiday-season activation. The Frozen 2 Enchanted Forest Experience allows visitors to immerse themselves in the film's themes of earth, wind, fire, and water as they traverse the same journey Anna and Elsa take in the new film.
Go to CAMP
We were thrilled to check out the flagship location's newest theme, Toy Lab, when it opened la few weeks ago, and it's got plenty of fun in store. There's even more fun to be had with this ever-expanding chain: CAMP plans to launch at City Point in Brooklyn and Hudson Yards just in time for the holiday weekend.
RELATED: 12 Must-Do Holiday Events for NYC Kids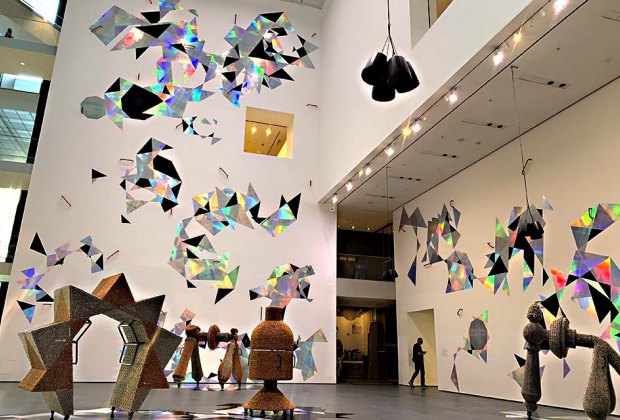 Head to the newly-reopened MoMA and gaze at the beautiful atrium. Photo by Jody Mercier
Visit a Museum​
Check Out the New MoMA
After a summer's worth of renovations, MoMA reopened last month bringing with it more ways to get hands-on with art, plus plenty of family-friendly programming, and loads more space to display its many modern art treasures.
See a New Exhibit in an Old Standby
The American Museum of Natural History's T. rex: The Ultimate Predator is a must-see for dino-lovers, and you can check out the return of the Butterfly Conservatory and origami tree while you're there. Or head to the New York Hall of Science in Queens to see the Lego-centric Art of the Brick exhibit and marvel at the annual Gingerbread Lane display.
Play Tourist
Visit the Statue of Liberty
Whether or not you've got family in town, Lady Liberty is still a worthy outing. While the crowds are focused on Midtown shopping hot spots, head way downtown and hop a ferry to visit Lady Liberty. The lines will be shorter, the crowds lighter, and the views just as stunning. Make sure to visit the newly opened Statue of Liberty Museum and save time for Ellis Island, too.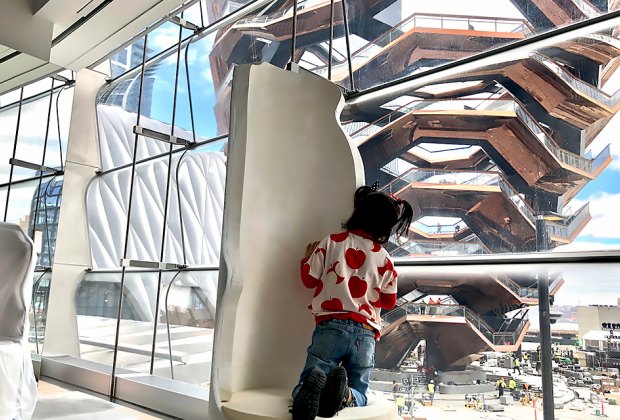 It might look intimidating, but kids love climbing The Vessel. Photo by Janet Bloom
Climb the Vessel
The centerpiece of the Hudson Yards Public Square, The Vessel is made up of 154 flights of interconnecting staircases and 80 landings, offering a unique perspective on the happenings at Hudson Yards and beyond. Its geometric, hive-like shape is certainly Instagram-worthy, and all that climbing is sure to burn off some holiday calories. Timed-entry tickets are required and can be booked two weeks in advance. A limited number of same-day tickets are released each morning at 8am, or you can try your luck at the on-site kiosk.
Book a Tour
Whether you go by boat or double-decker bus, you just might learn something new on a tour of your hometown. My family has done both, and the double-decker bus was easily one of my family's summer highlights.
See the Skyline
When is the last time you took in the view of the city from one of its famous observation decks? The Empire State Building, Top of the Rock, and One World Observatory are all worth a holiday splurge. Maybe you can even snap an only-in-NY holiday card-worthy family photo.
Check out the Mega Mall
While the long-awaited American Dream Mall is still a work in progress, there's plenty to see and do now. Check out the Nickelodeon Universe Theme Park or indoor ice rink (already open) or the Dreamworks Water Park, which is set to open just before the holiday weekend on November 27. Good news if you plan to drive: After announcing steep parking fees at opening, the mega mall now offers FREE parking, aside from NFL game days.
RELATED: Tips for Visiting Macy's Santaland Like a Pro

Visit Santa and wander through Santaland at Macy's. Photo by Jody Mercier
Kick Off the Holiday Season
Holiday Windows Walk
Our annual holiday windows walk is one of our favorite holiday happenings. The best part: It doesn't cost a thing. Start at 59th Street and work your way down to Macy's, where you can visit Santa and get your requests in early.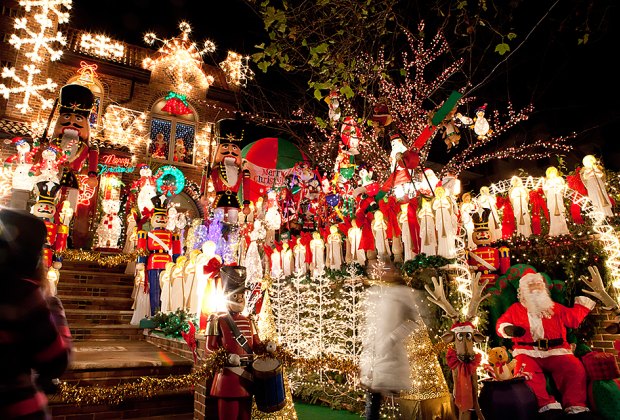 Dyker Heights is a destination spot for the over-the-top decorated houses and Christmas cheer. Photo by Marley White
See the Dyker Lights
There's nothing quite like the spectacle that takes over the neighborhood of Dyker Heights, Brooklyn each holiday season. Block after block is decorated with over-the-top twinkling lights. It's a must-see marvel for city families.
Support a Small Business
Skip the big-box stores and direct some of your holiday spending to your favorite local business. Park Slope marks the Small Business Saturday with a holiday tree lighting and plenty of neighborhood cheer. Other options: Check out the booths at the holiday pop-up shops in Union Square, at Bryant Park's Winter Village, and at Grand Central; many are owned by local artisans.
See the Trains
The beloved train show at the New York Botanical Garden will be up and running, as will the smaller, no-cost display at Grand Central. The New-York Historical Society's train show returns after a one-year hiatus and features characters from Richard Scarry's Busytown interspersed with its antique toy trains.
See a Kid-Friendly Show
Big Apple Circus
Ringmaster Storm Marrero directs the action as the Big Apple Circus' 42nd season plays Damrosch Park. Acro-cats, high-flying acrobats, tight-rope walkers, and one hilarious pigeon entertain the crowd. Best for ages 2+.
The Dangerous Christmas of Red Riding Hood
TADA! Youth Theater presents this show by kids, for kids, with a memorable re-telling of Little Red Riding Hood, told from the Wolf's point of view. Best for ages 3+
Mummenschanz in Re:Play
Mummenschanz makes its New Victory Theater debut with its latest show, Re:Play, a combination of classic routines and fresh material. This is analog creativity as its most inventive, no technology required. Best for ages 6+

RELATED: Where to See The Nutcracker in NYC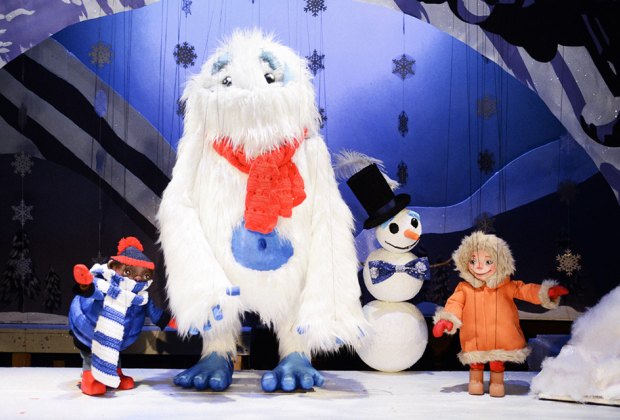 Yeti, Set, Snow! play at the Swedish Cottage Marionette Theatre. Photo courtesy of Justina Wong for City Parks Foundation
Yeti, Set, Snow
The adorable and toddler-friendly Swedish Cottage Marionette Theatre re-releases this show just in time for the holiday season. Follow the adventures of Widget and Twig, who meet a snow-hating yeti named Pascetti. Through friendship and a music-and-game filled adventure, Pascetti learns to love the winter weather. Best for ages 3-9.
Pip's Island
Kids take center stage in this interactive production as they help Pip and his friends save the island from the evil of Joules Volter. Best for ages 5+
This post, originally published in November 2018, has been updated for 2019.