75 Places To Beat the Heat in Los Angeles: Heat Wave Indoor Activities and Cool Outdoor Fun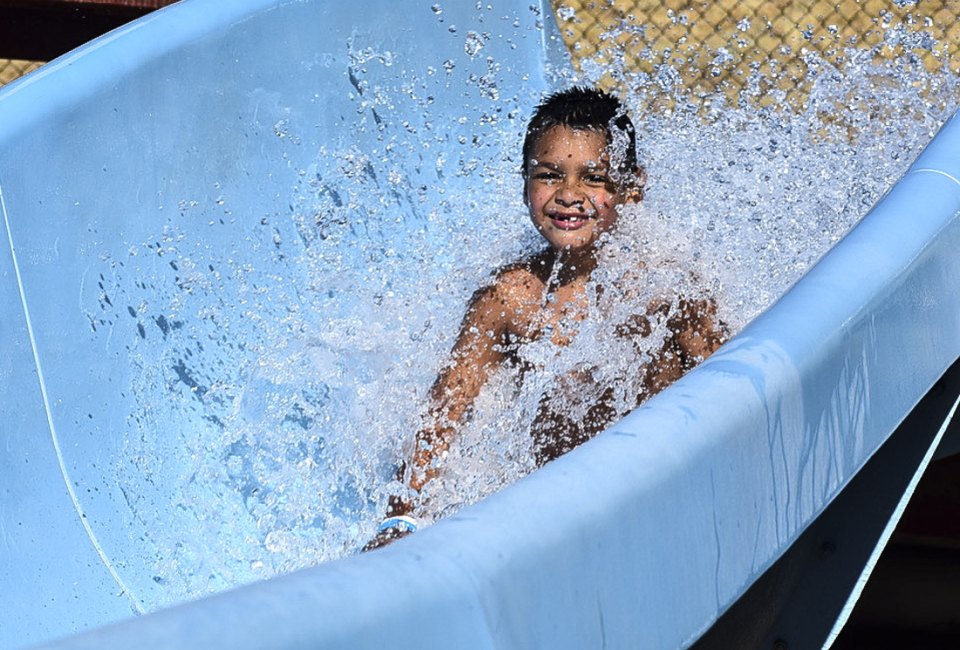 7/24/22
- By
Matt Matasci
Beat the Heat with Indoor Activities: "Cool" Museums
Yes, pretty much all the museums in Los Angeles are air-conditioned, but these are our favorites for when it's too hot to play outside, and keeping kids enthralled and entertained is key.
One of the city's newer museums, The Broad is a great place to see modern art in a cool, climate-controlled space. Even better, admission is free—just be sure to reserve ahead of time and avoid waiting in a long, outdoor stand-by line.
The indoor, underground Page Museum is a cool place to hang out. You'll learn about the creatures that roamed prehistoric Southern California.
There's nothing like a trip to see the dinosaur bones at NHM of LA County. Of course, the museum is so much more than prehistoric artifacts, with a gem room, animal dioramas, interactive exhibitions, and more!
While you're at NHM, why not stop by the California Science Center? Located right next door, admission to the museum is free (though some attractions, like the IMAX, have an admission fee).
RELATED: Swimming Lakes Near Los Angeles You Need to Discover

Get behind the camera and make a movie. Photo courtesy of The Autry Museum of the West
Hop on a horse in air-conditioned splendor. Plus, it's just a cool place to learn about our local history.
Yes, you want to see the rest of the exhibits at the Skirball, too, but the real draw for kids is the Ark. You can play here indoors and keep cool, and if you want to go outside, you can keep it cool in the rainbow mister. Admission to the ark is included with admission (which is free on Thursdays!), but you must reserve timed tickets in advance.
If you have smaller children, SCCM is always a great choice for a laid-back afternoon of play. The open space makes it easy to keep an eye on little ones as they explore the permanent and rotating installations.
You may remember the Zimmer Children's Museum in the Miracle Mile—well a few years ago it moved to a larger space in Santa Monica and rebranded as the Cayton Children's Museum. It's new and modern, and most importantly well air-conditioned! After playing at the museum, head downstairs to the shops and food court at Santa Monica Place for some retail therapy and a snack.
There are two Discovery Cube locations in the LA area, one up in the Valley and another along the I-5 in Orange County. Both museums feature unique, interactive exhibits that keep kids entertained for hours.
RELATED: Free Things To Do with Kids in Los Angeles this Summer

Something both parents and kids can enjoy! Photo courtesy of The Grammy Museum
Music-lovers will adore the Grammy Museum at LA Live. There are exhibits that will entertain children of all ages, no matter what style of music they like to rock out to!
Not technically a museum, the Central Library in Downtown LA is a bit more like a living relic. The historic building has a huge children's section on the second level and guided tours for older kids.
Also not technically a museum, but the Aquarium of the Pacific is a great place to beat the summer heat and scope out some incredible marine life. There's also an outdoor area with a splash pad to cool off.
RELATED: The Los Angeles Guide To Indoor Fun and Play Spaces

Kids play while you sip an iced latte. That's a good day. Photo courtesy of My Little Paris
Beat the Heat with Indoor Activities: Indoor Play Spaces for Wee Ones
Los Angeles has loads of great indoor play spaces all over the city, but these are our favorites, which are worth the drive and so compelling that once there, kids will happily play all day.
This play space allows parents to enjoy legitimately authentic French-inspired dishes while the kiddos frolic in the adjacent play area.
It's a bit of a drive from Los Angeles, but Pretend City is well worth the travel time. There are multiple themed rooms where kids can dress up and play pretend.
Soothing. That's the first word that comes to mind for parents who love the minimalism and chill vibe at Wild Child. For kids, the word of the day is fun. This unique place, which offers free play and classes, is a wonderful space for kids and parents alike, which is rare for these often hectic and plastic-filled play spaces.
RELATED: 25 Beat-the-Heat Crafts for Hot Summer Days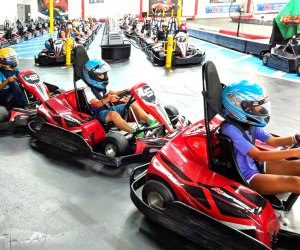 Keep it cool indoors while racing. Photo courtesy of K1 Indoor Track
Beat the Heat with Indoor Activities: Big Kid Indoor Play
Big kids like to play indoors, too! But when they age out of play spaces, what's a parent to do? Head to one of these cool spots for teens and tweens.
16. K1 Indoor Track — Burbank, Torrance, Irvine, and More Locations
This indoor track means no sunburns as you burn up the track.
Escape Rooms are a great way to get a whole gaggle of kids together, indoors, away from video games, and using a little brain power. Find the perfect one from our list for the ages and interests of your crew.
VR spots have been popping up all over LA, and while there are certainly great options for even little kids, it's the big kids who can spend hours and hours in virtual worlds, making this a hot weather escape that can last all day. Check out our list of the best VR spots in the city to find one for your teen or tween.
When you want to actually bounce off the walls, but not in your own home, these are the places to play. Kids can burn off all that energy in air-conditioned comfort, and then sleep really well at night!
20. Jump 'n Jammin — Arcadia and West Covina
With multi-level play structures, giant slides, obstacle courses, ball shooters, an exploding foam ball volcano, rock climbing, and so much more, kids can keep busy here all day. While it's ideal for kids up to age 12, you can bring older siblings (up to 17 years old), and you'll love watching your big kids act young again.
If arcades were your passion growing up, Button Mash will make your heart sing. The Echo Park arcade/restaurant offers a large collection of classic arcade games and pinball machines that will reawaken your inner child (Pac-Man and Mario Bros, anyone?). Closed during the pandemic, the restaurant is now back with additions like skeeball and air hockey and is serving 1986 Tacos, too!
Today's tech-savvy kids still love playing the classics like Pac-Man, Donkey Kong, Frogger, and pinball. Time travel and experience the arcade of yesteryear at Neon Retro Arcade, where you can maybe even beat your kids at video games for once!
RELATED: 50 Easy Summer Dessert & Snack Recipes Kids Will Love

Who needs a chair that reclines, when you can watch a movie from an actual boat? Photo courtesy of Boat Cinema
Cool Movie Theaters to Chill In
Sure, any movie theater is a respite from the heat in the summer, but these offer something extra special for families.
Outdoor movies are awesome in the evening, but movies with a lovely lake breeze are even cooler.
You had me at $2 movies.
The Alamo Drafthouse has been making waves around the country for years and now it's here in LA! The theater made its name for serving food and drinks right at the seat—just don't be late because they won't seat you after the movie starts.
This Mexican movie theater chain is new to the area, though it's well established in its home country. This chain is known for its "Junior" theaters, which actually have a play area in front of the seating area!
The New Beverly Cinema got quite the upgrade when it was purchased and renovated by Quintin Tarantino. Weekend "Kiddee" screenings are of old-school, family-friendly films. Be sure to hit the snack bar for frozen Junior Mints, where prices are locked in at retro levels.
The El Capitan is much more than your usual movie-going experience. It's owned by Disney, so it's almost like you step off of the Walk of Fame into a tiny slice of Disneyland.
Spend "Spare" Time at the Bowling Alley
Founded by actor Joe Kirkwood, the Pinz Bowling Center has a unique mid-century style that is perfect for a bowling alley. Blacklight bowling times are extra fun for kids!
Shatto 39 Lanes in Koreatown is one of the few remaining classic alleys in Los Angeles, and the prices remain low, which makes it a perfect family spot.
31. Bowlero — Multiple locations
Bowlero is a large chain with locations all across Southern California. In addition to bowling, there's an arcade to keep kids busy. The chain offers summer promotions, making it even more enticing to beat the heat at the alley.
32. Lucky Strike — Hollywood, DTLA, and Orange
Lucky Strike has three locations in Southern California: one on Hollywood Blvd., another at LA Live in DTLA, and a third in Orange. The arcade offers additional activities beyond bowling and the full bar is certainly a draw for the parents! Prices are higher here than at other lanes, but it's also a more upscale experience.
33. XLanes LA — Little Tokyo
Little Tokyo's XLanes LA is over 50,000 square feet—plenty of room to relax and knock down pins. Also, the mall it's located in has fabulous food and a Daiso on the ground floor for back-to-school shopping.
RELATED: 27 Eater Games for Kids To Play All Summer Long

Photo courtesy of the Moonlight Rollerway Skating Center
Roller Rinks: Skating and Ice to Beat the Heat
Orange County's Fountain Valley Skating Center has public roller skating sessions throughout the week.
In addition to public roller skating sessions, the Holiday Skate Center has fun programming like Flash Back Skate Night and Kids' Skate Sessions for those under 11.
If Orange County is too far to drive for skating, then check out the Moonlight Rollerway Skating Center in Glendale. There are skating sessions throughout the week and for advanced skaters, the LA Roller Girls host a workshop a few times during the year.
One of several ice skating centers sponsored by the LA Kings, the Toyota Sports Performance Center is a sprawling complex. There are daily free skate sessions available.
Pasadena's Ice Skating Center is another great place to catch a free skate. If you have a summer birthday, you can rent the facility for a one-of-a-kind curling birthday!
Pickwick Ice is another rink affiliated with the LA Kings. There are daily public skating sessions as well as classes and youth hockey leagues.
RELATED: 15 Seashell Crafts for Kids: Easy Summer Craft Ideas

Choose from the pool, the splash pad, or the beach. Photo courtesy of the Annenberg Beach House
Beat the Heat with Outdoor Activities Like Cool Pools
Public pools dot our city, and there's probably one right near your home. However, for a special treat, these favorites are worth the drive.
This destination along the PCH in Santa Monica is a must-visit for those hot summer months. It's open to everyone; there's no membership required. There's a vintage pool plus a splash pad, playground, and indoor rec center.
41. Begg Pool — Manhattan Beach
This pool is a nice, back-to-basics pool that's perfect for cooling off. There's a grassy area nearby that's perfect for a picnic. It's also near the beach, so you can spend the day in two kinds of water!
This pool is built right into the beach! The water, which comes right from the ocean is also chlorinated, so it's not the same as swimming in the ocean. With lifeguards on duty and a large sandy area for sunbathing, it's like the beach, but even better.
This pool is unique in that it has an outdoor patio and an indoor pool. There's also a 65-foot water slide that will have kids begging for return trips out to Ventura County.
This pool is gargantuan! According to the city, it can fit 2,800 people. It has dual water slides, a zero-entry shore, and a sandy beach that surrounds the water.
This aquatics center has two recreational swimming pools, with an activity pool that has a water slide, spray fountain, and additional water play features.
There's a competition pool and an activity pool, in addition to a water play structure and a wading pool. The whole location is surrounded by a park, perfect for a snack in the shade after swimming.
This pool is located in the natural beauty of Rustic Canyon Park. While it doesn't have the bells and whistles of other pools, it's one of the few that feels miles away from the city.
Hemingway Aquatic Center is located within a park of the same name. It has three pools: an activity pool with six swimming lanes, a smaller pool, and the exit pool with two twisting water slides.
RELATED: Best Family Resorts with Water Parks

There's something extra fun about splashing in the center of the city. Photo courtesy of Grand Park, Facebook
Beat the Heat with Favorite Splash Pads
Don't feel like watching kids in the pool? Let them run wild at one of our favorite splash pads. These are la creme de la creme in the whole city.
Families flock to Grand Park's large fountain on the northeast end of the park (by Grand Avenue). The bubbling fountains and water are best for little kids, but big kids will also enjoy the opportunity to cool off. Parents can pop into Starbucks and cool off with an iced drink without getting wet.
Downtown Santa Monica's newish park is also one of its most popular. The play area has a small splash pad and a man-made stream that kids love. Plus, you can walk to both the beach and 3rd Street Promenade from this park.
This park is super shaded and includes a man-made creek for kids to splash around in. (Plus, celebrity sightings!)
This park is absolutely massive, spanning both sides of Magnolia Blvd. right next to the NoHo Arts District. After cooling off at the park, head east on Magnolia past Lankershim for some great restaurant options.
La Pintoresca Park was recently renovated with changes to its splash pad and shaded playground.
The big draw of this park's splash pad is that it's shaded! The splash pad is surrounded by play structures so kids can go back and forth between the two areas with ease.
This park is pretty awesome, with a large splash pad, a full aquatics center, shaded picnic tables, playgrounds, and a pond with an island that's ripe for exploration.
The Pico neighborhood is home to Virginia Avenue Park, which includes a splash patio that's great for cooling off.

The shady Ferndell path wanders along to a stream before ending at a playground. Photo courtesy of @lacityparks
Play in the Shade at these Top Shaded Playgrounds
On the plus side, LA is almost always sunny. On the minus side, that means our playground equipment gets h-o-t. But not at these favorite shaded playgrounds.
We absolutely love hiking up and down the winding Ferndell path that follows a water trail. After the hike, kids will demand to play on the state-of-the-art playground at the top of the path and get treats at Trails Cafe.
We already mentioned this park for its awesome pool, but the park itself is a great place to play in the shade! It's up in the foothills of the Santa Monica Mountains so it has plenty of tree cover over the grassy areas and the playground.
The play structure is partially shaded, but the real shade is created by a series of massive ficus trees.
Catch a show at the Bob Baker Marionette Theater across York Ave., grab an iced coffee from Café de Leche, and watch your kids frolic in this small, gated, shaded, wildlife-themed park.
South Pasadena's best park attracts families from all over the San Gabriel Valley. The playground is located at the bottom of a small valley and has plenty of trees to provide shade when the temperature rises.

Sail shades keep both equipment and kids cool at Polliwog Park. Photo courtesy of Manhattan Beach Parks and Recreation
One of the best parks in the LA area, Polliwog Park has tons of places kids can play and explore. The playground area is partially covered by canopies and the adjacent areas are well-shaded by trees.
At Hermosa Beach's South Park, large canopies stretch over much of the playground area. While not shaded, the large slides are a major draw for kids, and there's a butterfly garden just outside of the park along the bike path in Ardmore Park.
Beverly Hills' urban park has plenty of shade to protect your kids from the sun in the summer.
Our Favorite Huge Water Parks
These giant water parks make for a fabulous summer treat.
When the weather is too hot to enjoy the coasters at Six Flags Magic Mountain, head to Hurricane Harbor. While the park may be known for its extreme water slides, there are attractions for the littles too: Castaway Cove and Splash Island both offer fun for the youngest of kids.
Like Hurricane Harbor, Soak City is located right next to a traditional theme park—in this case, Knott's Berry Farm. There are plenty of attractions for everybody, from adrenaline junkies to scaredy-cats.
Raging Waters is one of the original water parks in the Southern California area. There are attractions for kids of all ages, from moderate-intensity rides for kids and families to rides with big drops for the thrill-seekers in your family.
Ok, this one is far, but you not only get to ride the amazing double water slide (or you know, kids can slide while parents relax on the shaded, deck at the base of the slide), but also cool down with the wind in your hair at the Alpine Slide, which allows everyone in the family the chance to sled down a quarter-mile long cement track. And the last way to cool down is a zip on the Soaring Eagle ride, which gives the sensation of flying while getting a bird's eye view of Big Bear Lake— and getting those gorgeous lake breezes and mountain air. This is worth it as a long day trip or a weekend getaway.

This might be the best water park in town! Photo courtesy of Buccaneer Cove
Our Favorite Local Smaller Water Parks
While, these water parks are more manageable with kids, and less expensive, too!
Buccaneer Cove is part of Castle Park in Riverside. This water park boasts four levels of family water play, five water slides, spray cannons and spray fountains. If you're feeling a little exclusive, you can rent a cabana at the park for an extra fee.
There are few places in the LA area that need a place to cool off more than the High Desert. Palmdale's DryTown Water Park is the perfect solution to a heat wave, and you can purchase day passes for between $20-$25 per person or a season pass for $80 ($70 if you're a resident of Palmdale). Attractions include the exhilarating Devil's Punch Bowl, Rattler's Revenge, and Dusty's Mineshaft Racer water slides along with more laid-back features like the Little Miner's Camp and Big Rock River.
While the temperatures in Perris aren't quite as elevated as in the High Desert, it can get pretty scorching! The DropZone Waterpark has attractions like the Hydroplane FlowRider, Jet Stream River, Terminal Velocity Slides, Mat Racer Slides, Launch Pad Geysers, and Lil' Jumpers Landing. There are also volleyball courts and swimming pools.
La Mirada's Buccaneer Bay is more than a municipal pool or splash pad, but not quite on the level of the major water parks. On the flipside, admission is much less expensive at $25 for anyone over 48" and $20 for anyone under that height. The park has a lazy river, three water slides, a play structure, a zero-entry pool, and two splash pads.
And of Course, There's the Beach
We live in LA, the home of the best beaches in the country (well, maybe Hawaii has a better claim to that title, but we'll take the continental US!). Whether you want to swim, surf, boogie board, watch for dolphins, or just walk and cool down in those ocean breezes, we've got the best beach for you and your family.
With easy access to bathrooms, nearby playgrounds, easy parking, and other important factors for families, these are the best beaches for a family day by the shore.
However ... if you don't mind working for something (parking, potties, proximity), these hidden gems are gorgeous and less crowded!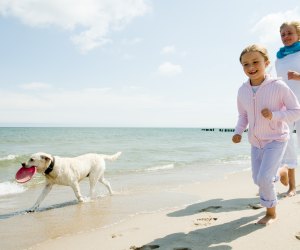 You really want to be able to bring the whole family to the beach!
Sometimes you don't want to have to plan ahead to put the pup in doggie daycare for a family day at the beach. These beaches welcome your fur babies as well as your human babies.