55 FREE Things Kids Can Do in LA this Summer
Summer's great, isn't it? So much time, so much to do. All the things that can't be squeezed into the cursedly short time between school, homework, and dinner can be enjoyed at leisure, without stress of school night bedtimes. Summer means not a care in the world—except how to pay for all this frivolity, right? 'Cause we sure aren't getting a whole lot of work done! The answer? Summer freebies. Become an expert on how long your kids can get in free to Southland activities. Hit all the free museum days. And then start working your way down this list of totally free things to do with LA kids over the summer!
3. Attend a free summer concert.
4. Attend a free summer movie.
5. Cool off at a park splash pad.
6. Hit one of these kid-friendly beaches.
7. Sled the giant sand hill at Point Mugu​.
8. Go on a bike ride.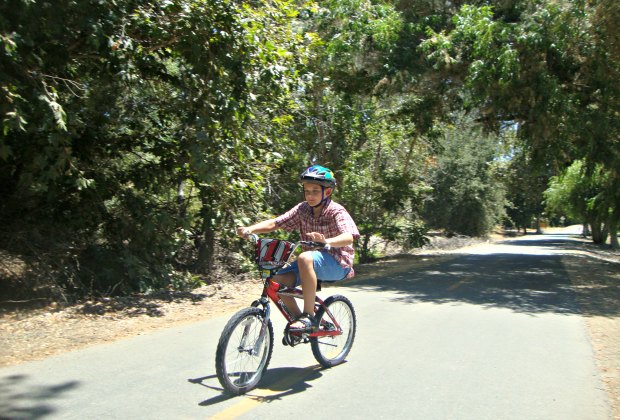 Photo by Julie Jordan Scott/CC BY 2.0
9. Pay a visit to the historic Point Fermin Lighthouse.
10. Feel the fame dancing in downtown Beverly Hills with Debbie Allen.
11. Pack lunch and head for a summery picnic spot
12. Cool off in a museum on its free admission day
13. Visit the Avila Adobe, LA's oldest house.
14. Hike to a waterfall.
15. Check out the Hollywood Bowl Museum (go on a Tuesday and you might see a rehearsal!).
16. Sign kids up for a free, three-day Apple Camp.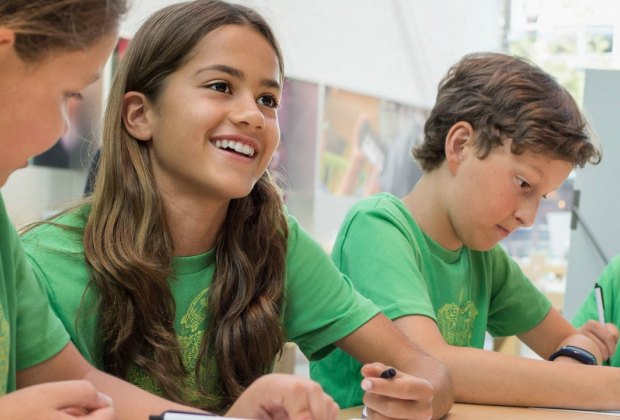 Kids attending Apple Camp. Photo courtesy of Apple
17. Tour the historic Andres Pico Adobe.
18. Watch a horse show at the Equestrian Center.
19. Go for a walk through the Venice Canals.
20. Build a campfire at Dockweiller Beach.
21. Swing, samba, or just plain jump at a Friday evening Dance Downtown.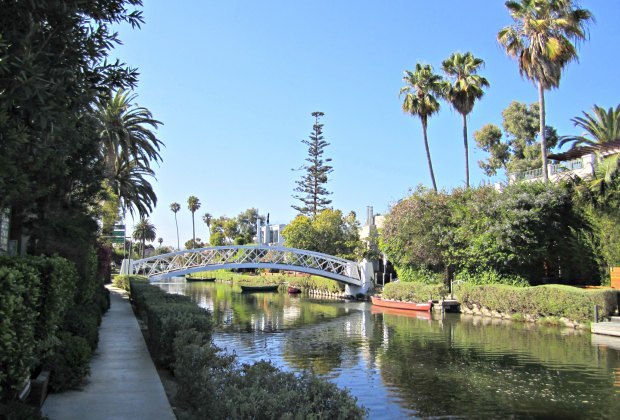 Stroll along the Venice Canals. Photo by La Citta Vita/CC BY 2.0
22. Visit the rescued sea lions at the Pacific Marine Mammal Center.
23. Visit the rescued sea lions at the Marine Mammal Care Center.
24. Rollerblade, scooter, or walk the strip at Venice Beach.
25. Let the kids play on the giant whale at the rooftop of Santa Monica Place,
26. Sling arrows at one of LA's free archery clubs.
27. Attend a Star Party at the Griffith Park Observatory.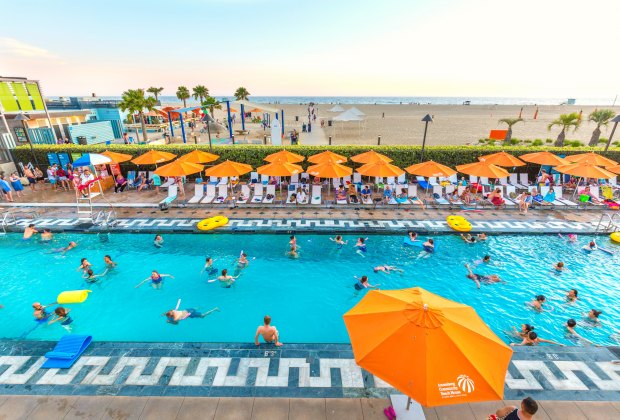 Most facilities at Santa Monica's Annenberg Beach House are free. Photo by William Short courtesy of Annenberg Beach

28. Binge watch classic TV in air conditioning at the Paley Center in Beverly Hills.
29. Enjoy the facilities at the Annenberg Beach House.
30. Hit Universal CityWalk after dark to play in the dancing lights fountain.
31. Head to Dana Point for a free kids' fishing clinic.
32. Go tidepooling along the beach at Leo Carrillo State Park.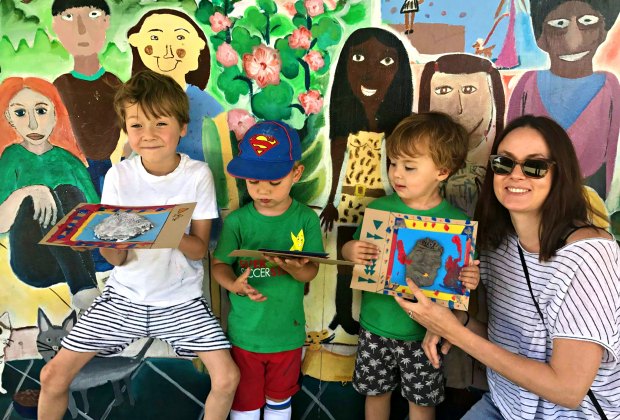 Family art workshop at Barnsdall Art Sundays. Photo courtesy of Barnsdall Art Park Foundation
33. Enjoy an evening of astronomy at the Garvey Ranch Observatory.
34. Learn coding, robotics, Minecraft, and more at free kids' classes at the Microsoft Store.
35. Do a family art workshop at Barnsdall Art Park.
36. Beat the heat learning about the Cold War at the Wende Museum.
37. Participate in a beach clean-up.
38. Join a guided family birding walk with the Los Angeles Audubon Society.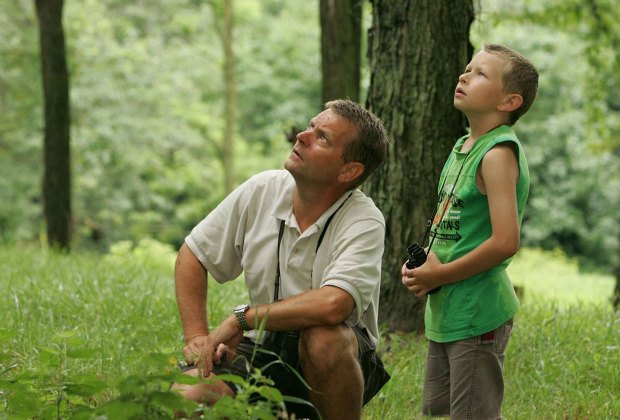 Photo by U.S. Fish and Wildlife Service via Wikimedia Commons
39. Take a walk around Balboa Island.
40. Cool off among the über-cool at Abbot Kinney's First Fridays.
41. Watch for whales with the experts at Point Vicente Interpretive Center.
42. See the free Shakespeare in Griffith Park.
43. Visit the San Fernando Valley's 200-year-old mission.
44. Hike up to the Hollywood sign.
45. Take a peaceful stroll around the Lake Shrine garden.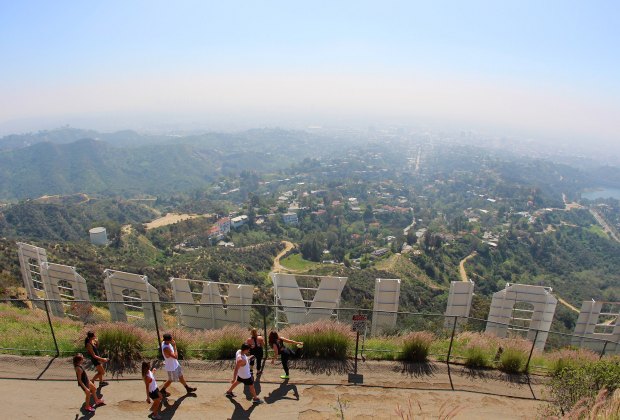 Hike up Mt. Lee to see the Hollywood sign up close. Photo by David Fulmer/CC BY 2.0
46. See a live recording of a TV show at one of the local studios.
47. Spy on passers-by at Santa Monica's vintage Camera Obscura.
48. Have a scientific Summer Night in the Garden at the Natural History Museum.
49. Ride the free Westlake Village Trolley, from Memorial Day to Labor Day.
50. Visit the free art galleries at CSUN in Northridge.
51. Explore the Museum of the San Fernando Valley.
52. Window shop on Rodeo Drive.
53. Visit the FIDM Fashion Museum downtown.
54. See the last resting places of film stars at the Hollywood Forever Cemetery.
55. Step back into history and experience the rich history of Olvera Street.
And don't forget there are always more things to do on our daily events calendar. Stay cool, and have (free) fun!