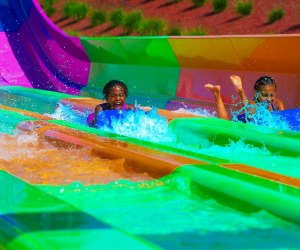 Final Summer Fun: 25 Things to Do on Long Island Before School Starts
Why whine about summer winding down when you can embrace it, filling these last few weeks with engaging and entertaining family fun?
We've rounded up 25 of the best end-of-summer fun activities to do with kids on Long Island before they head back to school — from water playgrounds and outdoor pools to FREE music and movies.
Check out our August GoList for the best family events throughout the month, and peruse our Summer Fun Guide or guide to beaches, pools, and water fun for your last sticky summertime hurrah before school resumes. Of course, our Event Calendar is loaded with fun, daily happenings for Long Island kids.
1. Hit the local splash pad one more time before the sprinklers are turned off for fall.
2. Ride the roller coaster at Adventureland, or test out the kiddie rides at another nearby theme park.
3. Nosh outdoors at Long Island restaurants with great outdoor seating and enviable views, including these in the Hamptons.
RELATED: The Best Beach Communities on LI That Aren't in the Hamptons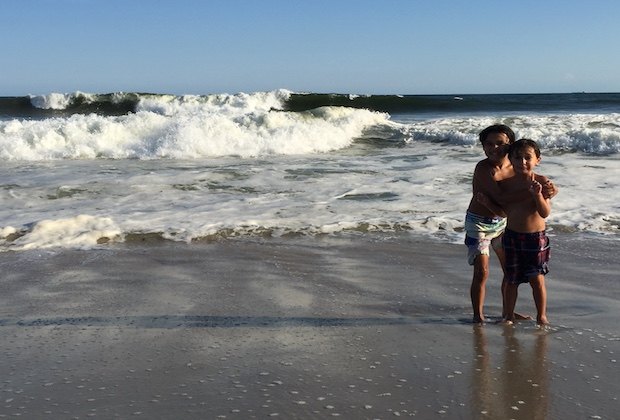 Kids can hit the waves at Jones Beach, where the water temperature in August is at a seasonal high. Photo by the author
4. Hit the beach for one last sandcastle. Swim and lounge in the summer sun.
5. Groove to the final outdoor concerts playing for FREE across the Island this summer, including at Eisenhower Park, the Jones Beach Bandshell, Northport Village and Concerts on the Green in Montauk.
6. Pay just a buck for a movie at Bow Tie Cinemas Summer Kids Series.
7. Pull up a lawn chair and a bucket of popcorn for a FREE movie under the stars at local parks and other destinations, including Jones Beach and Nickerson Beach.
RELATED: The Best Camping Destinations on LI for Families
Climb the Fire Island Lighthouse for an amazing view of the sea. Photo by the author
8. Climb a lighthouse before the ocean gets too rough and the breeze too chilly. Enjoy a host of family-friendly activities during Lighthouse Weekend August 17-18 at Montauk Point.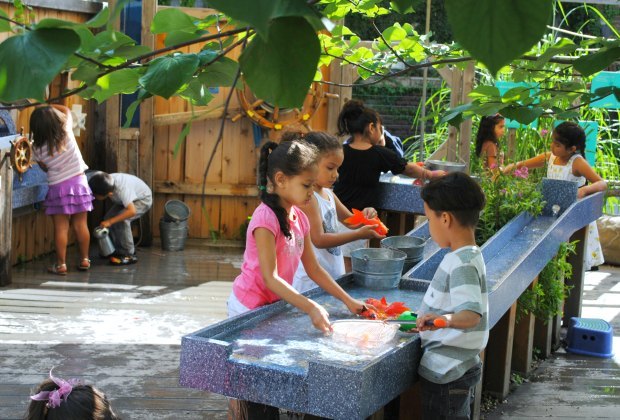 Our Backyard is a water-based play area for kids at the Long Island Children's Museum. Photo courtesy of the museum
9. Experience the seasonal Our Backyard exhibit at the Long Island Children's Museum while it's still warm outside, and maybe take in the temporary Mash Up Menagerie exhibit.
10. Pitch a tent (or park your RV) at these cool Long Island camping sites for a final weekend of summer outdoor fun.
11. Hitch a final ride aboard Long Island Live Steamers, a mini railroad for kids at Southaven County Park. Go full train geek at the Riverhead Railroad Festival on August 24-25.
RELATED: 100 Things to Do With Kids on Long Island Before They Grow Up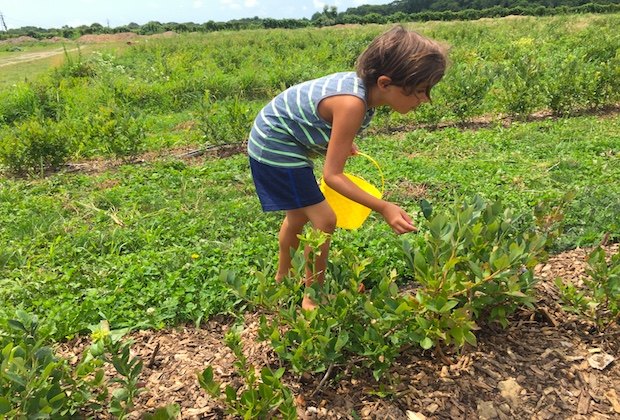 Savor the last summer berries at Bhavana Berries on the North Fork. Photo by the author
12. Pick the final berries and peaches before local farms turn the u-pick over to apples.

Ride the epic water slides as a family at Splish Splash. Photo courtesy of the park
13. Swoosh down the water slide at these water parks and epic pool slides, including the new high thrill slides at Splish Splash.
14. Pick up a day pass for these fantastic outdoor swimming pools before the autumn chill arrives.
15. Don your captain's hat and life vest for a family-friendly boat ride.
16. Tailgate at a polo match in Bethpage State Park. Sit in the bleachers or bring your own chairs and/or blanket. Sit on the grass field side for a nice picnic.
17. Brave the ropes and bridges then zipline parallel to the beach at WildPlay adventure park at Jones Beach.
18. Get your face painted, pick up a balloon, and enjoy carnival rides at the final summer street festivals, carnivals and fairs on Long Island, including Alive After Five in Patchogue, Northport Family Nights, and BeachFeast in Port Washington.
RELATED: 50 Great Things to Do With Kids on the East End in the Summer

Cruise the Jones Beach Boardwalk then go crabbing or fishing at Pier 10. Photo by the author

19. Stroll the boardwalk in flip-flops, sans hoodie. Or fish off a pier. Hang onto that summer vibe—you'll need it come November.

Attention mini-golfers: Go for a hole-in-one at the aquatic-themed Whale's Tale on Shelter Island. Photo by the author
20. Putt-putt your way to a hole-in-one at these mini-golf spots.
21. Take a final summer-fueled day trip to see dinosaurs, parks, cute towns, ferries, and more. Peep our visitors' guides to Long Beach, Port Washington, Northport, Port Jefferson, Riverhead, or Shelter Island for inspiration before heading out.
22. Kids can get close up to nature at the Planting Fields Arboretum on Sundays.
23. Set up a backyard water park extravaganza for the neighborhood kids with games and plenty of splish splashing.
24. See the incredible creations at the sandcastle contest at Hither Hills State Park in Montauk, or build one together as a family.
25. Cool down with an over-the-top ice cream creation from local parlors, or check out these uber-indulgent sweet treats.
This post is updated annually.