Memorial Day Weekend Getaways: 12 Day Trips Near NYC That Aren't the Beach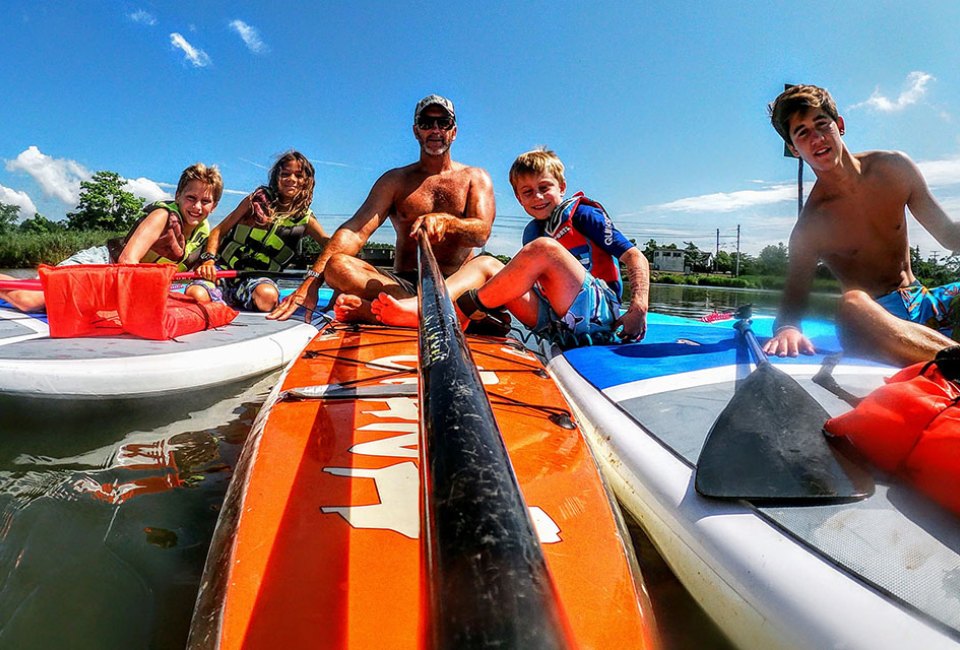 5/10/22
- By
Dawn Miller
Spring is in full swing and summer is just around the corner. It won't be long until Memorial Day weekend arrives. As the unofficial start of summer, many families head to one of our favorite Jersey Shore beaches, but that means traffic, crowds, and parking headaches. If you're looking for a different Memorial Day weekend getaway, we've found 12 fun day trip destinations in New York and New Jersey that aren't the beach.
These fun spots range from soaking up culture in NYC and beyond to outdoor pursuits that include hiking, exploring, paddleboarding, and more far from the sandy surf. Find more fun getaways in our Guide to Day Trips.
Subscribe to our newsletters to get stories like this delivered directly to your inbox.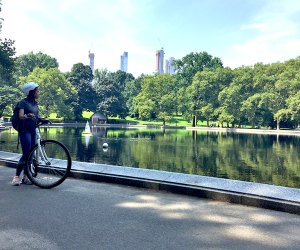 Explore the stunning vistas of Central Park. Photo by Suzy Q
1. Central Park – Upper West Side, New York City
If you're not from the Big Apple and have never explored all the cool stuff Central Park has to offer, it's a great Memorial Day weekend day trip destination. Central Park has, of course, been the backdrop for numerous movies and television shows. It's already a favorite spot for many New Yorkers for good reason. Plan to park near the Central Park Zoo and pack a lunch to enjoy on the Great Lawn. The Central Park Zoo is a great jumping-off point for a family-friendly day in the park. From there, take a ride on the vintage carousel before heading over to check out Belvedere Castle. Hop in a rowboat or get a seat on a gondola ride to experience the lake. If the kids aren't tired from all that, stop by the North Meadow Butterfly Gardens, in the lovely northeastern section of the park, catch Wake Up, Daisy at the Swedish Cottage Marionette Theater, and be sure to save time for romping in Central Park's fabulous playgrounds.
Freeport's Nautical Mile is known for its food, shopping, and family-friendly fun. It's a fun area to check out especially if your family hasn't been to Long Island before. Nautical Mile cruises offer a different way to experience this Long Island hot spot. On Memorial Day weekend, you can enjoy the Nautical Mile and the Bethpage Air Show at Jones Beach featuring the United States Navy's Blue Angels from the water by booking a Nautical Mile Cruise. The special air show cruises are available on Saturday, May 26, and Sunday, May 27, from 11am-3:30pm. If you'd rather not hop on board the Atlantic Pearl to see the air show, walking through the Nautical Mile is an awesome alternative. Freeport Day Cruises also offers tours of the local shoreline; even a water taxi is a cool way to experience the Nautical Mile.
RELATED: 25 Gorgeous Spring Day Trips near Long Island for Families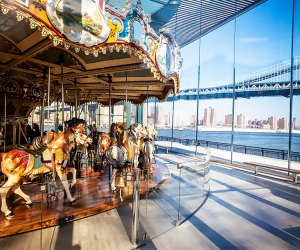 Go for a spin on the century-old Jane's Carousel during a trip to Brooklyn Bridge Park. Photo by Mommy Poppins
The iconic Brooklyn Bridge is steeped in history. It officially opened on May 24, 1883. So, Memorial Day weekend is an ideal time to plan a family stroll across it if you've never done it before. Arrive earlier in the day to beat the crowds. An estimated 30,000 people walk across the suspension bridge each day. When you've reached th Brooklyn waterfront, stick around to explore Brooklyn Bridge Park. A ride on the beautifully restored antique Jane's Carousel is a must. The carousel celebrates its 100th anniversary this year. Save time to explore the adjacent piers. Each one offers a different theme—including the playground-packed Pier 6. Save time to enjoy a slice or two of Brooklyn pizza at one of the nearby restaurants, then stop by Ample Hills Creamery for dessert. Don't let the line scare you away. It's worth the wait.

Bannerman Castle is perched on an island overlooking the Hudson River. ​Photo courtesy of the castle
Memorial Day weekend sounds like the ideal time to plan an adventure to visit Bannerman Castle, which is perched on an island in the Hudson River. The island is rich in history, from the Native American tribes who once thought it was haunted, to the Dutch sailors who reveled in the superstitions, to its connection to the American Revolution. Though its name has also changed over the years, your Bannerman tour begins with a ferry ride out to Pollepel Island. There, guests are treated to a walking tour of the island to showcase the ruins of Bannerman Castle and its gardens. Since strollers cannot be accommodated, tours are recommended for ages 7 and up. Be forewarned: Once you've departed the boat, there is a 72-step climb to the start of the walking tour. There are spots for participants to take a breather, if needed, though. Tours set sail from Beacon, New York, and must be booked in advance. Picnics on the island are not allowed, but tour-goers can bring their food and drink to enjoy on the ferry ride over. Tours are available on Friday, Saturday, and Sunday of Memorial Day weekend. From start to finish, a Bannerman Castle adventure lasts about two and a half hours and is held rain or shine.
RELATED: 25 Spectacular Spring Day Trips Near NYC for Families

Late spring is always picture-perfect at the Brooklyn Botantic Gardens. Photo by Ros Muggeridge
A three-day weekend is a perfect time to take in the beauty and splendor that is the Brooklyn Botanical Gardens. The 52-acre garden welcomes more than a million people each year and there's no better season to take in its splendor. Take note: The website recommends purchasing tickets online in advance. A combination ticket is also available for both the Brooklyn Botanic Garden and the Brooklyn Museum, which is just a three-minute walk away. While you're in the area, check out Brooklyn's conterpart to Central Park. Prospect Park teems with activities, from roller skating at Lakeside, to a twirl on its historic carousel, plus its very own Prospect Park Zoo, and a collection of destination-worthy playgrounds.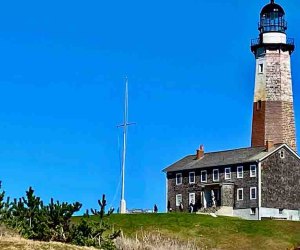 Climb the steps at the Montauk Point Lighthouse during a Memorial Day weekend getaway. Photo courtesy of the lighthouse
The Montauk Point Lighthouse is a breathtaking spot to take in the charm of Long Island. The lighthouse is located in Montauk Point State Park and is one of only 12 lighthouses named a National Historic Landmark. Its construction was commissioned by President George Washington in 1792, making the Montauk Point Lighthouse New York's first. Today, it is the fourth-oldest lighthouse still in use. It's definitely worth the 137-step climb to see the amazing views from the top. Be sure to make time to explore the lighthouse museum. Parking is available across the street from the lighthouse and costs $8. Admission to the lighthouse is $13 for adults, $8 for seniors, and $5 for kids under 12. Children under 41 inches are FREE. Since the Montauk Point Lighthouse is a popular destination on Long Island, the lighthouse is open for extended hours on Memorial Day weekend. It's open from 10:30am-7pm on Saturday, May 26, and Sunday, May 27, and from 10:30am-5:30pm on Monday, May 30. The last tickets are sold 30 minutes before closing.
RELATED: 35 Things To Do With Kids in the Hudson Valley

The lush, green grounds at Kykuit are scene stealers. Photo by Susan Miele
The quaint village of Sleepy Hollow is located just 25 miles north of New York City along the Hudson River. You may remember the village from high school English class if you read Washington Irving's "The Legend of Sleepy Hollow." Of course, the headless horseman rides during Halloween, but Sleepy Hollow and its charming lighthouse make for a great Memorial Day weekend day trip. Sleepy Hollow's lighthouse had 12 keepers whose families have all lived inside the five-story structure. While you can only go inside on select dates in the fall, the adjacent Kingsland Point Park offers great views, plus picnic areas and it is an ideal hiking and fishing destination. The charming village of Sleepy Hollow's main draw is, of course, its connection to Irving's classic tale. A Memorial Day weekend visit still imparts all the fun and mystery of the story, but without the crowds. Plan on taking a tour of the Sleepy Hollow Cemetery as well as stopping for a photo on the Headless Horseman BridgeTours are available or you can walk the gorgeous grounds. Save time to enjoy the village, its shops, and eateries.
If your family loves bike riding, Liberty State Park boasts a family-friendly bike path. The paved path stretches around the park in a 3-mile loop, offering stunning views of the Manhattan skyline. You'll also get a peek at the Statue of Liberty and Ellis Island while you're peddling. Liberty State Park's bike path is extremely popular with bikers, runners, and walkers all year long, but it's definitely a draw on a holiday weekend. So, plan on getting to the park early. Entrance to the park is free, but there is a $7 parking charge. Bring along a picnic to recharge your batteries after riding, as it's home to one of our favorite picnic spots in Northern NJ. If you're looking for something to do afterward, the Liberty Science Center is a local gem packed with educational fun. Ferries also leave daily from Liberty State Park for the Statue of Liberty and Ellis Island.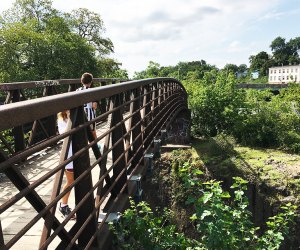 Paterson Great Falls is much closer than Niagara Falls and makes for a cool, photo-op and plenty of history lessons. Photo by Elaine Quilici
Niagara Falls is too far for a day trip, but Paterson, New Jersey, isn't. A family outing to Paterson Great Falls National Historical Park is a must-do especially on Memorial Day weekend when most people are heading to the beach. The grounds are open seven days a week from sunrise to sunset, but park rangers are only on duty Wednesdays through Sundays from 9am-5pm. Entrance to the Paterson Great Falls is FREE, and park rangers conduct tours Wednesdays through Sundays at 10am and give a talk at 2pm. Reservations aren't required for either program, and joining the tour is a great way to learn about the history of the Great Falls of the Passaic River and how it became essential to the birth of America's Industrial Revolution. Paterson was actually the first planned city designed entirely around industry.
Just on the other side of the Delaware River from Lambertville, New Jersey, sits New Hope, Pennsylvania. This picturesque town makes for a wonderful Memorial Day weekend day trip for the whole family. The downtown is an ideal place to explore on foot including the bridge connecting New Hope to Lambertville. Kids love walking across and stopping at the spot in the middle, where they can put one foot in New Jersey and one in Pennsylvania. Filled with quirky shops and outdoor dining, New Hope and Lambertville are fun places to experience. The jewel, though, is a ride on the scenic New Hope Railroad. Different railroad excursions are available, including a traditional experience that takes riders through the charming Bucks County countryside. Riders learn about the history of the railroad as well as key spots along the 45-minute route, such as a house which served as a an Underground Railroad stop, and a set where a silent film was made. While you're in the area, check out the rest of the must-do's in charming Bucks County.
If you're looking for sun and water on Memorial Day weekend, but don't want the beach, how about a bit of paddling. "Positive Vibes Only" is the motto of the Oceanport Paddle Club, which offers kayak and paddleboard rentals in Oceanport and Keansburg. Kayaks are available in singles and doubles and can be rented for an hour, 90 minutes, a half-day, or a full-day. Longer rentals are offered, too. Paddleboards are available for two or four hours, or full-day rental. Participants must be at least 6 years old; paddles and life jackets are included in the rental. Reservations can be booked in advance online. Oceanport Paddle Club is currently only open on Fridays and Saturdays from 8am-6pm, and group lessons are available if you're new to the sports.
RELATED: 100 Things to Do in New York State with Kids Before They Grow Up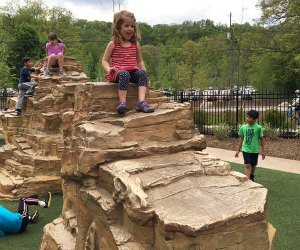 The South Mountain Recreation Complex is packed with so many activities, it's impossible to see it all in one day. Photo by Rose Gordon Sala
A three-day weekend from work and school is earmarked for some outdoor family fun. The South Mountain Recreation Complex in West Orange is a perfect pick, offering a wealth of different activities. The complex includes the popular Turtle Back Zoo, paddleboating, mini golf, the Treetop Adventure Course, fishing, walking paths, a destination playground, and an ice rink. There really is something for everyone, which is ideal for families with kids of multiple ages. Picnic areas are available, but the complex also has a restaurant on-site. FREE parking lots and garages are located throughout the South Mountain Recreation Complex. Some activities like the playground and walking paths are free, while others require an entry fee.