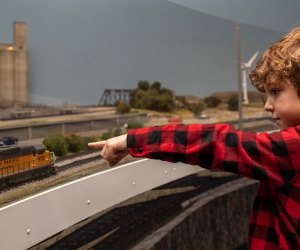 Things to Do in Houston This Weekend: Trains Over Texas, Nutcracker Market
Even though we're not entirely sure how we're already halfway through November, we're embracing the chaos of the season and gearing up to start planning and attending all the holiday festivities! To help you manage the mayhem, we've been working tirelessly to find the best events to attend this season and have started compiling resources that make it easy for you to sift through everything that's happening and pick what to attend with your family. From craft fairs and markets to Christmas towns and villages to visit, the fun is just getting started!
And just in case you're feeling the need to relax just a little bit before all the chaos really breaks loose, now is also the perfect time to head to one of these kid-friendly wineries in the hill country. The views are stunning and so is the vino! Or just tell one of these jokes for kids; you'll keep the whole family in stitches, guaranteed.
We also highly recommend checking out our Fall Fun and Harvest Guide, event calendar, November GoList, and our FREE in November posts for even more seasonal fun. Plus, if you subscribe to our FREE weekly newsletter, we'll send all the fun happening on Mommy Poppins straight to you!
Did you know that you can also submit your own event to our calendar? Once submitted, we'll review it and publish it to share with all of our readers!
Now let's check out what the weekend holds for Houston.