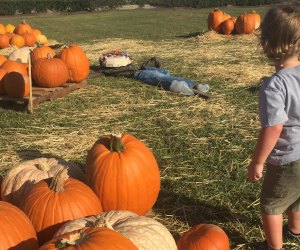 Fall Bucket List: 38 Things We Can't Wait to do This Fall in Houston
It's almost fall, y'all! The fall season is the perfect opportunity to take advantage of everything the Houston area has to offer. This fall, several unique events are coming to town, including the Brick Fest Live LEGO Experience. There's also no shortage of more traditional fall fare, like festivals and pumpkin patches, to enjoy as the cooler temperatures (hopefully) start to roll in. Here are our top picks for family fun this fall.
1. Pick up seasonal farm-fresh produce and locally made bread, jams and more at local farmers markets.
2. Enjoy one of Miller Outdoor Theatre's FREE children's performances on the lawn with a picnic.
3. Cooler temperatures make fall the ideal time to enjoy Children's Story Hour at the Family Garden in McGovern Centennial Gardens at Hermann Park.
4. Take a guided nature hike or tour a rustic 1800's farmhouse while exploring Armand Bayou Nature Center. Don't forget to take advantage of free admission on the first and third Sundays of each month!
5. Head over to Kemah for Boo on the Boardwalk. This ongoing event includes a fun "haunted house" for littles as well as costume contests, pumpkin decorating and various activities throughout the month.
6. Search for painted rocks at local parks, and make unique rock creations to leave around town.
7. Visit one of Houston's many area pumpkin patches to pick out the perfect one for carving.
8. Fly high at the annual Wings Over Houston Air Show, Oct. 19-20, 2018 at Ellington Field.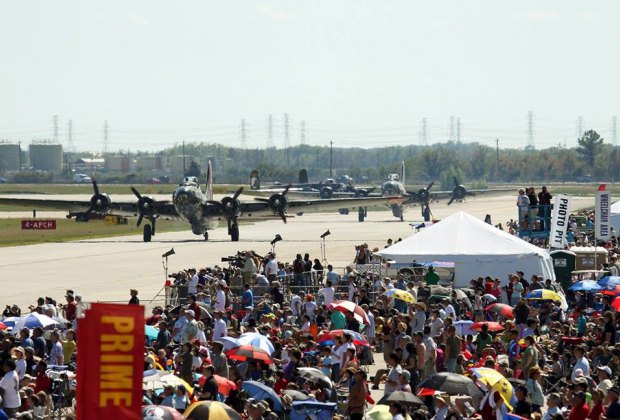 Photo courtesy of Wings Over Houston
9. Take your kids to Minute Maid park on Sept. 22 for the Astros' last Kids Run The Bases event of the season.
10. Attend Parachute Playtime with toddlers and preschoolers every third Saturday in City Centre this fall.
11. Spend a day riding ponies and the train at Old MacDonald's Farm in Humble.
12. Attend the Houston Zoo's annual Zoo Boo happening throughout weekends in October, which includes a pumpkin patch, games, and lots of free activities.
13. Pick fresh and seasonal fruits and vegetables at an area farm.
14. Take older children and teens to one of the spooky haunted houses around town.
15. Attend one (or more!) of the Houston area's many fall festivals.
16. Catch Dinosaurs! at the Houston Zoo before the interactive exhibit leaves for good on Sept. 2.
17. Visit Farm Funland at Blessington Farms during their fall festival.
18. Journey out to the Texas Renaissance Festival for an unforgettable time each weekend.
19. Enjoy the Houston Zoo for FREE on Tuesdays! The weather is finally cool enough that you can make laps around those exhibits without sweating too many buckets.
20. Listen to stories at Houston's more unique storytimes outside of your local library, from historical houses to nature centers.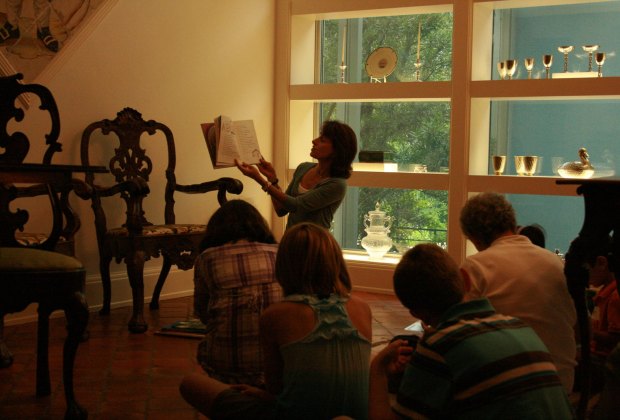 Storytime at the Rienzi. Photo courtesy the Museum of Fine Arts.
21. Pretend to be a mystery-solving detective on the bayou.
22. Play a game of bingo at Levy Park, one of our favorite parks in the city!
23. Enjoy a day at Evelyn's Park and snap a photo by the interactive Alice in Wonderland sculpture set.
24. Hike and explore Houston's natural beauty! We have recommendations for toddler-friendly hikes and walks your family will love.
25. Speaking of hikes, check out these guided hikes for toddlers and preschoolers where all you have to do is follow along.
26. Head to Space Center Houston to see Apollo 11 artifacts in a special exhibit celebrating the 50th anniversary of the moon landing
27. Celebrate all things trains at Rosenberg Railroad Museum's Fall Fun Fest on Sept. 14.
28. Dress up in your cowboy and cowgirl gear and head to the Waller County Fair and Rodeo.
29. Enter the sweet world of Candytopia before the interactive candy-lover's dream exhibit closes on Sept. 29.
30. Attend Public Fishing Day for Youth at Sea Center Texas on Sept. 21 where kids ages 16 and under can participate in catch and release fishing for FREE.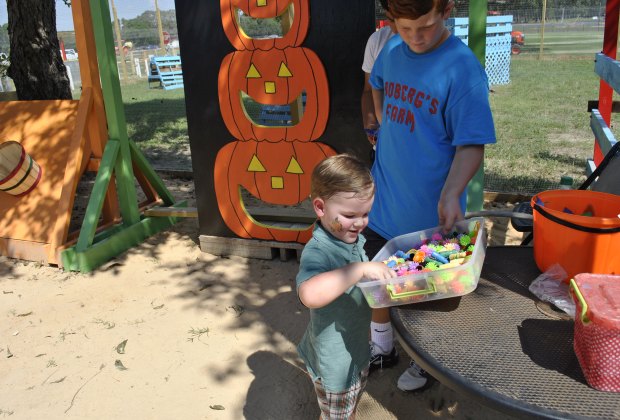 Play games and win prizes at Froberg's Fall Festival. Photo by the author.

31. Bring the whole family to the Original Greek Festival at Annunciation Greek Orthodox Cathedral Oct. 3-6.
32. Head to one of Houston's corn mazes to see if you can find your way through this fall favorite adventure.
33. See the best local art Houston has to offer at the Bayou City Art Festival Oct. 12-13.
34. Check out the larger-than-life LEGO displays and build your own masterpiece at the Brick Fest Live LEGO Fan Experience on Oct. 19-20.
35. Take a hay ride, pick a pumpkin, or participate in a variety of other fall activities at Froberg's Fall Festival in Alvin
36. Attend the Fort Bend County Fair where the entire family can enjoy live music, carnival rides, and delicious fair food.
37. Get spicy at the Texas Hot Sauce Festival Sept. 21-22 at Bayou City Event Center.
38. Audience members of all ages can enjoy Class Act Production's Matilda on stage in The Woodlands Sept. 27-29.
Top photo by the author