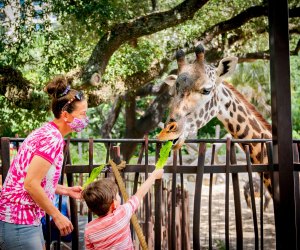 Fall Activities in Houston: 30 Things We Can't Wait to Do This Fall
It's fall, y'all!
The fall season is the perfect opportunity to take advantage of everything the Houston area has to offer kids and families. Get active by visiting area farms and farmers' markets, playgrounds and parks, or perhaps going on a family-friendly hike around the city. Take a day trip to a nearby state park or a family-friendly winery.
Despite COVID-19, there are plenty of traditional fall events happening for families in an updated, socially distant way, including festivals and pumpkin patches, so you can enjoy the cooler temperatures as they (hopefully) start to roll in soon. Read on for our top picks for family fun this fall.
Fun Fall Activities for Houston Kids and Families
1. Pick up seasonal farm-fresh produce and locally made bread, jams and more at local farmers markets, like the ever popular Tomball Farmers Market. Afterward, stick around and explore the quaint city of Tomball!
2. Spend the day exploring the outdoors at Armand Bayou Nature Center. While the nature center itself is closed, the trails are open to the public and ready to be hiked!
3. Head over to Kemah for Boo on the Boardwalk. This ongoing event includes costume contests, pumpkin decorating, and other activities through the end of October.
4. Search for painted rocks at local parks, and make unique rock creations to leave around town.
RELATED: Houston Day Trips and Getaways Guide

You can pick the perfect pumpkin at a patch near you. Photo by the author
5. Visit one of Houston's many area pumpkin patches to pick out the perfect one for carving.
6. Fly high at the annual Wings Over Houston Air Show, Oct. 11-12, 2020 at Ellington Field.
7. Spend a day riding ponies and the train at Old MacDonald's Farm in Humble.
8. Pick fresh and seasonal fruits and vegetables at an area farm.
9. For some grown-up time that kids can enjoy, too, why not visit a family-friendly Texas winery? Some are just a short drive away.
10. For rainy-day fun, don't miss Space Center Houston, where your budding astronaut can learn all about the history of the space program.
11. Watch a movie under the stars from the comfort of your car at one of these local drive-in movie theaters.
RELATED: Guide to Playground and Play Spaces in the Houston Area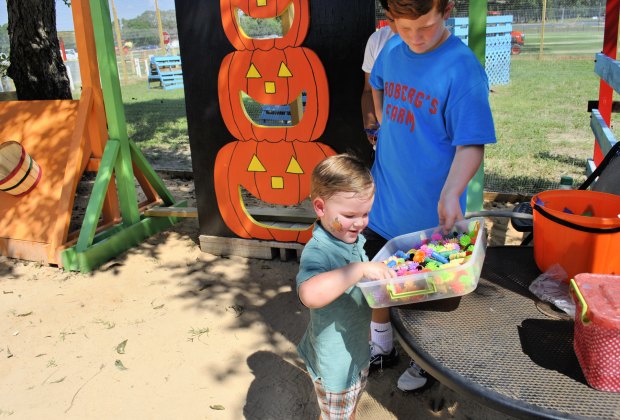 Houston's many fall festivals include games, rides, face painting, and more. Photo by the author.
12. Attend the Waller County Fair and Rodeo for a day of BBQ, carnival rides, and calf scrambles.
13. Catch the Dragons at the Houston Zoo before they disappear for good on September 27.
14. Visit Farm Funland at Blessington Farms during its annual fall festival. Enjoy gem mining, fossil digs, tire mountains, pedal cars, and more.
15. Journey out to the Texas Renaissance Festival for an unforgettable time each weekend.
RELATED: Great Campgrounds for Families Near Houston
16. Enjoy the Houston Zoo for FREE one Tuesday each month. The weather is finally cool enough for laps around the many exhibits.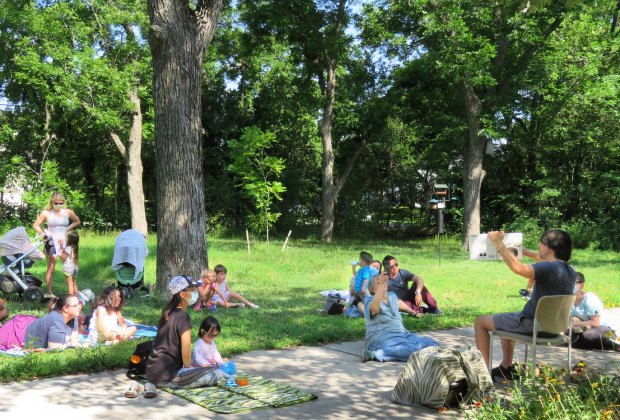 Enjoy an outdoor storytime with your toddler. Photo courtesy of Nature Discovery Center
17. Enjoy stories outside in nature at Nature Discovery Center's Nature Storytime.

18. Join Young Audiences of Houston outdoors at Levy Park for live art experiences on Saturdays on select Saturdays each month.
19. Enjoy a day at Evelyn's Park and snap a photo by the interactive Alice in Wonderland sculpture set.
20. Hike and explore Houston's natural beauty. We have recommendations for toddler-friendly hikes and walks your family will love.
21. Speaking of hikes, check out these guided hikes for toddlers and preschoolers, where all you have to do is follow along.
22. Join Thomas the Tank Engine as he chugs along the rails at Rosenberg Railroad Museum's Garden Railroad Days.
23. Take a day trip (or an overnight camping trip!) out to Sam Houston National Forest, which is only 50 miles north of Houston, for some family hiking, fishing, and biking. We've spotted some eagle's nests' out there in the past, so keep your eyes peeled!
24. Head to the annual corn maze at Froberg's Farm to see if you can wind your way through, then check out all the other fall festivities the farm has to offer.
25. Get in some spooky Halloween fun at the socially distanced Haunted Drive every weekend from September 25 through November 1.
26. Check out the larger-than-life playing cards at Discovery Green's House of Cards exhibit through October 11.
27. Enjoy an open-air production of Shakespeare's The Tempest at Arts in the Park on September 19.
28. Hang out at the CAF Houston hangar on the first and third Saturdays of the month for FREE and enjoy amazing aviation exhibits from over the years.
29. Roast s'mores over the fire during a family camping trip. We recommend Pedernales Falls State Park if you haven't been there yet.
30. Hop in the car and take a weekend road trip with the family to some of Texas' hotspot destinations. Visit the Panhandle, Hill Country, and more.