Best Outdoor Dining in Houston at Family-Friendly Restaurants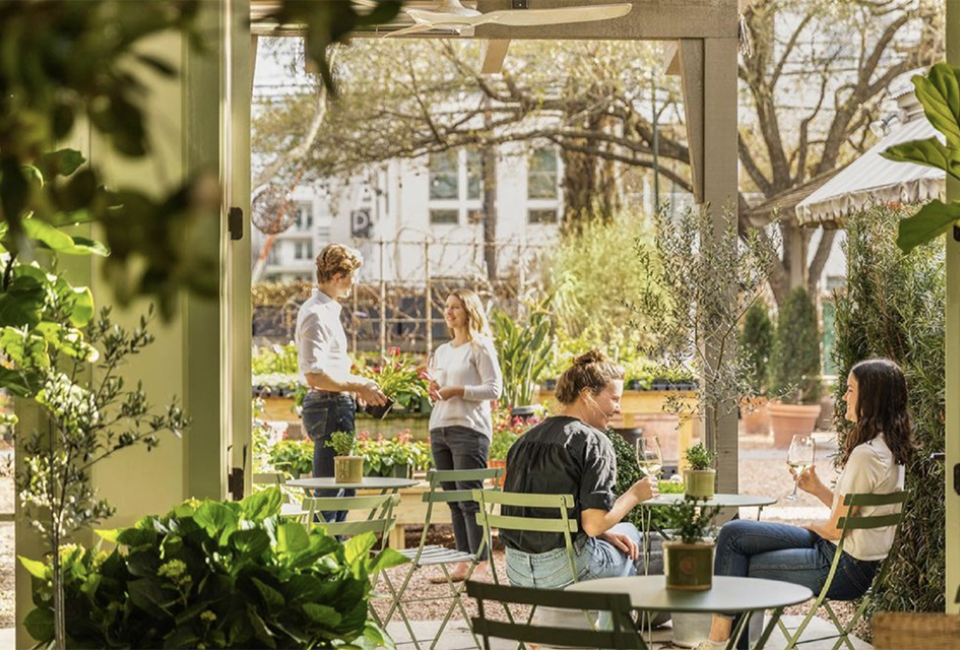 5/12/23
- By
Sarah Banks
Houston restaurants with patios are great places for families to enjoy a meal together while experiencing the benefits of being outside. Restaurants with outdoor seating provide space for children to move around, often making for a more relaxed dining experience. Houston offers excellent outdoor dining options, especially for families. Some of them also have great views, and they all provide delicious dining! Keep reading to explore the top ten family-friendly restaurants for outdoor dining in Houston. And don't forget to check our Houston Kid-Friendly Restaurant Guide for more recommendations.

Bring the family to brunch at The Rustic.
The Rustic, in downtown Houston, provides a large and attractive outdoor dining area with picnic tables and a stage for live music performances. Their menu features American cuisine, including burgers, salads, and sandwiches. With farm-to-table ingredients and ample patio space, The Rustic is an ideal spot for weekend brunch with the family.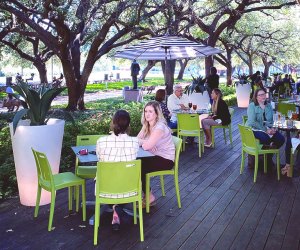 With a park at The Grove's patio doorstep kids are free to play while parents take their time to eat.
The Grove is in Discovery Green, Houston's 12-acre downtown park, with plenty of space for running around. The restaurant has a large outdoor patio with stunning views of the park and the city skyline. The Grove serves contemporary American cuisine, including seafood, steaks, and salads. The kid's menu for ages 12 and younger includes grilled cheese, chicken tenders, and fish.
3. Hugo's — Montrose
Visit Hugo's for an exceptional outdoor dining experience at a Mexican restaurant. You'll love the delightful outdoor patio with colorful umbrellas, plants, and artwork. Hugo's menu includes a variety of Mexican dishes, including tasty tamales, tacos, and ceviche. Make your Sunday special by bringing the family to the Sunday Brunch Buffet, from 10 am-2 pm, with live music starting at 11 am. The buffet costs $42 per person and $15 per child (12 and under).
Tiny Boxwood's is a quaint cafe located in the heart of Houston. The restaurant has a cozy outdoor patio with bistro tables and string lights. Tiny Boxwood's serves a variety of dishes, including salads, sandwiches, and pastries. We love the mother's breakfast with sausage or bacon, scrambled eggs, white cheddar grits, a biscuit, strawberry jam, and whipped honey butter. Tiny Boxwood's is one of many great breakfast spots in Houston for families.
Looking for a casual dining experience near Hermann Park, the Zoo, and HMNS? Look no further than Barnaby's Cafe! Their outdoor seating area has picnic tables and umbrellas, and their menu offers a variety of mouth-watering dishes - from burgers and salads to sandwiches. Bring the family and enjoy a laid-back meal at Barnaby's Café, then have some fun at the local attractions.
Located in Houston's Washington Corridor, B.B. Lemon is a classic American restaurant with a charming outdoor patio with bistro tables and string lights. The restaurant serves a variety of dishes with a New York influence, including burgers, sandwiches, and salads. B.B. Lemon is a great place to take the family for a fun outdoor patio dining experience.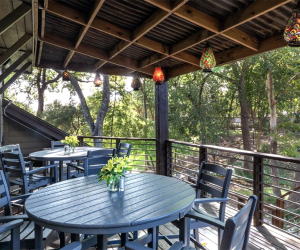 Enjoy lunch with a view at the Rainbow Lodge.
Rainbow Lodge is a unique restaurant located in a historic log cabin. The restaurant has a beautiful outdoor patio with a fireplace and a waterfall. Rainbow Lodge serves contemporary American cuisine, including seafood, game meats, and wild game. The restaurant also has an extensive wine list and a variety of craft beers. Rainbow Lodge is a great place to take the family for a special occasion.
World of Beer is a fun spot for families to enjoy a meal and a cold beer. They have a spacious outdoor patio perfect for soaking up the sun and enjoying a cold beverage. The menu features a variety of pub-style dishes, like burgers, wings, and nachos, as well as a large selection of craft beers on tap. They also have a kid's menu for the little ones in the family. Come soak up the sun and enjoy a cold beverage at World of Beer!
Guru Burgers & Crepes is a family-friendly restaurant with a large outdoor patio that is perfect for enjoying a meal with the family. The menu features a variety of burgers, crepes, and milkshakes that are sure to please everyone in the family.
Grimaldi's Pizzeria in The Woodlands offers an outdoor Italian dining experience with a large patio area on Waterway Square. Kids can enjoy the splash pad and outdoor space. Their menu includes a variety of classic and signature pizzas made with their secret recipe dough, fresh salads, and Italian-inspired entrees. Afterward, walk along the Waterway and see the turtles.
Photos courtesy of the restaurants
Click Here to Sign Up!
i