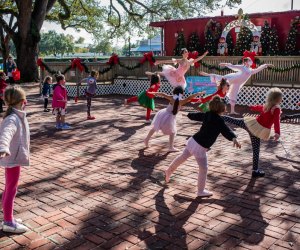 Thanksgiving Weekend Things To Do in Houston With Kids: Thanksgiving Parade, BRICKLive, Hanukkah
Looking for the best things to do in Houston this weekend? Here are some family-friendly events and activities to add to your list for this weekend.
First and foremost, Happy Thanksgiving from the Mommy Poppins Houston team! We are so thankful for your readership and grateful we have the opportunity to serve you by finding all the coolest events and activities in Houston.
This week is full of festivities, especially at the museums. For a little pre-Thanksgiving fun, the Children's Museum is hosting their annual Selfies with Santa on Wednesday. Throughout the week you can head to the Fort Bend Children's Discovery Center for their Great Gobbler WonderWeek, which features a variety of Thanksgiving crafts and traditions, or Thanksgiving Week at The Woodlands Children's Museum, which has a different themed day every day of the week. As always, the city of Houston is putting on their amazing Thanksgiving Day Parade and there are several turkey trots happening around the city as well. Also on our radar for the weekend is the newly installed BRICKLIVE Houston. An entire animal safari made out of bricks? We are in for that. Plus League City's Nutcracker in the Park and the Hanukkah Book Trail.
Lastly, if you find yourself deciding last minute that you don't want to cook, we have lots of kid-friendly restaurants that are open on Thanksgiving. You can also find all things Thanksgiving in our Thanksgiving Activities Guide - everything from themed crafts to recipes and more.
Don't miss our round up of Holiday Volunteering Opportunities in Houston for Families, 50 Free Christmas Events and Holiday Fun in Houston for Kids, the Best Holiday and Christmas Events in Houston for Families, and list of the Best Things to Do in Houston in November with Kids.
More Things To Do in Houston this Week with Kids:
OUR LATEST VIDEOS