Fall Bucket List for Kids: 55 Awesome Things To Do in Philly This Fall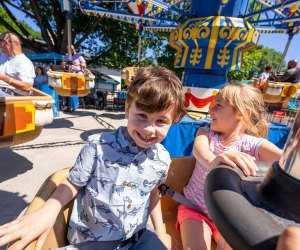 9/8/23
- By
Maureen Rayburn
Fall foliage, cooler temperatures, and doorways decorated in cornstalks and gourds create a welcome change from summer throughout Philadelphia and the Delaware Valley. As autumn settles into the region, Philly families anticipate traditions they know and love, including day trips to nearby corn mazes and hayrides, apple picking or pumpkin picking, and plenty more.
This year, we've rounded up the classics and thrown in some fresh ideas, too. Don't forget to review our comprehensive Fall Activity Guide for Philadelphia Kids and create a customized bucket list of fun for your family. For even more inspiration, browse our ultimate Philly bucket list, 100 Things To Do in Philly with Kids Before They Grow Up.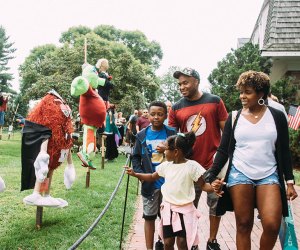 Visit Scarecrows in the Village through October and vote on your favorite. Photo courtesy of Peddler's Village
3. Peddler's Village
Bring a scarecrow to life at Peddler's Village; then, view all of the creations on display and vote for your fave.
4. Pumpkin Picking
Find the perfect pumpkin in the patch and carve a scary or silly face to make a fall decoration.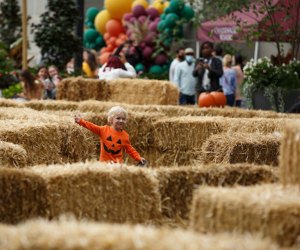 Romp through a harvest hay maze among the skyscrapers in Dilworth Park. Photo by Matt Stanley for Center City District
5. Corn and Hay Mazes
Get lost in a corn maze at a local farm or hit the hay maze in Center City.
6. Visit the American Helicopter Museum
Let imaginations take flight for a few hours at the American Helicopter Museum.
RELATED: Great Halloween Activities for Families in Philly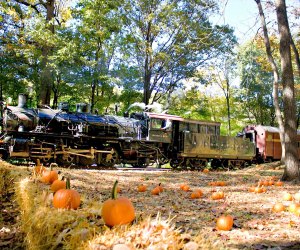 Ride the Great Pumpkin Train to the perfect patch. Photo courtesy of Delaware River Railroad Excursions
7. Pumpkin Train
Admire the colors of autumn and pick up a pumpkin with a ride on the Great Pumpkin Train.
8. Mushroom Festival
Check out the annual Mushroom Festival in Kennett Square, for culinary events, exhibits, children's entertainment, and mushroom art.

Take a hayride to meet a witch at Linvilla Orchards. Photo courtesy of the orchard
9. Linvilla Orchards
Create fall family traditions at Linvilla Orchards with a hayride to the Witch's House or a visit to Pumpkinland.
10. Longwood Gardens
Scurry into Longwood's Canopy Cathedral Treehouse to get a view of the changing fall foliage, or pop over to the Pumpkin Playground.
11. Morris Arboretum
Get a bird's eye view of the changing leaves at Morris Arboretum's 50-foot-high tree-top attraction.
12. Renaissance Faire
Take a trip back in time at the Pennsylvania Renaissance Faire.
13. Play Outside
Spend the afternoon playing in the cool autumn air at a local park or playground.
14. Visit a State Park
Discover the beauty of the trails found in local Pennsylvania State Parks.
15. Bucks County Bridges
Explore covered bridges throughout Bucks County in a self-guided driving tour.
16. Camp Outdoors
Escape to the outdoors with an autumn camping trip.
17. Ghost Tours
18. Museum of Illusions
Feeling deceptive? Visit the Museum of Illusions for a mesmerizing experience that will have doing a double, or triple, take.
19. Waterfall Hikes
See all of the beauty Pennsylvania has to offer while hiking by a nearby waterfall.
20. See Animals
Pay a visit to the animals on the farm or at the zoo.
21. Drive-in Movies
Pack up the car with the kids and take in a family-friendly drive-in movie.
RELATED: Fall Weekend Getaways for Philly Families
22. History Lessons
Learn about the Revolutionary Way during Once Upon A Nation Storytelling Benches at Valley Forge National Historic Park.
23. Laurel Hill Cemetery
Spend the afternoon playing games, making crafts, and taking tours of Laurel Hill Cemetery during its Fall Fun Day.
24. Awbury Arboretum
Discover the wonders of our natural world at Awbury Arboretum.
25. Take a Weekend Vacation
Plan a family-friendly weekend getaway. Some of our favorites destinations include Gettysburg, the Poconos, Lancaster, and Cape May. N.J.
26. Local Hikes
Take a kid-friendly hike through a local park to glimpse the changing leaves. There are some legendary hiking trails an hour or less from Philly.
27. Reading Terminal Market
Sample the delicious autumn specialty foods at Reading Terminal Market.
28. Crayola Experience
Is your kid a doodler? Take a trip to Crayola Experience Pennsylvania in nearby Easton.
29. Storybook Land
Less than 60 miles from Center City is a storybook playland for preschoolers where you can ride the Happy Hayride to pick a pumpkin. Nothing scary in these Halloween decorations and activities.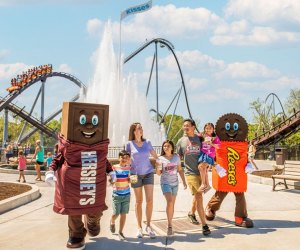 Meet a like-sized candy bar at Hersheypark. Photo courtesy of the park
30. Amusement Parks
Put on your Halloween costume and visit the Philly area's theme park destinations, including Hersheypark, Dutch Wonderland, and Six Flags, for seasonal fun.
31. Ride a Horse
Sign up for a horseback riding lesson. There are stables in Lafayette, Berwyn, West Chester, and the city.
RELATED: Family-Friendly Fall Hikes for Philly Families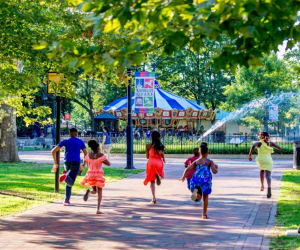 Ride Franklin Square's Parx Liberty Carousel. Photo courtesy of Historic Philadelphia
32. Parx Liberty Carousel
Climb onto a (pretend) zebra or dragon and take a spin at Franklin Square's Parx Liberty Carousel.
33. Have a Picnic
Pack a picnic and visit a new lunchtime spot.
34. Fall Festival
Plop your kid on a bale of hay for a photo op at a fall festival.
35. Eastern State Penitentiary
Get spooked on a tour of the nation's most infamous prison, Eastern State Penitentiary, which once housed some of America's most notorious criminals. If you choose to do the haunted tour, remember that it is better geared towards older children or teens who are not upset by spooks.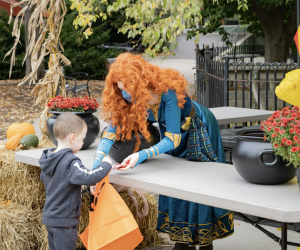 Dress up and head to Boo at the Zoo, where you can trick-or-treat among the animals. Photo courtesy of the zoo
36. Boo at the Zoo
Say hello to the animals and trick or treat at Philadelphia Zoo's Boo at the Zoo.
37. Diggerfest
See your construction favorites decked out for the fall and Halloween season at Diggerland's Diggerfest.
38. Amish Museum
Appreciate Amish life with a visit to The Amish Farm and House in Lancaster.
39. Halloween Parades
Find a Halloween Parade in your neighborhood, like this one in Ambler.
40. Stroll a Philly Neighborhood
Embrace the milder weather with a walk or bike ride through a local neighborhood.
41. Indoor Play Spaces
Great on hot days, great on cool days, indoor play areas are a perfect escape.
42. Explore Bucks County
Go back in time, or play the day away in Bucks County.
43. Smith Memorial Playground
Head down the massive, historic wooden slide at Smith Memorial Playground, or even sign up for the Slide-A-Thon.
44. Grown-up and Me Class
Take your little one to a Mommy and Me class (or whoever your child's special grown-up is in their life!).
45. Farm Visits
Visit a local farm that offers entertainment for the whole family.
46. Visit a New Museum
Many of the local museums offer fall festivities, like the straw maze at Woodmere Art Museum.
47. ...Or an Unusual Museum
For the older kids, a unique museum might be just the ticket.

The Bates Motel Haunted House might just be the best-haunted house in the U.S.! Photo courtesy of the Bates Hotel
48. Bates Motel
Get scared out of your mind at the haunted Bates Motel. Recommended only for older kids and teens who are not bothered by spooks.

Come in costume and celebrate silly, not-too-spooky fun at The Count's Halloween Spooktacular at Sesame Place!
49. Sesame Place
Young children can ride the amusements at Sesame Place and see the fall decorations.
50. Stay in a Treehouse
Book a tree house vacation for a future getaway.
51. Take a Scenic Drive
The Brandywine Valley Scenic Byway is not only beautiful but includes historic and fascinating stops like the Brandywine River Museum of Art and the Stroud Preserve.
52. American Treasure Tour Museum
View the odd, fascinating and nostalgic pop culture artifacts at the American Treasure Tour Museum in Oaks, from games to toys, to sculptures, to full-sized vehicles.
53. Visit a Local Farmer's Market
Enjoy the fall weather and bring home some fresh produce at places like the small but mighty Lansdowne Farmer's Market, which also features live music.
54. Chanticleer
The cultivated gardens at Chanticleer in Wayne feature fun sculptures and water features, along with resident fish and turtles.
55. Newlin Grist Mill
Explore both history and nature at Newlin Grist Mill in Glen Mills.
This post was originally published in Sept. 2015 and has been updated by Alyce Wilson for 2023.