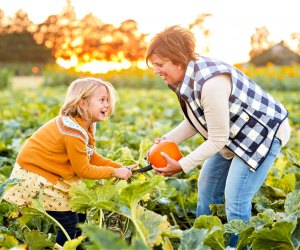 Best Pumpkin Patches Near Philly and Pumpkin Picking for Families
There's no better way to celebrate harvest season than with a special adventure to a pumpkin patch. Philadelphia families can find pumpkins by taking a beautiful drive to a suburban farm. Looking for more than just pumpkins? Not to worry; nearly every pumpkin patch on our list offers additional family fun, such as festivals, hayrides, corn mazes, playgrounds, and apple cider tastings.
Discover additional top fall activities for Philly kids in our recently updated posts about the best corn mazes, apple orchards, and state parks in the region.
In order to ensure the safety of all visitors, most farms are requiring masks and social distancing. Many ask that guests purchase timed tickets to help limit capacity. So jump online before heading out to get your time slot. Don't forget to pack your mask and hand sanitizer, too!
2020 Update: Public activities are limited to pumpkin picking, corn maze, and sunflower field at this time.
Pumpkin picking just scratches the surface of family-friendly activities here. Kids love to bounce, and Arasapha offers a pillow bounce, moon bounce, barn bounce, and pumpkin jumping! Plus, don't miss the enormous 5-acre corn maze that's suitable for all ages. Farm hours are Saturdays and Sundays from 10am - 4pm.
2020 Update: Masks and social distancing are required.
Not only does Colonial Gardens offer families tons of pumpkins from which to choose, it also provides other fall fun, such as hayrides, a corn stalk maze, a Halloween fun house, and haunted hayride. Pumpkinland opens on September 19, 2020, and continues through Halloween.
2020 Update: This Lancaster pumpkin patch is open for the season with all the fall trimmings.
Pick your pumpkins by the pound at this PA farm. With 12 varieties, including giant pumpkins, you are sure to find one to make your carving masterpiece dreams a reality. Wagon rides to the patch are available as well, running Fridays in October, Saturdays and Sundays from September 12, 2020, through Halloween.
2020 Update: Fall activities on Freddy Hill Farms have been canceled for the season. Autumn decoration such as pumpkins, straw bales, corn stalks, and gourds are still available for sale.
There's something for everyone at this farm. Meet animals at the farm zoo, play mini golf, use the driving range, hit the batting cages, or enjoy fresh milk and homemade ice cream. Pumpkin picking is traditionally available on Saturdays and Sundays in October; however it along with Fall Fest have been canceled for 2020.
2020 Update: Mask wearing and social distancing are required. To limit capacity, tickets must be purchased in advance and electronic waivers are required. Touch-free transactions available.
Need to find a farm that offers more than just pumpkin picking? A family can easily spend an entire memorable day here, with so many activities offered. Visitors can enjoy a corn maze (it transforms into a flashlight maze at night), corn chute slides, and a Junior Farmers' area for kids under 5. This is definitely a destination farm, and the fall activities are open starting September 18 through November 1, 2020.
2020 Update: Most fall activities including hayrides are canceled; however, guests can still go into the pumpkin patch to PYO pumpkins. Reservations are required.
Whether pumpkin picking or apple picking is on the agenda for the day, Highland Orchards has a convenient shuttle to take families out to the pick-your-own fields. Plus, take advantage of some photo-ops. Check out the market and bakery—all the goodies are locally sourced.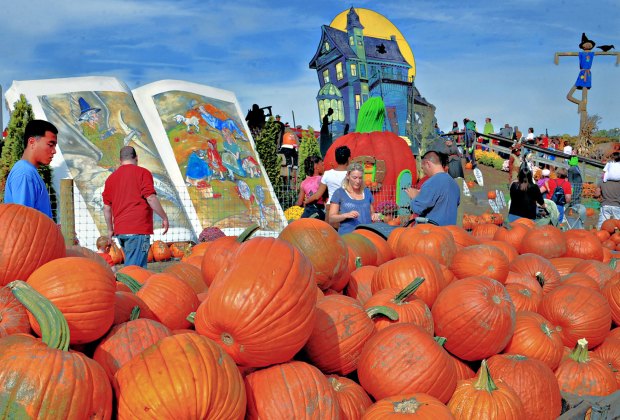 Pumpkinland at Linvilla Orchards is open for 2020. Photo by R.Kennedy for Visit Philadelphia
2020 Update: Timed tickets for activities are required and can be purchased online. While some things are closed, such as the playground, the massive Pumpkinland is open.
Pumpkinland is open now through November 8, 2020. This annual tradition may not be a real pumpkin patch, but there are a plethora of pumpkins from which to choose. Bring home some carve-worthy picks, head to the fields to pick apples if you are up for a real pick-your-own experience, and enjoy hayrides. For an extra special treat, weekend hayrides to the Witch's house begin September 25, 2020.
2020 Update: Reservations are required and can be made online. Guests are encouraged to visit on the weekdays when it is less crowded but most of the fall activities are available in 2020.
From September 12 through November 1, visitors can experience plenty of fall fun such as taking a hayride to the pumpkin patch pumpkin, wandering through a corn maze, and watching the farm animals in the Discovery Barn and Animal Farm. Guests can wander through the sunflower fields and pick apples too.
2020 Update: While masks and social distancing are required, this spot has widened its corn maze and planted plenty of pumpkins for visitors.
This family run farm opens on September 19 for pumpkin picking. Free hayrides run regularly throughout the day to the patch. There is a corn maze to explore and goats to watch, too.
2020 Update: This spot will not offer pumpkin picking this year; however, pre-picked pumpkins are available for purchase.
'Tis the season for apple cider, freshly baked pies, hayrides, and of course... the pumpkin patch. Even though Maple Acres isn't offering pumpkin picking, there are still things to do. Kids can watch the farm animals, take a hayride, and climb in a wagon filled with hay.
2020 Update: Fall harvest days with the pumpkin patch are happening Saturdays and Sundays in October this year. The "Lighting of the Great Pumpkin" is canceled.
This working dairy farm has been in the same family for over 100 years. While Merrymead Farm hasn't offered pumpkin picking in its fields for a few years, families can still select the perfect pumpkin during Harvest Days. Guests can enjoy hayrides, a corn maze, and other fun-filled activities. Don't forget to pick up some seasonal pies to take home.
2020 Update: The pumpkin patch is open September 26-October 31 in 2020 with the option of private hayrides. General admission tickets allow 2 hours on the farm.
During Pumpkin Harvest Season, Milky Way Farm visitors can take advantage of the pick-your-own pumpkin patch and play in the corn maze and hayrides during Pumpkin Harvest Weekends starting in late September. In addition, guests can enjoy seeing the young farm animals and tasting farm fresh ice cream.
2020 Update: Pre-purchased tickets for the hayrides are required to limit capacity.
Daytime and evening fall fun are available to families that visit Shady Brook, as well as pumpkin picking. Kids can enjoy giant jumping pillows, moon bounces, wagon rides, and a bears' playground. FallFest begins September 11, 2020, and runs through Halloween.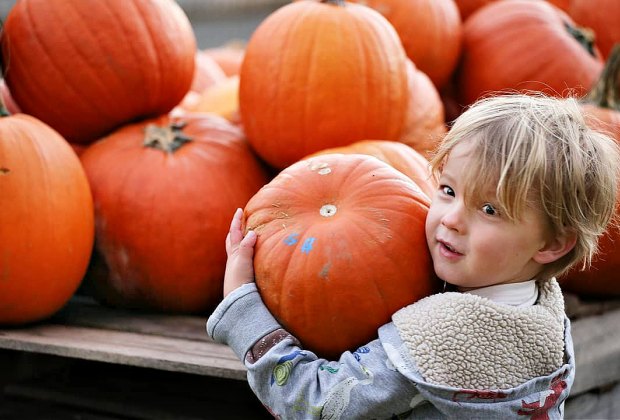 Kids love to pick the biggest of the pumpkin patch. Photo courtesy of Snipes Farm
2020 Update: This farm will be offering pumpkin picking this year but will not offer the corn maze, hayrides, bonfire, apple picking, and birthday parties.
This sustainable farm features educational activities, hayrides to the apple and pumpkin orchards, a barnyard playground, and wooden mazes to keep kids entertained. Plus, families can meet farm animals, bunnies, chickens, and goats during a pumpkin-picking excursion. Snipes Farm is only open weekends. The last hayride leaves an hour before closing.
2020 Update: Pick your own pumpkins and hayrides run every weekend starting September 26, 2020.
In addition to pumpkins, this farm also has an array of pick-your-own apples and many varieties of peppers.
2020 Update: Hayrides are running through October and are free. Masks must be worn at the stands and during the hayrides. No reservations are needed.
Bountiful varieties of apples, squash, and corn are available for picking, in addition to pumpkins. Plus, don't miss the three-acre corn maze that's great for kids and adults. Insider tip: wear sturdy shoes for the corn maze—it can get slick on the pathway.
2020 Update: No reservations are needed for hayrides to Sugartown Strawberries' pumpkin patch. But wagons will be limited to 20 people and masks must be worn.
Kids and grown-ups alike are impressed with the selection of pumpkins. Plus, you can certainly have fun choosing some interestingly shaped gourds and colorful Indian corn to use as fall decorations. Families can also participate in the hay bale maze. There are tons of photo ops here, so don't leave the camera at home. The pumpkin patch is open from 11am - 5pm starting on September 26 through Halloween.
2020 Update: This 100-acre PA farm is open for fall harvest activities, including the pumpkin patch, with social distancing required.
On the weekends, pumpkin pickers young and old can take a wagon ride to the patch at Varner Farms. There's also a corn maze, barnyard animals, and a play area with slides and more. Check out the FREE Candy Carnival on Halloween (preregister, please!), when little ones can do activities and receive candy.
A version of this article first published in 2016.