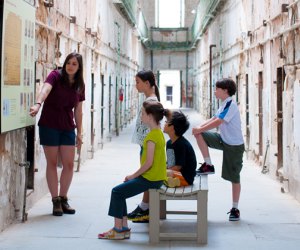 Unusual Philly Museums That Tweens and Teens Will Love
Philadelphia is filled with incredible museums and attractions for kids, but it can be tough to entertain the tween or teen who has seen it all. The unusual places in this lineup explore the weird, dark, even gross side of history and science, offering experiences your kids won't soon forget. These museums are sure to amaze, surprise and inspire. Geared for kids ages 11 and up, there are a few spots below that are suitable for younger children too, as noted.
Mütter Museum of the College of Physicians of Philadelphia
This just may be the weirdest place in town. A museum dedicated entirely to the mysteries of the human body and medical history. Older kids will love the collection of 139 human skulls, the interactive exhibit on Civil War medicine, the body of the famous "Soap Lady" and more. They can even see pieces of Einstein's brain! After-hours guided tours are offered for groups of 10 or more and would make a unique, unforgettable birthday party.
Eastern State Penitentiary
Stroll together with your kids through the dark, crumbling halls of this old jail. One of the most famous prisons in the country, it housed high-profile inmates like Al Capone. Visitors can roam through huge cell blocks lined with tiny cells while learning about the history of the prison and its inhabitants. There's a scavenger hunt for younger visitors, and the "Voices of the Eastern State" audio tour is a great option for anyone 12 or older. Please note, the museum is not recommended for children under 7.
Wagner Free Institute of Science
Science and history meet at this museum where, according to its website, "little has changed but the century!" The museum opened in the mid-nineteenth century to provide free science education to Philadelphia residents, and today, it remains a beautiful collection of minerals, fossils, and taxidermy. Kids will gape at the first American Saber Tooth Tiger, discovered in 1886 in Florida, and other mounted animal skeletons, skulls and skins. Visitors can browse on their own or catch a guided tour, and the museum also offers educational programs for students.
Insectarium
The first and largest all-bug museum in the country, Insectarium is a creepy-crawler lover's dream. While it may be geared for younger children, older kids--especially ones who love insects--may also enjoy interactive exhibits like Cockroach Kitchen (featuring live cockroaches), a working beehive, a "Petting Corner," and Arachnid Alley. The website boasts over 5000 square feet housing thousands of live and mounted insects. Check out feeding time for the live insects (11am each day).
Pizza Brain
If you've managed to work up (or keep) an appetite during your adventures in odd, look no further than Pizza Brain, the only pizza museum on earth with an artisan pizzeria and ice creamery attached. Kids from 1-100 can share an award-winning pie or slices while enjoying the largest collection of pizza memorabilia in the world, then grab a cone at Little Baby's Ice Cream next door, which scoops out extraordinary flavors like birch beer vanilla bean, chipotle chocolate and, it's true, pizza.
These 5 Philly "odd spots" celebrate the strange, uncover the unusual, and prove that weird definitely is cool--and unforgettable.
Photo courtesy of Eastern State Penitentiary