Newlin Grist Mill: Where Nature and History Come Alive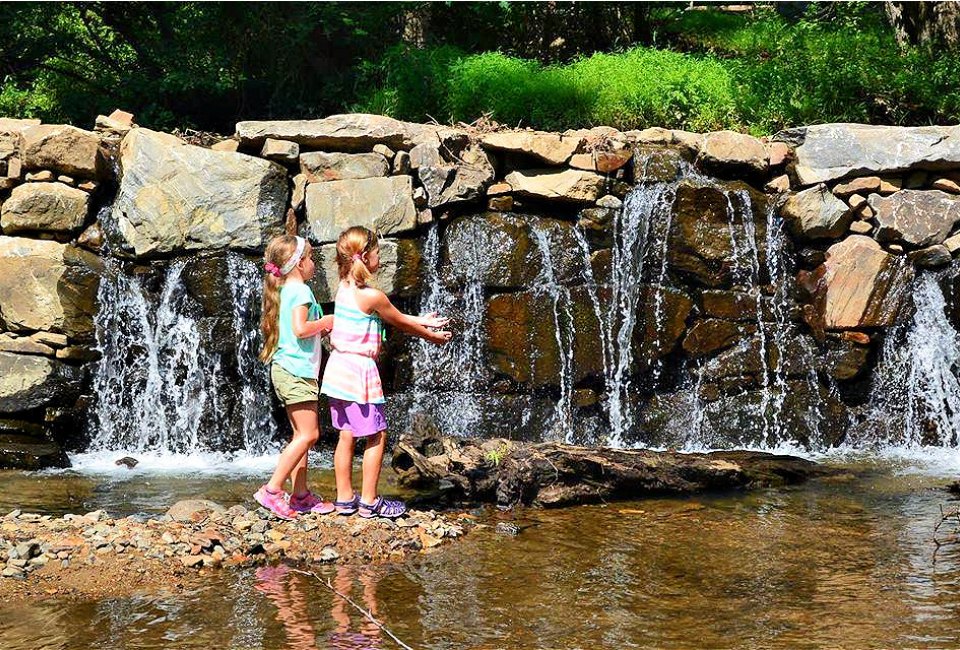 4/4/21
- By
Alyce Wilson
As you seek out fun and educational activities for your family, consider one of the Philadelphia area's little-known gems: Newlin Grist Mill, a 160-acre park in Glen Mills that combines opportunities for outdoor recreation and exploring history and the environment. Whether you're interested in hiking the eight miles of nature trails or learning about Colonial Pennsylvania, you can craft an excursion for anywhere from an hour to an afternoon for everyone from toddlers through adults.
It's an ideal addition to our Spring Fun Guide and yet another thing we are excited to do with kids this spring.

Learn about Colonial crafts and more.
Things to Do at Newlin Grist Mill with Kids
In 1704, the family of Nicholas Newlin built the mill, situated in Glen Mills, Concord Township. For more than two centuries, the mill ground grains and flour products under a series of owners, halting its commercial operations in 1941. Since 1960, the Nicholas Newlin Foundation has preserved the land and its historic buildings both for educational purposes and as an environmental refuge.
Kids and other visitors can learn about 18th-century trades through the History at Work series of demonstrations. Newlin Grist Mill's staff and volunteers provide live demonstrations of vital Colonial crafts, including millwrighting, blacksmithing, soapmaking, and food preservation. The free programs are held from 10am to 3pm on the last Saturday of the month, June through October.
Bird Walks
Encourage your budding naturalist with free monthly bird walks led by experts, covering basics of bird identification and biology. Beginners and families are welcome. A limited number of binoculars are available, but you're encouraged to bring your own if you have them. Bird walks take place on the last Saturday of the month at 8am April through October and at 9am November through March. To join, meet in front of the Visitor Center.
RELATED: Experience Nature in Philly Without Leaving the City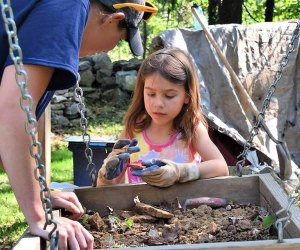 Sift through the mill for treasures.
Public Archaeology
As an ongoing historical preservation project, the staff archeologist leads onsite excavations, normally involving hands-on participation. The public archaeology events are held monthly, May through October.
Environmental Programs
In a typical year, Newlin Grist Mill offers scheduled programs with the staff naturalist to learn about seasonally appropriate topics. In spring through fall 2021, instead of programmed events look for the Pop-Up Naturalist signage. These signs allow self-guided natural explorations, crammed full of fun facts. Themes and locales change on a monthly basis, spotlighting the environmental highlights of specific times of the year. Learn about everything from frogs to pollinators, to wildflowers, to Monarch butterflies.
RELATED: Zoos and Animal Farms Near Philly

Enjoy a peaceful hike along the tree-lined trails.
Take to the Trails
Looking to explore nature? Check out the trails with the help of a handy online map. Visitors can plan anything from a quick hike of less than an hour along the Millrace Trail to more adventurous excursions following other trails, such as the Beech Trail, lined with beech trees and striking in any season.
In 2021, the Tales on Trails program allows readers to read along with a picture book while hiking the Millrace Trail, with books rotating throughout the year.
Know Before You Go
The park and its trails are open daily from 7am to 7pm.
Restrooms are available in the Visitor Center.
In summer 2021, Public Archaeology events will not allow hands-on public participation. Visitors, however, can watch archaeologists work as well as talk to them about their discoveries.
In 2021, visitors to both the site and programs must wear masks and maintain appropriate social distance.
Tours are expected to reopen on a limited basis in June 2021, when flood-related repairs are completed. Visitors in the meantime can access a virtual tour through the museum app Clio.
Photos courtesy of Newlin Grist Mill
Places featured in this article:
Sign up for the Mommy Poppins Newsletter today!