Team up with FCS Athletics
Middle & Upper School Campus

Artificial Intelligence with Scratch Online Camp
Young Gates - Kids Online Personalized Classes

Online Robotics Camp
Young Gates - Kids Online Personalized Classes
Sign up for our free newsletters.
10 Free Places to Enjoy Fall Foliage in the Philly Area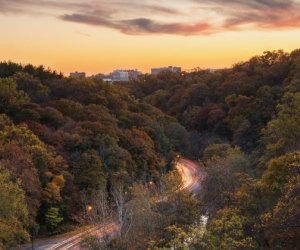 8/3/19
- By
Jennifer Colletta
One of the most picturesque times of the year is finally upon us! Fall in Philly brings with it lots of awesome outdoor activities for kids, from apple-picking to Halloween haunts, and more, but if you're looking for an afternoon of free family fun, why not simplify and take a drive, walk, or bike ride to glimpse the fall foliage? Even though Philly is known for its skyscrapers, the city is also home to ample green spaces, which provide a beautiful backdrop this time of year. Here are a few of our favorite spots:
Philadelphia
Schuylkill River Trail
The 130-mile trail cuts through Southeastern Pennsylvania, including a popular 10-mile section that takes in Fairmount and Center City. Fall foliage borders both sides of the river and provides a perfect setting for a Sunday stroll or even some family photos.
Manayunk
The city's hilliest neighborhood offers excellent views of the leaves along the Schuylkill River. Lace up your sneakers and hit the towpath that runs alongside the Manayunk Canal.
Azaela Garden
Behind the Philadelphia Museum of Art sits a grove of trees that would make a great spot for a weekend picnic. The sloping hills are great for kiddos to roll down, as parents take in the beauty away from the bustle of the city.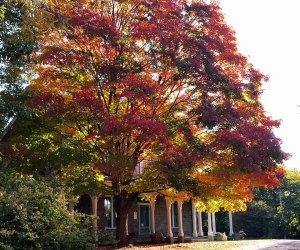 Photo courtesy of Awbury Arboretum
Awbury Arboretum
The public park in Germantown features 55 acres of lush landscapes that guests can explore through walking trails and guided tours. As an added bonus, kids can experience hands-on environmental education through weekday field studies.
Pennypack Park
The massive Northeast Philly park includes nearly 9,000 acres. Trails for walkers and bikers help you wind your way beneath foliage of all types, and past natural waterfalls and beautiful bridges.
West Laurel Hill Cemetery
The historic burial ground sits atop a hill overlooking the Schuylkill River, an excellent vantage point for some autumn views. The cemetery itself, which is open to the public, is covered in dense trees.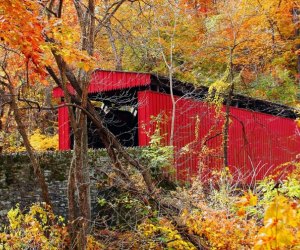 Photo courtesy of Friends of Wissahickon
Wissahickon Valley Park
There are more than 50 miles of trails in this city park, which overlooks the Wissahickon Creek.
The Suburbs
Tyler State Park- Newtown
This 1,700-acre Bucks County park surrounds Neshaminy Creek, and offers rolling hills, ponds, covered bridges, and lots of opportunities to marvel at the fall colors.
Bowman's Hill Wildflower Preserve- New Hope
The New Hope wildflower preserve lets guests walk among beautifully colored foliage and fruits. Kids will love the hands-on activities on the Discovery Trail, as well as learning about nature at the Children's Library.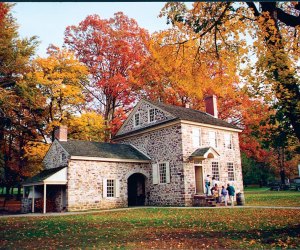 Photo courtesy of Valley Forge National Historic Park
Valley Forge National Historic Park- Valley Forge
History and nature collide at Valley Forge. Walk back in time on the grounds of the National Historic Landmark in Montgomery County as you explore a forest, tall-grass meadows, streams, and a river, and the native wildlife that inhabit it.
Header image of Wissahickon Park courtesy of Friends of Wissahickon