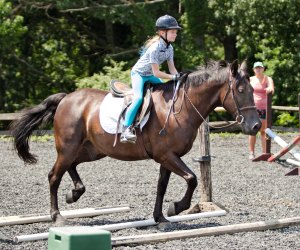 Horseback Riding Camps and Lessons Near Philadelphia
Many children are fascinated by animals, but there is something special about horses, which seems to naturally draw children to these majestic creatures. Lucky for Philly area families, several farms, stables, and equestrian centers throughout the Delaware Valley offer Philly kids the chance to get up close and personal with horses. Whether through summer camp or weekly lessons, children can experience the thrill of riding horseback while building self-confidence and responsibility. We have rounded up a number of spots throughout the region that provide camp opportunities and lessons for kids interested in horses.
For other class or camp ideas for your children, be sure to check out our Philly Classes Guide and Camps Guide.
Note that summer camp information for the 2020 season is changing daily. Please click the links to the individual camps below to see which ones are offering programs this year.