9 Family-Friendly Fall Weekend Getaways Near Philly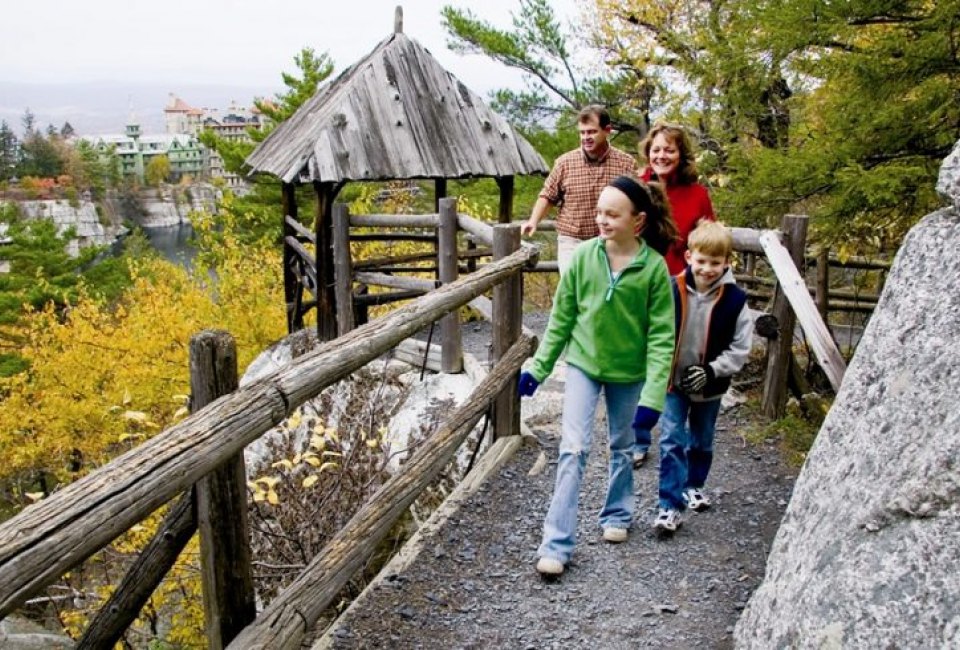 10/19/18
- By
Cait Sumner
Summer has come and gone and the days of vacation at the shore have passed. If you've still got some vacation days left, maybe you're thinking about taking a long weekend away. Or, maybe you'd just like to take a weekend to see the leaves change color and enjoy the beautiful weather before winter hits. We've rounded up some beautiful vacation spots nearby that are full of lovely fall activities and sights. If you're taking a longer trip, check out our 10 Family Road Trips Under 10 Hours Away post for more great ideas.
Cape May, NJ
Cape May is a great place to view birds and monarchs in the fall. The Cape May Fall Festival- So. Many. Birds. takes place from October 18th-21st. There's also plenty of great shopping and most of the local restaurants stay open throughout the fall. Enjoy family bike rides by the beach in the crisp autumn air.
Lancaster, PA
Lancaster offers plenty of fall farm fun- from pumpkin and apple picking to corn mazes and more. Autumn is harvest time in Lancaster, so there are plenty of farmers markets to visit as well. There are also quite a few covered bridges that are really beautiful in the fall. For a more extravagant and unique experience, take a hot air balloon ride.
New Paltz, NY
New Paltz itself is a pretty small town, but it does have some quaint shopping areas and delicious food. The real sight to see here is the Mohonk Mountain House. A beautiful mansion-like hotel, set back on Mohonk Mountain. In fall, the trees here are absolutely beautiful. Even if you're not staying at the house, there are plenty of activities to do there including hiking and biking, rock climbing, and carriage rides.
Pocono Mountains, PA
The Poconos are well known as a winter vacation spot for families, but there's plenty to do and see in fall, too! From hayrides, farms, to pumpkin and apple picking, and festivals, there's so much for families to enjoy here. Visit The Great Pocono Pumpkin Festival through October 28th. Fall foliage is also on display in a beautiful way here.
Pine Creek Gorge, PA
Touted as Pennsylvania's Grand Canyon, Pine Creek Gorge is a beautiful place to visit any time of year, but especially in the fall. The surrounding trees are changing color creating a beautiful, scenic view. This gorge is almost 50 miles long and 1,000 feet deep. There are plenty of trails surrounding the gorge and it's also a great place for bird watching. The quaint nearby town of Wellsboro is an interesting place to visit with gas-lit streets and Victorian mansions dating back to the early 1800's.
Cape Cod, MA
While you may think of Cape Cod as strictly a beach town, this place has plenty to offer in the fall. Watch the trees transform, take a crisp autumn walk on the beach, or go on a haunted history tour. Autumn is the perfect time to learn about cranberries on a cranberry bog tour. Also check out the Fall For The Arts Festival all month long in October.
Gettysburg, PA
What better place to be in fall than one of the most haunted destinations in America-- Gettysburg. Go on a ghost tour, see the leaves change, visit an apple orchard, and, of course, see some historic sites. Don't forget to check out all the great events and festivals that Gettysburg has to offer in the fall.
Kempton, PA
Hawk Mountain Sanctuary is open 365 days a year; however, fall is a wonderful time to experience the vibrant colors of the autumn foliage and watch the birds migrate south. Guests can expect hiking trails with plenty of photo ops as well as weekend programs such as Binocular Basics and Name that Raptor. Nearby hotels, motels, and camping areas make this a great weekend destination.
Lititiz, PA
Recently voted the "coolest small town", Lititiz is home to America's first pretzel bakery, America's oldest independent boarding and day school for girls, and Wilbur Chocolate. Throughout the fall months, visitors to Lititiz can experience many special events including a block party, 5 K, Halloween parade, and kids literature festival. Animal lovers are sure to enjoy a trip to the nearby Wolf Sanctuary of Pennsylvania to see Speedwell wolves. Guests can expect full moon tours as well as Wolf Awareness Day held on October 28th.
Photo courtesy of Mohonk Mountain House