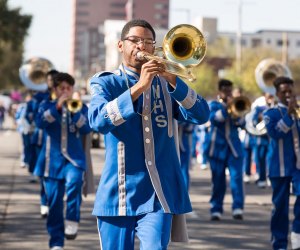 Things to Do in Houston This Weekend with Kids: Houston Creole Mardi Gras Parade, Opera to Go!
This time of year can be a little tricky. We're in a long stretch of school, the days are still short on light, and it's a constant toss up what the weather is going to be like; will it be a balmy 70-degree day today or somewhere below freezing? No one knows!
Which is why we like to have a handy little arsenal of indoor activities packed away, ready to bust out at a moment's notice. Some of our very favorites include:
Not to mention the new Kanga's Indoor Playcenter that is definitely worth making a little trip to visit when you need some indoor fun.
We also highly recommend printing out a copy of our 100 Things To Do With Houston Kids Before They Grow Up so you can start checking these Houston favorites off your bucket list. Don't forget: our event calendar is always serving up daily inspiration, and our February GoList is your go-to place for the hottest happenings throughout the month. Staying in the loop with all the events and activities in our city has never been easier (especially when you sign up for our weekly newsletter!).
With so many fun places to go and see, the hardest part is picking what's going to make the cut this weekend!