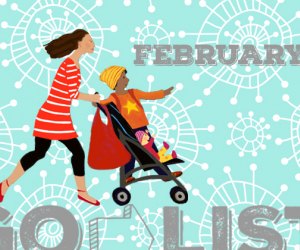 February GoList: Best Things to do with Houston Kids This Month
February is here, and it's a good thing there's an extra day added on thanks to the leap year - it's full of things to do all around Houston. Get lost in the magic of "Finding Neverland" at the Grand Theatre in Galveston (which really is magical in of itself), and while on the island, take a look at which eateries are participating in Galveston Restaurants Week.
Play with puppies at the Children's Museum, enjoy a free Beethoven concert at the Wortham Theater Center, and take the kids to see their favorite puppets come to life at Sesame Street Live! at NRG. Main Street Theater's "The Diary of Anne Frank" is also running this month through Feb. 16.
And if you're the planning type, you may have started thinking about summer plans, like what in the world you're going to do to keep your kids busy all day. Check out our summer and vacation camp guide for ideas on things they can do out of the house. Read on for the best things to do with the kids this month.
Weekends in February
The water in Galveston Bay may be a bit cool for our Houston blood, but the rides and attractions at Kemah - from the Stingray Reef Exhibit to the endless Midway games - don't require 90-degree-weather. Every weekend in February the boardwalk offers a special discount where one all-day pass ($25) earns you a second one for $5.
Jan. 25-Feb. 9, 2020
Galveston's Restaurant Week features delicious dining from its signature restaurants. Two and three-course dinners are $20-$35, and two-course lunches, breakfasts, and lunches cost $10-$20
Feb. 1, 2020
Actually, you don't even need to drive to Galveston for a good Mardi Gras party! This family-friendly event features food, entertainment, and more fun centered around Creole culture.
Feb. 1, 2020
Experience real winter temperatures at Saint Arnold's Houston Ice Festival! Here you can see ice sculpting competitions, interactive ice scultupres, performances, and more ice. There's also a Kid's Creative Corner, painting, and arts and crafts.
Feb. 1-2, 2020
Discover just how much pixie dust was required to created the magical world of Peter Pan in this timeless musical. If you haven't taken your family to a performance at the stunning Grand Theatre, now is the time! And while you're there, check out all there is to do on the island.
Feb. 5, 2020
They say listening to classical music boosts creativity and lessens stress, so this free lunchtime concert is basically self- and family-care. You can bring your own lunch or purchase food on-site to enjoy during the performance.
Feb. 7-9, 2020
Elmo and friends come to life at "Sesame Street Live! Make Your Own Magic," which features your kids' favorite puppets and their magical guest.
Feb. 8-9, 2020
Your little car enthusiast will FLIP when they see giants like Grave Digger and Iron Outlaw soar across the Monster Jam course at NRG. Purchase an early-access pass to get up-close-and-personal with these larger-than-life machines.
Feb. 8-9, 15-16, 2020
It's never too soon to think about your family's summer plans, and we aren't talking about vacations. As much fun as it is to spend every waking hour with your little ones when school is out, the city has tons of fun and educational summer camp options the kids (and your sanity) will love. This fair showcases dozens of area camps as well as live entertainment and activities.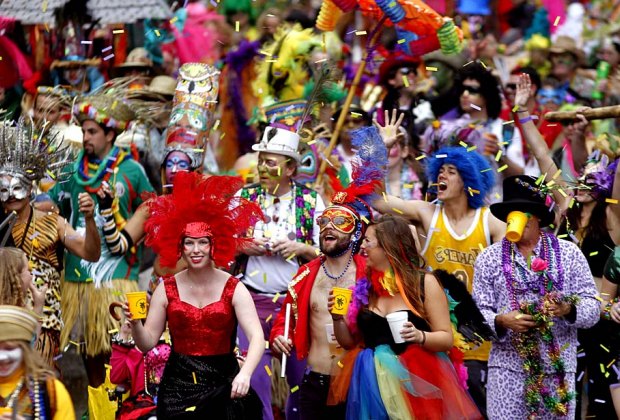 Expect larger-than-life parades at Mardi Gras Galveston/Photo courtesy Mardi Gras Galveston
Feb. 14-25, 2020
You don't have to go all the way to Louisiana to enjoy Mardi Gras. Galveston hosts the third largest celebration of its kind in the United States that features parades, entertainment, and good food.
Feb. 15-16, 2020
This larger-than-life event gives you the excuse you've been waiting for to check out the Avenida of Americas near Discovery Green. At Dinosaur Adventure, kids get to see a 40-foot-tall MOVING T-Rex, tackle a dino-themed obstacle course, and more.
Feb. 15-16, 2020
The infamous Harlem Globetrotters are in town for an action-packed show every kid needs to see at least once before they grow up.
Feb. 22, 2020
Kids can get up close and personal with all sorts of trucks - big trucks, off-road mudders, fire trucks, police cars, and more. There is also a sensory-friendly hour with minimal noise 9-10 a.m.
And for things to do every day of the week, check out our event calendar, and if you haven't already signed up for our free newsletter (where you'll receive our recent posts and things to do each weekend), subscribe now!