8 Must-See Houston Museums You've (Probably) Never Heard Of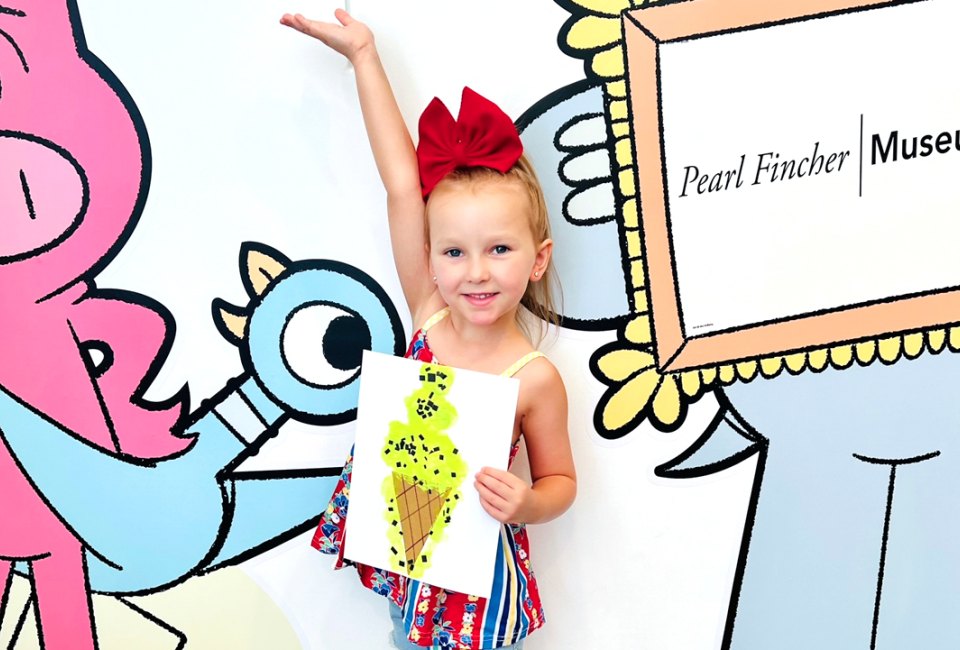 1/13/17
- By
Carrie Taylor
Houston's Museum District may be home to some of the city's classic destinations (Children's Museum of Houston and Houston Museum of Natural Science, to name a few), but if you look outside of the loop you'll find some more...eclectic options, shall we say. And maybe you're just not up for fighting the downtown traffic. We hear you. From the history of caskets and coffins to a look at the evolution of the cowboy, here are eight museums to visit with your kiddos.
Pearl Fincher Museum of Fine Arts - Spring
6815 Cypresswood Drive
281-376-6322
Cost: Free
At this museum, you can expect to see original works of art in exhibits that showcase both regional and national culture and history. There are also family art classes, family museum days that feature art projects, demonstrations, and performances, as well as rotating exhibits throughout the year.
American Cowboy Museum - South Houston
11822 Almeda Road
713-433-4441
Cost: $9 (kids), $10 (adults)
Sure, you don't see many cowboys roaming Houston's busy corridors anymore, but the region's rich history of cowboy culture - influenced by peoples of a variety of backgrounds and cultures - is still very much alive in this museum. Note that visits are appointment-only and group trips are encouraged.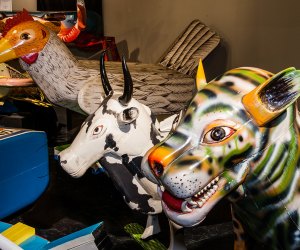 Photo courtesy of the National Museum of Funeral History

National Museum of Funeral History - Spring
415 Barren Springs Drive
281-876-3063
Cost: $10 (adults), $7 (kids ages 6-11), Free (kids ages 5 and under)
What's not to love about a museum with the slogan, "Any day above ground is a good one." Visitors can browse the exhibits by themselves or book a guided tour. You can expect to see unusual and unique caskets - like the exotic animals pictured above - historical hearses, and read about the history of funerals and mourning the deceased from cultures around the world.
George Ranch Historical Park - Richmond
10215 FM 762
281-343-0218
Cost: $10 (adults), $5 (kids 5-15), Free (kids ages 4 and under)
This museum is located on a 20,000-acre working ranch complete with historic homes, costumed reenactors, and more. Learn about the property and region's history while grabbing lunch from the Chuckwagon or learning how to make 19t-century crafts. Check the calendar for special and monthly events.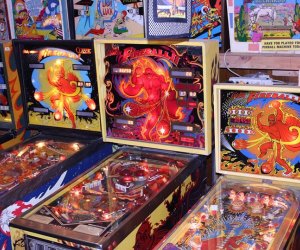 Photo courtesy of the Lone Star Pinball Museum

Lone Star Pinball Museum - Hockley
35222 Hempstead Hwy.
936-372-2607
Cost: Free
The kids will be amazed at these prehistoric games that once filled you and your parents' childhood with hours of enjoyment. The pinball museum is full of nostalgia, with games dating back to the 1930s. It's open by appointment only.
WaterWorks Education Center - Humble
12121 N. Sam Houston Parkway E.
832-395-3791
Cost: Free
Group reservations are required for the city of Houston's water education center, but it's well worth the effort! Just gather a group of classmates, friends, or whomever, and experience the facility's interactive exhibits that range from scavenger hunts to discussions on the water cycle and preservation efforts. Be warned that there can be a lengthy wait, so make reservations as far in advance as possible.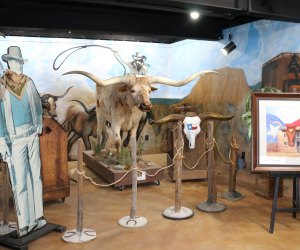 Photo courtesy of the Butler Longhorn Museum
Butler Longhorn Museum - League City
1220 Coryell St.
281-332-1393
Cost: $10 (adults), $9 (kids ages 6-12), Free (kids ages 6 and under)
Housed in a beautiful historical building - the former home of local banker Walter Hall - the museum's exhibits focus on area resident Milby Butler who played a significant role in saving the Texas Longhorn from extinction. The 10-acre complex is next to League City's Heritage Park, so it makes for a fun day or afternoon trip.
1940 Air Terminal Museum - Hobby Airport
8325 Travelair St.
713-454-1940
Cost: $5 (adults), $2 (children)
Hidden behind the west side of Hobby Airport, this museum for aviation lovers is housed in an art deco building and features model airplanes on display as well as their life-size counterparts. Kids can walk inside vintage planes and helicopters, and the best part is you get a perfect view of the modern aircraft taking off and landing at Hobby.
Top photo by Rachael Cherry/Mommy Poppins at the 1940 Air Terminal Museum