A Family Visit to George Ranch Historical Park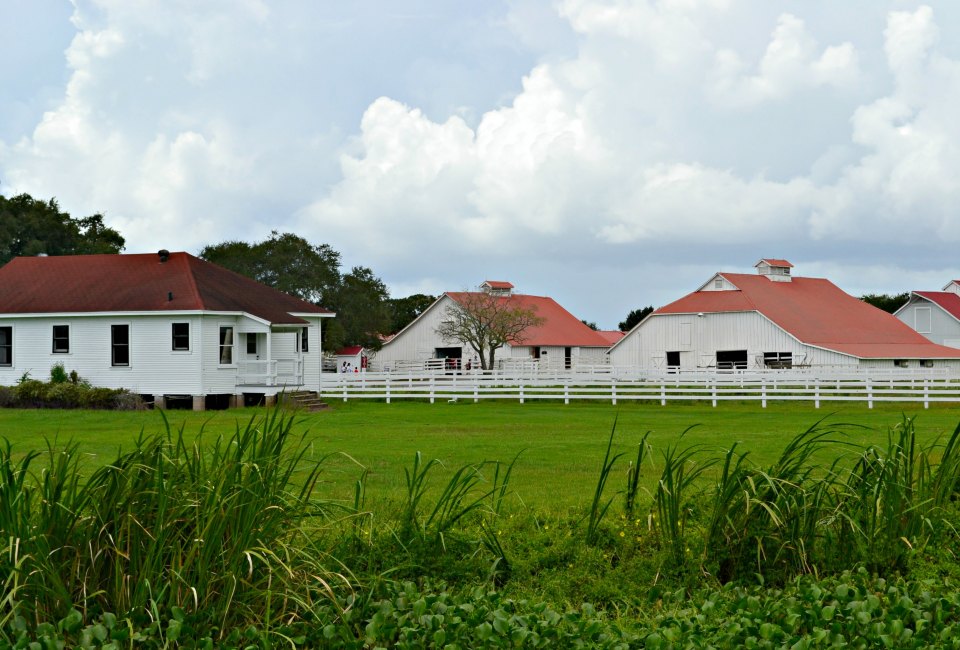 9/18/16
- By
Rachael Cherry
In the southwest corner of the greater Houston area is the 23,000-acre George Ranch, which is home to the George Ranch Historical Park. Driving down to Richmond, which is about 15 minutes west of Sugar Land, may seem like a hassle for some Houstonians, but a visit to the park is worth it. It brings nearly a century of Texas history, the 1830s to 1930s, with historical replicas, exhibits, and reenactments.
Read on to hear about my family's trip to George Ranch Historical Park during Labor Day weekend and why we think it makes the perfect day trip.
The park features five main facilities: The 1830s Jones Stock Farm, 1860s Ryon Prairie Home Site, 1890s Davis Victorian Complex, 1930s George Ranch Cattle Complex, and the Heritage Trail.
Guests start at the visitor's center where a tractor-drawn trailer travels around the entire complex. The tractor drops guests off and picks people up at the five main destinations, but you can also walk the mile-long loop at your own pace.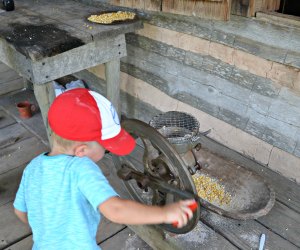 The first landmark on the tour is the 1830s Jones Stock Farm, which was the homestead of settlers Henry and Nancy Jones who were among 300 families that settled along the Brazos River with Stephen F. Austin. The farm consists of an 1830s log cabin replica, summer kitchen and stock farm outbuildings. Visitors can touch and feel nearly everything on the site as costumed characters reenact what life would have been like in the 1830s. As we wandered through the log cabin, we saw one woman cleaning cotton, another peeling strip of wood from a log and a man tending to various farm tasks.
My toddler's favorite parts of this stop were getting to grind corn with an authentic grinder and attempting to get close to the chickens.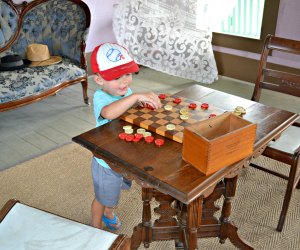 The 1860s Ryon Prairie Home was up next. The two-story, Greek Revival home belonged to the Jones' oldest daughter and her husband, William and Polly Ryon. With a ranching and farming enterprise that spanned over 27,000 acres, Polly was one of the area's largest landowners at 18 years old. Seeing what life was like in the 1860s was an interesting combination of familiar and unfamiliar. Little things, like a checkers set, made the house feel like home, while a cast iron oven and stove served as a stark reminder of how far things have progressed. Outside we found a garden, chicken coop, pig pen, and chuck wagon.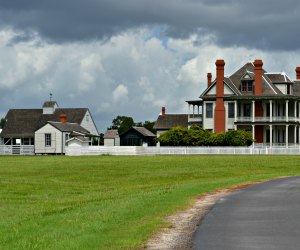 Stop three is the 1890s Davis Victorian Complex, which is more spread out than the other stops. It consists of the Davis House, the Family Cemetery, the Oldenburg Blacksmith, the Sharecropper's Farm, Line Camp, and Rail Car, and Longhorn Pens. These points of interest are divided into two different sections with the house, cemetery and blacksmith shop grouped together, and the farm, camp, rail car, and pens further off to the opposite side.
It's worth noting that this is when we wished we had brought a stroller. While this walk would have been fine for my husband and me on our own, and probably even for our toddler if he was older, at this point he insisted on being carried.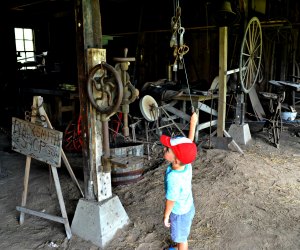 We headed to the Davis Family Cemetery first, and although you can't enter the actual cemetery, it's set in a grove of trees that make it a hauntingly breathtaking spot. There are several benches in the area and a kiosk that details the Davis Family history. From there. we walked over to the Oldenburg Blacksmith, where we found a blacksmith molding tools in the fire. As he worked, he shared facts about the 1890s blacksmith trade and showed us different knives and tools that were commonly made.
The Davis House, which is a true Victorian mansion, is stunning and is where Polly's oldest daughter, Susan Elizabeth, and her husband Judge John Harris Pickens Davis resided. It is beautifully decorated to depict a lush lifestyle.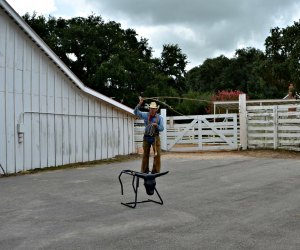 Our last destination was the 1930s George Cattle Complex where we were able to see the George Ranch Home, which still stands where it was originally built. It also features the original barns and working pens. At this stop, visitors are able to get a taste of what life was like as a cowboy in the 1930s and 1940s. The highlight of this stop for my son was getting to pet one of the horses, and he also got to watch a cowboy give a cattle roping demonstration with a small metal calf.
Due to impending rain, we decided to skip walking through the actual George Ranch Home, which belonged to the Davis' daughter Mary Elizabeth and her husband Albert P. George. It was designed by famous Galveston architect Nicholas Clayton and is filled with many of the family's original furnishings. We did get to see the cattle chutes and dipping vats and talk with a cowboy about how much cattle ranching has changed since the early 1930s. The George family is most known for their deep generosity to the community and the George Foundation, which was established to give back to the surrounding communities since they had no living children of their own to inherit their wealth or estate.
The Heritage Trail is a half-mile loop that follows Dry Creek, but we had to pass it up because of the impending rain. It is self-guided and handicap accessible and allows visitors to interact with local flora and fauna. There is also a plot of land at the trail's entrance where the park hopes to restore the original look of the Texas prairie and frontier.
There is a lot to see at the George Ranch Historical Park, and it has tons to offer for visitors of all ages.
Helpful Information for Planning a Visit:
Normal hours of operation are 9 a.m.-5 p.m., Tuesday through Saturday. Holiday hours vary, so be sure to check the website ahead of time.
Admission is $10 for adults, $9 for seniors, and $5 for children ages 5-15. Children 4 and under are free.
The park organizes various events throughout the year, so check the calendar before planning a visit for any events that may be happening during your trip.
Expect to spend several hours at the park. It's recommended that visitors arrive by 1:30 p.m. at the latest to get the most out of their visit.
Bring a stroller for toddlers and young children if you plan on walking the entire trip.
Picnic lunches are welcome on non-festival days.
It's a good idea to bring water along especially on hot days. There are also vending machines with water and soda around the Park.
Check the weather ahead of time and dress accordingly as you will be outside or in buildings with no air conditioning for most of the trip.
Parking is free.
All photos by Rachael Cherry
Places featured in this article:
---
George Ranch Historical Park
Click Here to Sign Up!