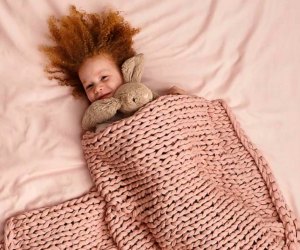 Editors' Picks: Our 10 Favorite Things This Month
The holidays approach as visions of Christmas gifts, supply chain problems, Thanksgiving travel, early Hanukkah planning, and more all fight for real estate in the forefront of our minds this November. So the things we are loving this month are an interesting mix of new items we're stocking up on for the holidays, new entertainment that will keep everyone from toddlers to Grandpa entranced at Thanksgiving gatherings, and a couple of products that just make life easier. Read on to find out what the Mommy Poppins editors are obsessed with this month.
By the way, none of these items are sponsored—these are just things we're excited about this month. However, this article does contain a few affiliate links, which means we might earn a small commission if you make a purchase. We only recommend items we've personally used and loved or researched thoroughly.
This new show premieres November 28 on TBS, and our DVRs are set. Hosted by Helen Mirren, it's a trivia competition to see who knows the most about Harry Potter. It's a great reason to start reading (or rereading) this series aloud as a family.
OUR LATEST VIDEOS
My daughter is a terrible sleeper. She always has been, and we're always on the lookout for things that might help change this. As soon as the weather turned cooler, we got her this weighted blanket. I don't know if it's scientific or a placebo effect, but somehow the fact that this weighted blanket is knitted makes it feel more breathable. She sleeps hot, so we got her the lightest weight of the Tree Napper style and it genuinely seems to be helping her stay asleep. It's kind of like swaddling for big kids (and grown-ups). They come in kid-sized "Napplings" for the littlest kids, too.

This special edition Shepard Fairey UNO game is something the whole family can play. Photo courtesy of macys.com
3. Two new card games for everyone in the family
Starting with Thanksgiving, this is the time of year when families gather to eat and play together. The eating is easy. Sometimes the playing is a little more difficult. There aren't a lot of games that the whole family can play together and actually enjoy. We're always on the lookout for fun new family games—preferably ones that are easy to bring along on airplane or car travel. This year there are two new card games we're excited to break out with the family. One is the new Shepard Fairey deck of UNO. The classic game is fun for kids of all ages and can get quite competitive. This new deck makes it a little more fun and interesting for adults, too. The second game is called Cat Chaos. Laugh, yell "Meow," and frantically flip cards all at once, so no one has to wait for a turn. The trial run was a blast, and we can't wait to play this with the whole extended family this holiday season.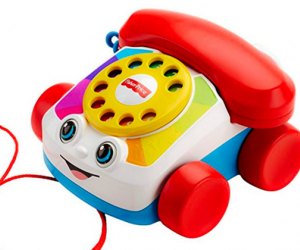 Cross your siblings off the holiday list, because this retro phone is the perfect gift. Photo courtesy of Fisher-Price
Yes, we've all read the "Hot Toys for Kids in 2021" lists for this year, along with the panicked admonishments to order by last month or risk ruining the holidays. But what about toys for grown-ups this holiday season? If you're looking for a great, unique gift for your parenting partner, sibling, or friends who remember rotary phones—or remember playing with the classic Fisher-Price phone at Grandma's house—this is perfect. It's not a toy; this phone hooks up to your smartphone and allows you to use it for actual phone calls. Nostalgia and utility all in one. Several of the editors at MP have already placed our orders.

A new Marvel movie is something the whole family can agree on. Image courtesy of Marvel Studios
5. Eternals is in theaters November 5
A new Marvel movie is always noteworthy, and this one is extra exciting because it's directed by last year's Academy Award winner Chloe Zhao and has one of the most diverse and inclusive casts of any superhero movie. Every holiday season needs a big action movie, and this one looks pretty special.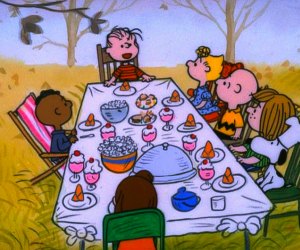 A Charlie Brown Thanksgiving is a holiday classic. Photo courtesy of United Features Syndicate
Everyone loves the Great Pumpkin, but there's something, well, special about the Thanksgiving special. And unless you shell out for Apple+, there's only one day this year to catch this, so mark your calendar and give thanks to PBS.

Macy's Day Parade returns on Thanksgiving Day. Photo courtesy of Mommy Poppins
Speaking of Thanksgiving, the Macy's Day Parade is back! The Macy's Thanksgiving Day Parade celebrates its 95th anniversary this year with boisterous marching bands, extravagant floats, and giant balloon characters. This year's parade will be particularly celebratory following a scaled-down, crowd-free event in 2020. Watch it on TV, or lucky New Yorkers can get the scoop on how to attend both the parade and the Parade Balloon Inflation on Thanksgiving Eve.

Meet the Maccabeats. Photograph by Abbie Sophia
Fast on the heels of Thanksgiving this year comes Hanukkah. Our family celebrates Hanukkah and Christmas, and I want to share with you one of my family's favorite Hanukkah traditions: watching music videos from the Maccabeats. If you're not familiar, The Maccabeats are an a capella group that sings songs about Hanukkah to popular music tunes, and my kids have learned so much history and heritage from these truly clever and fun songs. My kids call them the Weird Al of Hanukkah, and can't wait to listen each year.

The Willow Bra is a revolution in pumping bras. Photo courtesy of onewillow.com
This brand new pumping bra looks amazing. As someone who absolutely couldn't find a decent nursing bra that fit, and resorted to buying sports bras and cutting holes in them, I almost burst into tears when we were sent samples of this adjustable and actually sexy bra. If you're a nursing mom, or you know a nursing mom, put this on your wish list.

Disney's newest animated film, Encanto, is pure magic. Photo courtesy of Disney Pictures
10. Encanto premieres in theaters November 24
Not a lot is known about Disney's newest animated film, but what we do know is enough to have us excited—mainly that Lin-Manuel Miranda is writing the songs. The story is set in Colombia and tells the tale of an extraordinary family that lives in a magic house. And it's about a girl who saves her family, just by being herself. It's the perfect Thanksgiving weekend movie for the whole family.