Macy's Thanksgiving Day Parade to March Again in 2021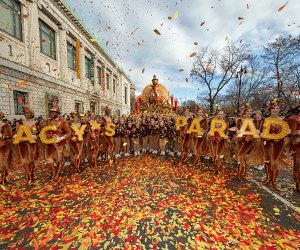 The Macy's Thanksgiving Day Parade is returning to the streets of NYC on Thursday, November 25, organizers and city officials announced. Following a made-for-TV spectacle in 2020, the 95th annual parade is planning a return to a more traditional parade route to kick off the 2021 holiday season.
Safety protocols will be finalized in the coming weeks, but expect to see larger-than-life helium balloons, marching bands, giant floats, and A-list celebrity performances, plus Santa Claus himself all parading down NYC's avenues.
"We are thrilled to welcome back in its full form the Macy's Thanksgiving Day Parade, a world-renowned celebration that ushers in the magic of being in New York City during the holiday season," said New York City Mayor Bill de Blasio. "We applaud Macy's work to creatively continue this beloved tradition last year and look forward to welcoming back parade watchers to experience it safely, live and in-person this November."
Organizers promise that "up-to-date health guidelines" will be followed for spectators and parade participants. Among the changes already implemented: All participants and parade staff are required to be vaccinated, face coverings and additional PPE will be worn as necessary, the number of participants will be reduced by 10 to 20 percent, and social distancing will be practiced in all interior and exterior parade venues. Performers who were forced to forego invitations in 2020 due to the pandemic will be welcomed to march this year.
Rules for spectators will be determined and managed by the city. Exact plans and viewing locations will be announced in November.
One unknown is the status of the popular balloon inflation event which draws throngs of people to the streets surrounding the American Museum of Natural History on the parade's eve. Plans for that event are under consideration and will be announced in November.
The exact route has yet to be announced, but we expect it to follow what's become its traditional route: Stepping off at 77th Street and heading south on Central Park West, east on 59th Street, then south on Sixth Avenue to Broadway before marching into Herald Square.
Bookmark the Macy's Thanksgiving Day Parade website for updates as parade day approaches.