Macy's Thanksgiving Day Parade Faces Big Changes in 2020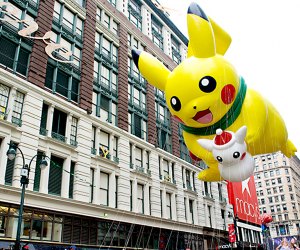 Macy's annual Thanksgiving Day Parade is facing some major changes in 2020. In this age of social distancing, gone is the crowd-drawing 2.5-mile parade route, replaced instead by a made-for-TV spectacle that aims to capture the magic of this annual holiday tradition, while eliminating in-person spectators and reducing the number of performers.
While the parade won't make its annual march through the city streets, where it can draw 3 million spectators to city sidewalks, television spectators can expect to see many of its usual trappings and trimmings on display, including the larger-than-life balloons, over-the-top floats, and big-name performers. Some performances are set to be filmed in advance, though the majority of the production still goes on live on Thanksgiving morning.
The changes were announced following Mayor Bill de Blasio's assertion that the parade would go "virtual" in 2020 during his daily press briefing on Monday, September 14.
It's the first time the parade, an annual holiday rite of passage since 1924, has been modified from its traditional march through the city streets.
Parade lovers take heart: Though the annual balloon inflation has been canceled, the signature balloons themselves are set to fly. The army of balloon handlers has, however, been replaced by specially rigged anchor vehicles.
"Macy's believes in celebration and the joy of marking milestone moments with family and friends. The Macy's Parade is our love letter and gift to the City of New York and the nation. Under the unique challenges of these unparalleled times, we felt it was important to continue this cherished holiday tradition that has been the opening act to the holiday season for generations of families," said Susan Tercero, executive producer of Macy's Thanksgiving Day Parade. "While it will certainly look different in execution, this year's Macy's Parade celebration will once again serve its historical purpose — to bring joy into the hearts of millions across the nation."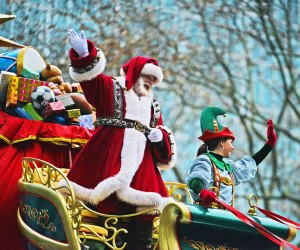 Despite the change in format, all Macy's icons, from big balloons to Santa, will participate in the 2020 celebration. Photo courtesy of Macy's
Other parade icons, from the floats to famed performers, and funky mix of clowns, still play an integral part in the parade. And, yes, Santa Claus makes his an appearance.
"New York City is always proud to join Macy's to ring in the holiday season with New Yorkers and viewers around the world. We've worked closely with the Macy's team on a safe and creative plan this year, and we look forward to keeping this tradition going on Thanksgiving Day," said Mayor de Blasio.
In the absence of the traditional parade, the television production is going to be solely staged in and around Herald Square, and the number of performers reduced by 75 percent. The production will be pulled together over a two-day time frame, and no participants under the age of 18 are allowed to participate. Performers are required to follow the CDC guidelines for social distancing and wear personal protective equipment to keep everyone safe.
Those marching bands who were selected to march in 2020 have had their invites deferred to the 2021 parade.
The television special airs nationwide on NBC on Thursday, November 26, from 9am-noon across all time zones. Annually, the Macy's Thanksgiving Day Parade attracts a television audience of 50 million people.