When Is Pi Day and How To Celebrate It: 30 Ideas for 3.14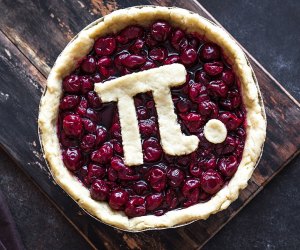 Do you remember high school geometry? If so, you may recall that the circumference of a circle divided by its diameter is always the same number: Pi, aka 3.14159265... You can celebrate that infinite number on March 14, better known as Pi Day. That's the day math enthusiasts, students still learning math, and everyone in between celebrates the number Pi (and anything within a small radius of it).
On Pi Day, many restaurants across the US offer deals on all kinds of pie—pizza pie, cherry pie, pot pie, you name it. There are even events that celebrate Pi, pie, or other punnily Pi-related things. We've gathered up some fun deals and activities to help you and your kids celebrate this unique math-centered holiday. And if your child happens to be celebrating a birthday on or near Pi Day, check out these 60 birthday freebies for kids, including a free slice of pizza pie from Sbarro's!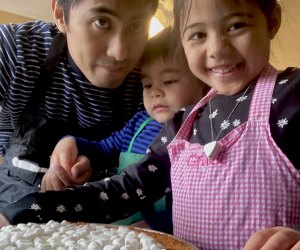 Bake a s'mores pie for Pi Day. Photo by Maureen Wilkey
When is Pi Day 2022?
Like always, Pi Day 2022 is on March 14. But this year, Pi Day falls on a Monday, which means you have the entire preceding weekend to celebrate it!
What is Pi Day?
Pi Day is both a celebration of math and nerdiness centering around the number 3.14 and a celebration of circular foods—pies! Whether it's fruit pies, chocolate pies, pot pies, or pizza pies, as long as you're slicing up a circle, you're celebrating pi(e). You can also celebrate Pi Day by reading stories, singing songs, creating art, and playing games involving circles and the number Pi in all of its digits.

An individual pizza for $3.14 at Uno Pizzeria & Grill is just one of many Pi Day deals. Photo courtesy of Uno
Pi Day Deals
Many restaurants and stores are joining the Pi Day 2022 fun by offering special Pi Day deals on pizza, pot pies, and dessert pies. Yum! Here are some to try.
At this nationwide pizza chain, buy any large pizza at regular price and get a second of equal or lesser value for just $3.14.
Use the Blaze Pizza app to order one 11-inch pizza for $3.14. Only the first pizza is $3.14; any additional pizzas are regular price.
Get a mini one-topping pizza for $3.14 at your local BJ's, but note that in some regions the offer may be for dine-in only.
Create your own Pi Day deal any day in March with a Cici's coupon for two large pizzas for $5.99 each.
Your individual cheese pizza at Uno will taste even better when it costs only $3.14 on Pi Day.
This chain, known for its flavored-crust pizzas, is offering a one-topping pizza for $3.14 with any bread purchase.
Papa John's deals have changed over the years, but may include a buy one, get one for $3.14 deal on large pizzas.
Not in the mood for pizza? Get a rotisserie chicken pot pie for $3.14 at Boston Market.
In the past, Target has offered 31.4% off its Archer Farms pies. You can also get a Cat in the Hat Pi Day book or some sweet Ninja Turtles Pi Day sweatpants if you want to have your pie and eat it, too.
At 7-Eleven, Use the 7Rewards Program or the 7NOW app to get a pizza for $3.14.
Look on this grocery store's website for a coupon for a fruit pie for $3.14 on March 14. The deal is also available at Mariano's locations.
Save 30 percent on select pies delivered straight to your home from famous bakeries and pie shops throughout the US.
Look for a coupon for a free slice of pie with an entree purchase on this casual restaurant's social media pages on Pi Day 2022.
Related: 15 Cake, Cupcake, and Cookie Delivery Services to Treat Your Kids and Family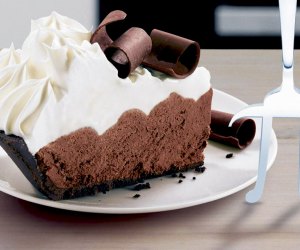 Get a free slice of pie with purchase on March 14 at Marie Callender's. Photo courtesy of Marie Callender's
Families in the Los Angeles area can enjoy a free slice of pie with the purchase of an entree at Marie Callender's.
Pick your Pi Day deal at Cracker Barrel: Get a buttermilk pie for $3.99 or a chicken pot pie for $5.99.
Deals have changed from year to year, but usually include $3.14 off your favorite bakery pie, with an additional 10 percent off for Amazon Prime Members.
Get $3.14 off apple, cherry, or chicken pot pies at this European-style food market.
Related: 20+ Kid-Friendly TikTok Recipes You Need to Try Tonight

Make your own Pi Day pizza. Photo by Ally Noel

Other Ideas for Celebrating Pi Day with Kids
Make your own pizza
Pizza tastes even better when you make it from scratch! Try one of our quick and easy pizza and pizza dough recipes.
"Bake" a key lime pie
Try the no-bake version of this yummy pie from our list of easy no-bake dessert recipes.
Try a pumpkin pie shake or a pumpkin pie parfait
They're on our list of favorite pumpkin recipes and work well even for those who don't love pie.
It's like having pie for breakfast!
Little ones will love to sing Pi-themed lyrics to the tune of familiar songs.
Create Pi Day art
Kids will learn math and measurement while making a sun-like circle.
Play Ring Around the Rosie
It's a simple and fun way to teach toddlers and preschoolers and about circles.
Practice math with a basic-operations color-by-number
Download this printable coloring sheet for elementary-school kids.
Related: 100 Kids' Books Every Child Should Read Before They Grow Up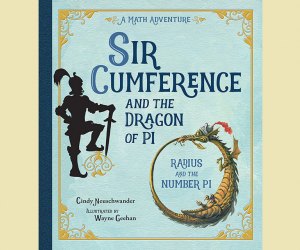 Sir Circumference and the Dragon of Pi teaches kids all about the ratio. Photo courtesy of the publisher
This math-themed adventure book introduces little kids to the ratio in heroic proportions.
It's like Uno, but the you have to play all the digits of Pi to win.
Virtual Pi Day Events to Enjoy Anywhere
Kids 8-12 will learn how to write a poem about circles and their favorite dessert in this fun Outschool class.
March Mathness story time, Pi-themed music and spoken word, and a Pi quilt cover the bases of STEAM in this virtual event.
Run 3.14 miles (just over a 5K) to benefit Soles 4 Souls, an organization that creates sustainable jobs through the distribution of shoes and clothing throughout the world.