Favorite Offbeat Baby and Me Classes in Manhattan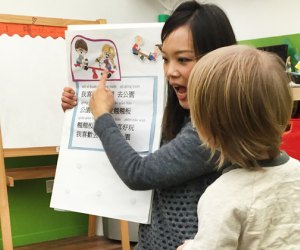 Baby-and-me classes are a great way to get out of the apartment, meet other parents and bond with your new infant. We've been sampling classes all around Manhattan for the last year, and have six offbeat choices from Mandarin and sign language to mom-and-baby exercise classes and more.
However, if the thought of a class is still overwhelming your new-parent lifestyle, consider a one-off adventure to these surprisingly fun (for parent and baby!) places to hang.
Looking for cool baby classes in Brooklyn? We've also rounded up some of the best options in the borough. Check out our NYC Baby Guide or Classes Guide for more ideas.
Baby Fingers – Upper West Side & Chelsea
212-874-5978
Ages newborn-15 months
Founded in 2000, Baby Fingers has been teaching NYC kids sign language for 17 years. Baby Fingers classes teach ASL through music and games, giving infants the tools necessary to communicate even before they can blurt out their first words. Baby Fingers was founded by a music therapist and all instructors have degrees in education, psychology, creative arts, or another applicable field, plus proficiency in signing and loads of experience working with children.
Dionne Kamara Dance — Union Square & Flatiron
646-784-2643
Ages 2 months-3 years
Explore elements of dance with this movement class tailored to infants and toddlers. Founder Dionne Kamara incorporates music, songs, instruments, and free play with foam stairs, balls, and mats to keep parents and babies engaged. My little one loved playing with the various instruments and moving around in a circle. Classes are currently offered at Appleseeds in the Flatiron district (advance registration for an eight-week session is required). Drop-in classes are available at Babies R Us in Union Square.
Karma Kids Yoga Mom & Baby Classes – Chelsea
646-638-1444
Ages 6 weeks-new walkers
Moms can get back in the groove with a pair of baby-and-me classes at Karma Kids. You'll bond with baby as you work through strengthening exercises. Choose from baby-and-me yoga or Pilates classes. Classes here grow with you: Once your kids are too big for these classes, you can progress to Parent & Child Yoga right in the same space where your wee one has already established a level of comfort.
Mandarin Seeds — Flatiron & Tribeca
646-580-4769
Ages newborn-3 years
It's never too early to learn a new language. Mandarin Seeds offers a fully immersive caregiver-and-baby class taught by native Mandarin speakers. Participants hear stories and songs in Mandarin, test musical instruments and partake in small art projects. My son picked up "ni-hao" (hello) after our very first class, which I considered a success! A free trial class is offered for new visitors. After that, a punch-card system is used.
Mind Over Matter Stroller Boot Camp — Various Locations
212-865-9290
No specific age requirements
You don't need a babysitter to fit in a good workout! Mind Over Matter Fitness offers stroller boot camp classes at various parks throughout Manhattan for moms looking to squeeze in some postnatal exercise. Each class offers a 60-minute workout that incorporates your stroller. Expect walking, jogging, squats, lunges, stretching, and abdominal work that can be modified to fit your fitness goals (and limits). The instructor at my classes was very accommodating; he gave moms alternate exercises to do with their babies in carriers if the kids became restless in strollers. Pay per class, or sign up for a full session to get one class free.
RELATED: Mixed-Age Music and Art Classes for NYC Tots
RIE Parent-Infant Guidance Classes — West Village
212-242-4770
Ages 4 months-2 years
Looking to foster independence and confidence in your little one? In this class, parents back off while Kristin Eliasberg, a Resources for Infant Educarers (RIE) trained facilitator, engages little ones in play and exploration with minimal intervention. After observing the play session, parents get a little schooling, too. The facilitator discusses baby development and useful parenting and engagement techniques. It's perfect for the mindful parent looking for a little more insight into their child's temperament and development. This class is a bit pricier than others mentioned in this post, but I found it worthwhile. I learned a lot about my child by simply sitting back and watching him, and it was impressive to see very young children figure out solutions to problems without intervention from adults.
Top image: Get kids an early jump on a foreign language at Mandarin Seeds. Photo by the author.
This post was originally published in February 2016.