12 Surprisingly Fun Places in NYC to Hang with Your Baby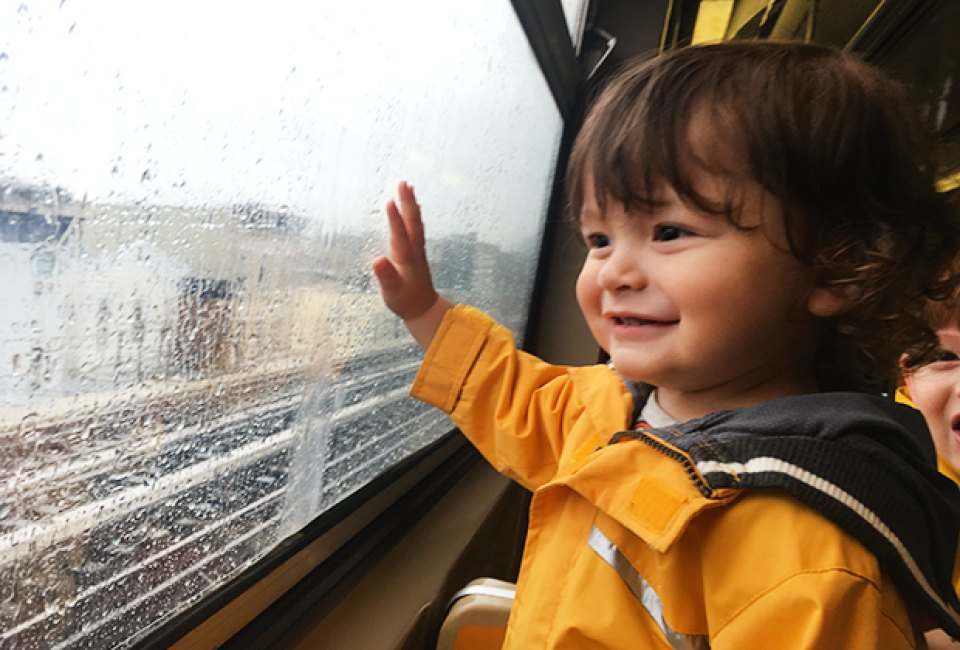 8/14/17
- By
Sydney Ng
Yes, infanthood is a wonderful time, full of snuggles and milestones. But entertainment options for non-walkers and even early walkers can start to feel repetitive day after day. Once you've tried all the baby play spaces and gyms, playgrounds, and even stroller tours at museums, what's next?
The thing about New York City, is there's always something open, always something going on, and always something new to try. We've rounded up some out-of-box ideas to shake up your daily routine with your NYC kids ages 12 months and under—many of these ideas are 100% FREE things—and most will also entertain your toddlers. Each destination is loaded with sights and sounds or another cool sensory experience for little ones, plus a change of scenery for the grown-up. So read on to plan the next city adventure with your little one.
Peruse our NYC Baby Guide for more need-to-know info and cool activities for the littlest New Yorkers.
Construction Sites
Whether it is by chance or an intentional trip, construction zones make for a noisy and cool point-and-learn spot. Point out dump trucks, cranes, diggers, and the construction crew and their safety gear. If your kiddo is really interested in how things get built, visit Snug Harbor Children's Museum where there is an entire section dedicated to "Building."
Next Stop: Grand Central
Sometimes nature won't agree with our plans and the party has to move indoors. Kids will love to explore the echoing caverns of Grand Central Terminal. In fact, NYC has an abundance of public indoor spaces and atriums that will make both parent and child happy, and you can't beat the people-watching. Try a
MTA Quality Time
Speaking of trains, don't just look at them. Get on them! Avoid rush hour, of course, and opt for a trip midday on an elevated subway train, such as out to Coney Island or Astoria Park. Get a window seat and watch your baby giggle with delight at the changing landscape. If you're looking for fresh air, take to the sea instead of land. The Staten Island Ferry offers plenty of great views in a short 25-minute FREE trip! Of course, you can now take the new citywide ferry service to the beach, too, or just about any borough.
Bridges!
As you continue to explore NYC, don't forget to consider a stroll across the historical Brooklyn Bridge or Williamsburg Bridge. Babies can look up at the span of the bridge, down at the boats, see crossing trains, bikes, people, and more. And there's plenty to do when you reach the other side. Tip: be ready for some wind and sun as both can surprise you. Or if you're feeling EXTRA adventurous, get on board the Roosevelt Island Tram for a unique view.
RELATED: 12 Things To Do with NYC Babies Before They Turn 1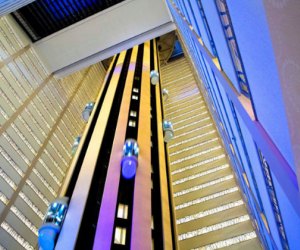 Ride up and down the Marriott Marquis elevators. Photo courtesy of the hotel
Skyscrapers
If the plan is to get up high, a skyscraper observation deck takes the cake. Take your child up to the tippy top of the Empire State Building, One World Observatory, Rockefeller Center or just over to a friend's place with a great view. Try the elevator at the Marriott in Times Square, which is glass and has 365-degree views, so you can get a pretty awesome look around. (Be prepared to take the ride multiple times.)
The Less-Traveled Path of the Park
If digging is your babe's thing, then get dirty! Don't be afraid of a bald spot on a park lawn or a dusty trail on a hike. I even know a preschool that goes on day-trips fully armed with bowls and spoons. Large fields in Flushing Meadows-Corona Park or hiking trails in Van Cortlandt Park offer plenty of nature to get down and dirty!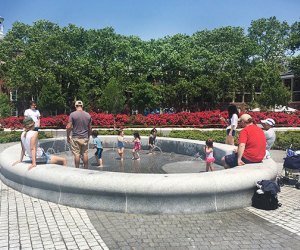 The play fountains at Governors Island are the perfect size for little ones. Photo courtesy of The Friends of Governors Island
Fountains
Iconic New York does not stop at the skyline. Fountains can offer plenty of entertainment, too. Try one of these fountains that let babies enjoy a cooling spray, or take a stroll to see a famous fountain like Lincoln Center's or the Unisphere Fountain in Queens. Babies will often be mesmerized by the water shooting up and falling back down.
Iconic and Local Toy Shops
Toy stores used to be a nightmare: tons of things to break, long lines, crying children. But now a lot of shops, both big and small, are offering a hands-on experience in-store. Try the humongous and exhilarating Disney Store in Times Square or small and intimate Kidding Around in Midtown. Of course, your local toy shop is a good bet, too.
Lights Aisle or District
Dazzle your little one with shiny things galore as you pop into the stores of NYC's lighting district (Bowery/Lower East Side), or even Home Depot's aisles of lights. While you're at it, the super store's garden department is often a hit, too! If you're at the 23rd Street Home Depot location, why not walk a touch north to 28th Street through the flower district one morning to take in the colorful blooms.
RELATED: Great First Birthday Party Spots in Manhattan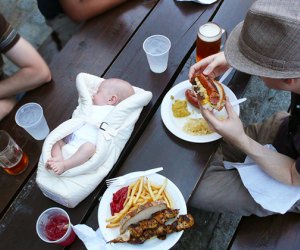 The din of the beer hall can make excellent sleeping conditions while you enjoy beer and food with friends. Photo by Mommy Poppins
Beer Gardens
Sometimes Mommy and Daddy want to have some fun, too. Beer gardens can be the best choice for everyone where you can relax with a brew and little ones can romp (or snooze) without fear of making a ruckus that carries over the typical din of a bar. Check out Bohemian Hall and Beer Garden in Astoria or Radegast Hall & Biergarten in Williamsburg, or any of these top Brooklyn beer spots.
The Farmers' Market
Start teaching your child about the colors, smells, and touch of fresh produce right away. The Union Square Greenmarket is our family favorite, but there are wonderful seasonal spots across the five boroughs. Bring home a new ingredient and let them taste it or even watch you cook.
Pet-Supply Stores
A great boredom buster is a short trip to the local pet store. It might as well be a zoo to a baby or toddler. We try to avoid those shops selling puppies as we wonder about their origins. Instead, try Petco or Petsmart where there might be a kitten adoption event, tanks filled with fish, parakeets, and perhaps a guinea pig or two.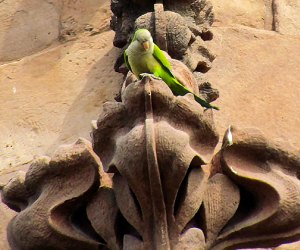 Enjoy a serene walk at Green-Wood Cemetery and see if you can find the resident Monk Parrots. Photo by David Berkowitz/CC BY 2.0
Park-like Cemeteries
Take a baby to a cemetery? Sounds like an odd idea, but there are a few beautiful and tourist-friendly cemeteries in New York City that can make for an interesting outing. Try Green-Wood Cemetery in Brooklyn—if only for the wild, wondrously loud Quaker parrots that call the cemetery home—or Woodlawn Cemetery in the Bronx, both with beautiful mausoleums, architecture and are ready for tourists who know how to be respectful and courteous. You can get some exercise with a pretty stroll, while baby takes in the surroundings.
Urban Wildlife
Introduce your child to our local wild inhabitants: pigeons, squirrels, geese, and fish! Kids love to watch as these little creatures nibble and peck at our crumbly offerings. Head to your favorite park or pond: Central Park is always a crowd pleaser, as is Prospect Park, but all you need is a bench and some crackers to get the party started. My baby's favorite spot is Citigroup Building Plaza. You can point out different creatures as you, talking about where they live, their sounds, and colors, how many legs they have, and so on. You can also consider one of the city's gardens like the Brooklyn Botanic Garden where kids can view the slightly more exotic creatures, such as turtles and koi at the Japanese Hill-and-Pond Garden.
Top photo by the author.