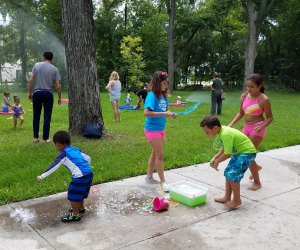 Things to Do in Houston this Weekend with Kids: Gatorfest, Fiestas Patrias, Sept. 14-15
Y'all, it's officially midway through September, and despite temperatures that are still steadily climbing into the 90+ range every day, that means fall (well, Houston's version of fall) is here. That means that it's time to start planning weekends around our fall bucket list, hitting up all the family-friendly fall festivals and taking advantage of all the free things happening around Houston this month.
This weekend also marks the annual celebration of Mexico's fight for independence, and in true Houston style, we're celebrating it big with events like the a day of Fiestas Patrias activities at the Children's Museum of Houston, a special Fiesta Sinfónica performance by the Houston Symphony, and a Fiestas Patrias celebration at Trader's Village.
As if that weren't enough, we've barely even scratched the surface with all the awesome events you can find on our event calendar and in our September GoList, so be sure to check those out when you're in need of a little inspiration. We'd also love for you to sign up for our weekly newsletter; it's full of the best tips, tricks, and activities we have to offer.
Now, without further ado, let's take a look at the upcoming weekend!