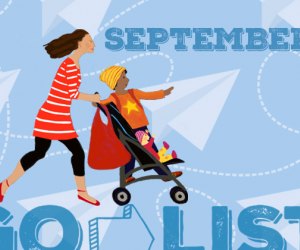 September GoList: Best Things to Do With Houston Kids This Month
September: A month of transition. From summer to fall, from lazy summer days to hectic school schedules. It's the perfect time to spend more weekend hours at your favorite farmers' market. This is also the last month to experience Candytopia, an out-of-this-world candy museum, and the incredible Sonic Playground at Discovery Green.
For things to do every day of the week, check out our event calendar, and if you haven't already signed up for our free newsletter (where you'll receive our recent posts and things to do each weekend), subscribe now! Read on for the best events and activities going on this month around Houston.
Opry on the Square - Sugar Land
Friday nights throughout the month
Enjoy live music from Country Now and Then, which plays country music from all eras, while the kids can run around the fountain and open space. FREE.
That's a Wrap Wonderweek at Fort Bend Discovery Center - Sugar Land
Aug. 30-Sept. 5, 2019
Wrap up the summer with a week-full of fun at the Fort Bend Discovery Center, one of our favorite spots to take our elementary and middle-school-aged kids. There are fun activities, crafts, and more.
4th Annual Old Fashioned Ice Cream Social at Stevenson Park - Friendswood
Sept. 2, 2019
Come out to Stevenson Park for an afternoon ice cream social complete with ice cream, cookies, root beer and lemonade and live music from Wild River Trio at the gazebo. There will also be a special Harvey Remembrance Event to commemorate the one year anniversary of Hurricane Harvey.
Final Summer Adventure at Lone Star Flight Museum - Southeast Houston
Aug. 31-Sept. 2, 2019
Take advantage of one last opportunity to experience the special summer adventures taking place at Lone Star Flight Museum. The schedule for the weekend includes themes for each day: Flying Aircraft, Meet the Mechanics, Pilot Experience, Living History; Curator's Corner, Simulator Bay; and finally, Aircraft Tours, AV8R Experiments, and Living History.
Captain Kids Triathlon at Moody Gardens - Galveston
Sept. 8, 2019
Ahoy, mateys! It's time for the 5th annual Captain Kids Tri, a triathlon dedicated to the kids! Mates (ages 11-14) and Mini Mates (ages 6-10) are invited to line up on race day and test their abilities in the water, on the bike, and on the road as they swim-bike-run their way to the finish line.
First Responders Day - The Woodlands
Sept. 11, 2019
Bring your kids to honor the men and women who lost their lives working to save the lives of victims in the Sept. 11, 2001 terrorist attack in New York City.
Fall Fun Fest May the Steam Be With You - Rosenberg
Sept. 14, 2019
The Rosenberg Railroad Museum's fourth annual festival has all sorts of train-themed fun. There is live music, train models and a trackless steam train, carnival games, food trucks, and more. Guests are encouraged to wear Star Wars or Steampunk-themed costumes.
Color in Motion 5k - Northwest Houston
Sept. 21, 2019
The easiest way to get your kids excited about fitness is combining it with lots of colorful fun! Runners get showered with colorful powder as they complete the race. This year's event supports Girls on the Run Greater Houston, which is a nonprofit for girls in third-eighth grade promoting confidence and a healthy lifestyle.
Galveston Family Beach Challenge - Galveston
Sept. 22, 2019
This is the last family beach challenge of the year! Bring out the family and get ready for a good old-fashioned beach challenge. Participants will compete in a variety of obstacles and life-size games, such as bean bags, battleship, Connect Four, and more. The event is free and participants will have the chance to win the grand prize of a $500 gift card plus tickets to popular Galveston attractions.
Waller County Fair and Rodeo - Hempstead
Sept. 27-Oct. 5, 2019
The annual Waller County fair kicks off with lots of family-friendly fun. We love county fairs because of the hometown atmosphere and smaller crowds than Houston's countepart. There are carnival rides, delicious fair foods, and rodeo competitions.
Fort Bend County Fair - Rosenberg
Sept. 27-Oct. 9, 2019
Head southwest of town to Rosenberg for some family fun! The week is full of barbecue competitions, rides, live entertainment, and more.