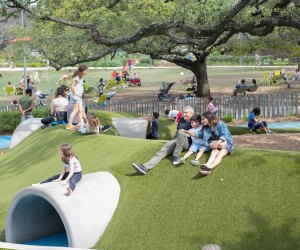 Houston's Best Playgrounds Kids Won't Want to Leave
We all love a good playground, and Houston is home to many amazing ones. Swinging as high as you possibly can on the swingsets, racing down slides, reaching bar after bar on the monkey bars, climbing up, over, and under the different equipment; being outdoors and active on the playground is practically a pinnacle of childhood. Given that we spend a lot of time exploring Houston, playground stops for us are frequent and varied, and we've narrowed down some of Houston's best playgrounds for kids.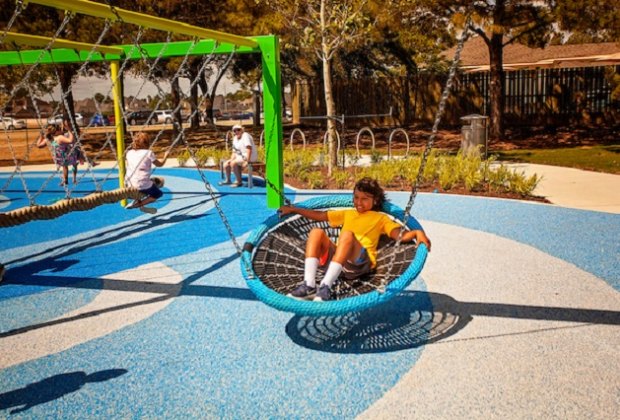 Structured and unstrcutured play are encouraged at Exploration Park in Katy. Photo courtesy of Willow Fork Drainage District.
Exploration Park - Katy
15020 Cinco Park Rd
The overarching theme of Exploration Park is water, and this idea is seamlessly woven into the different areas the park offers, most obviously in their interactive water cycle wall feature. Whether you're looking for playground equipment, unstructured play in open space, or more toddler-friendly areas, this park has it all.
Levy Park - Upper Kirby
3801 Eastside, Houston
This playground favorite underwent a massive renovation in 2017 that has made it a standout place for kids to play. The park boasts a Children's Park, a dog park, activity areas, a community garden, and a rotating list of activities happening year-round. They even offer a weekly Wednesday afternoon Bingo session for the kids!
Spring Creek Park - Tomball
15012 Brown Rd.
You get 114 acres of exploration and play at Spring Creek Park, which boasts a network of walking trails, an archery range, two different playgrounds, various sports' fields and pavilions, fishing, and even free campsites and RV hook-ups. This park is a personal favorite of mine because I grew up going there, and it's a joy to be able to take my kids there as well!
Donovan Park - Heights
700 Heights Blvd
You'll step back into simpler times at Donovan Park, which features whimsical wooden play structures that look like mini castles and offers endless play for imaginative children. Plus, the park's rich history adds to it's appeal; in October of 1996 families, neighbors, craftsmen, teachers, students, local businesses, and friends of Houston Heights came together for five straight days to build the playground. That's the kind of community effort that exemplifies what Houstonians stand for.
Related: All-Day Fun: Destination Parks in Houston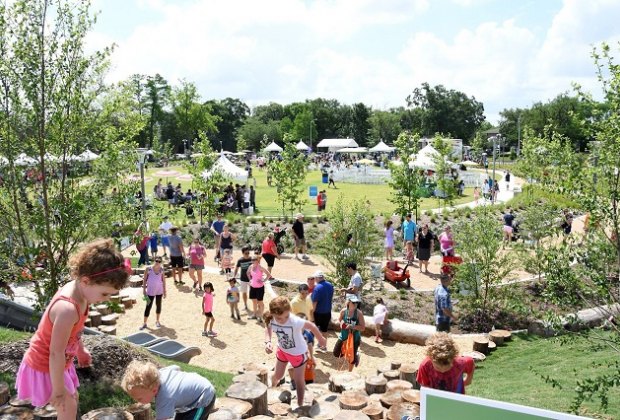 Get your hands dirty digging in the sand at Evelyn's Park. Photo courtesy of Evelyn's Park Conservancy.
Evelyn's Park - Bellaire
4400 Bellaire Boulevard
The Children's Play Area at Evelyn's Park offers kids a chance to climb, engage in water play, and get their hands dirty with sand. With a Butterfly Wall mosaic at the entrance, children feel like their stepping out of our world and into their own, and imaginations are allowed to run wild. Plus, there are always a variety of activities happening around the park, trails, a wildflower hill, and a native meadow to explore, and Betsy's Café to grab food or drinks.
Zube Park - Hockley
17560 Roberts Rd
Zube Park may be a bit of a drive, but it's a drive you won't regret making! The park is split into three different sections; there is a playground, a free spray park, and a train run by HALS that offers free train rides the 3rd Saturday of each month (running March through November). There's even a full body weight gym that has ellipticals and various equipment for anyone wanting to break a sweat.
Russ Pitman Park - Bellaire
7112 Newcastle St
Part of the Nature Discovery Center, Russ Pitman Park features a sand pit with different diggers and digging equipment for sensory play and a playground that accomodates both big kids and the littler ones. It also segues into the different habitat zones at the Center, an aviary, the critter classroom, and more, making this a one-stop-nature-shop when you're looking for a nature-themed day.
River Oaks Park "Pumpkin" Park - River Oaks
3600 Locke Lane, Houston
This park pays homage to the beloved fairy tale of Cinderella with her famous pumpkin carriage making an appearance in the form of playground equipment. This unique features makes the playground a favorite, but that's not all it offers; there's also a hike-and-bike trail, wishing trees for you to write a wish on and pin to the trees, and various sports' fields.
Related: Best Houston Playgrounds For Toddlers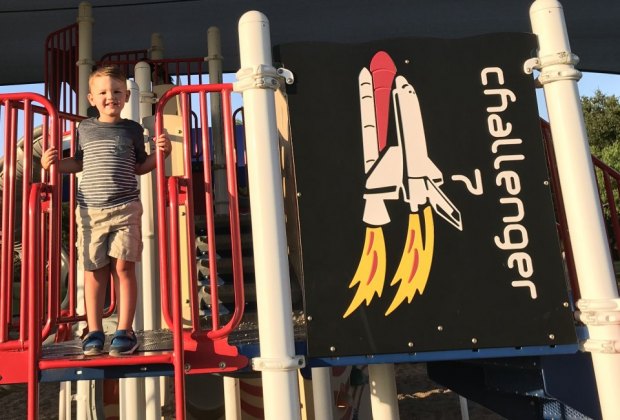 Challenger Seven Memorial Park offes kids a chance to play while paying homage to some of our city's history. Photo courtesy of Ashley Jones.
Challenger Seven Memorial Park - Webster
2301 West NASA Blvd.
Named after the seven astronauts who lost their lives in the 1986 Challenger space shuttle explosion, this park offers three different playscapes, a rock climbing wall, miles of trails, green spaces for unstructured play, and plenty of picnic areas and pavilions for a full day of family fun. There's even a pond for fishing, canoeing, and kayaking to add in a little water activity to your day.
Mary Jo Peckham Park - Katy
5597 Gardenia Lane, Katy
​Recent renovations have given the playground equipment a much-needed update, and the result is a sensory-friendly playground that appeals to kids of all ages. The equipment offers climbing, swings, musical features, and more, plus there's a hike-and-bike trail, a fishing pond, and plenty of room for unstructured play and tons of fun.
Buffalo Bayou Park's Nature Play Area - Downtown
105 Sabine St
This nature play area is unlike anything else you'll find downtown and is billed as one of Buffalo Bayou Park's most popular destinations. The park is designed to foster a love of nature in children, and kids can climb boulder rocks logs, and stones, play on the lawn, visit the stream and waterfall, or tackle the 33-foot slide.
Vale-Asche Foundation Playground Without Limits - Rice Military
6501 Memorial Drive
This unique playground located inside of Memorial Park was designed for children with disabilities so that they can play without limits. The equipment is bright and sensory-friendly, featuring Braille and sign panels, ramps and transfer systems for children with mobility issues, and a rubberized ground surface. This inclusive playground is sure to bring a smile to every child's face who has felt left out due to disabilities before.
Jesse H. Jones Park & Nature Center - Humble
20634 Kenswick Dr
A 312-acre nature preserve, Jesse H. Jones Park & Nature Center offers unmitaged fun and exploration for kids looking to get outdoors. In addition to the park's playground, there is also canoeing and kayaking, paved and unpaved trails, swamps, access to the Spring Creek Greenway, various educational resources, and events and festivals that happen almost daily.