The Best Children's Museums in the US: Museums Worth Planning a Vacation Around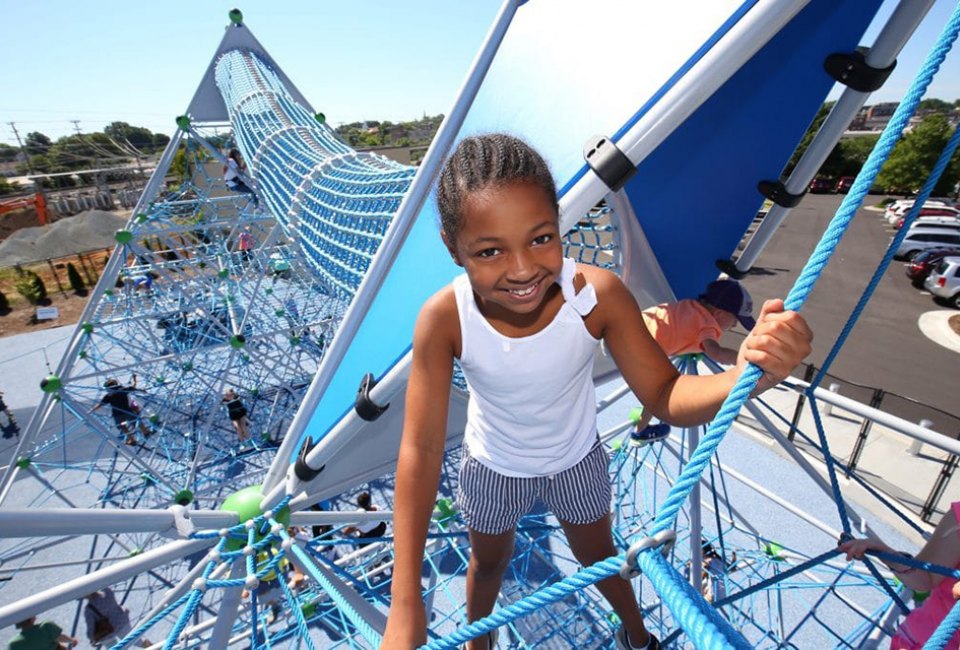 6/24/21
- By
Danielle Smith
For a fun family outing that combines education and entertainment, few experiences can compete with a day at a truly great children's museum. We've compiled 51 of the best options on the map—talking with locals and polling readers to determine the top children's museum in each state (and D.C., too!). The museums we have picked have something that sets them apart, and plenty to fascinate kids of all ages—and adults, too. Hopefully, we have your favorite local children's museum on the list below. Some are so incredible they may inspire your next family trip, so check out places to stay in every region in the country in our Family Travel Guides.
Traditionally, children's museums cater to those 10 and under, but there are usually enough interesting things to see and do for older kids, and kids-at-heart, too. That's especially true of the science centers and more STEM-focused museums, many of which made the cut. So keep this list handy for wherever your family adventures take you; there's sure to be a fabulous children's museum nearby that will delight your whole family.
Note: Many of our entries are planning summer reopenings in the coming weeks after being closed during the pandemic. Safety precautions vary, as do hours, capacity limits, and availability of certain experiences. Be sure to check museum websites for the latest updates.
The Best Children's Museums in the Northeast
Highlights: Zipline, Light Lab, Kaleidoscope
With two main rooms chock-full of exhibits and an outdoor space that boasts a climbing wall, music garden, and zipline, it's no wonder Connecticut parents are constantly singing this children's museum's praises. You're likely to find special programming or events just about any week you choose to visit. It helps that the museum is situated in the charming seaside village of Niantic, making a post-museum beach break mere steps away.
Highlights: Stratosphere, Tree Pavilion, ECOnnect
The giant yellow warehouse in Wilmington that's home to the Delaware Children's Museum is easily the first choice in The First State. DCM is a STEM-focused learning playground where kids can research the human body, architecture & construction, and personal finance among other interesting topics through playful attractions. Stroll through a 350-year-old hollowed-out sycamore tree in the tree pavilion, and scale your way to the top of the Stratosphere for a view of the lobby up in the air.
Highlights: Theatre, Observation Beehive, Ramp Up
Here you can visit Maddy's Theatre, the oldest continuously running children's theater in the country. Other kid-pleasing interactive exhibits at this Portland museum include an observation beehive where children can learn the bee dance and search for the queen. Ramp Up allows kids to launch, lift, and spring with a 10-foot tall ball sculpture that illustrates how gravity works.

Climb aboard the S.S. Friend Ship at Port Discovery Children's Museum.
Highlights: S.S. Friend Ship, Sky Climber, Chessie's Grotto
Port Discovery brings Baltimore's Inner Harbor inside with a life-sized cargo ship where kids can play pirate and sailor all at once. An indoor stadium is perfect for older athletes, while younger ones will love getting lost in Chessie's Grotto – a just-for-toddlers play lounge inspired by the Chesapeake Bay.

Discover how to blow giant bubbles at the Discovery Museum in Acton, MA.
Highlights: Discovery Woods, Air Play Gallery, Light and Color Gallery
Spark children's creativity at the Discovery Museum in Acton, a favorite destination of Massachusetts families since it opened in 2018. Indoor and outdoor exhibits work together to provide immersive activities kids love. Discovery Woods features a treehouse built by DIY Network's The Treehouse Guys.

Innovators and inventors are right at home at the Children's Museum of New Hampshire.
Highlights: Yellow Submarine, Lights! Shadow! Action!, Play Patio
The Children's Museum of New Hampshire aims to inspire the next generation of innovators and inventors by challenging young minds with STEM activities, art, music, and more. Kids can take their imaginations underwater in the yellow submarine, operating its periscope and using its sonar system. The outdoor area has multiple areas for water play and an oversized paint wall for playing Picasso.

From tiny bees to the vastness of space, kids get a sense of the scope of the universe at Liberty Science Center.
Highlights: Boom Time, Planetarium, SUE: The T. Rex Experience
It's hard to know where to begin with the Liberty Science Center, but suffice it to say you'll want to clear your day. Across nearly 300,000 square feet, kids can embark on prehistoric adventures, watch exploding watermelons at Boom Time, or travel through outer space during a planetarium show. A live beehive showcases real bees at work, building honeycombs and making honey.
RELATED: All-Inclusive Family Resorts We Can't Wait to Visit Again

Brooklyn Children's Museum is our pick for NYC.
Highlights: Colorlab, Rooftop, Neighborhood Nature
It's not easy crowning a museum in one of the world's most noted cultural capitals, but we decided that Brooklyn Children's Museum is the king of New York. What put the Brooklyn Children's Museum over the top? It offers interaction with live animals, rooftop play with views of the city, and a packed art studio. An outstanding slate of event programming and visiting exhibits set this museum apart from the others.
Highlights: Makerspace, Roadside Attractions, Fairytale Garden
Another perfectly named children's museum, the Please Touch invites kids to do just that with over 15 galleries on two floors and a garden outside, guaranteed to provide hours of fun. Visiting exhibitions featuring well-known children's characters from books and movies are always in town. The museum is in Philly's Fairmount Park, where there's an abundance of kid-friendly greenspace just steps away.
Highlights: Water Ways, Thinkspace, Little Woods
"Play Every Day" is the motto at this Providence center designed for curious kids ages 1-11, making it our favorite space for kids in Rhode Island. Ice, mist, and all their properties are the focus of Water Ways. Solving challenging puzzles is part of the objective at Thinkspace. And Little Woods has slides and a miniature treehouse just for tots four and under.
Highlights: Wind Tunnel, LEGO/Robot Space, Magnetic Wall
Wonderfeet is one of the smaller entries on our list, but this Vermont museum has got more than enough to engage young children's imaginations, with almost 20 separate spaces to build, solve, and role-play. Kids can program their own LEGO creations, send colorful scarves spinning through the air in the wind tunnel, and experiment with shadows using flashlights on the cave walls.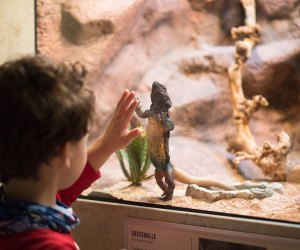 Say hello to the animals at the Cook Museum of Natural Science.
The Best Children's Museums in the South
Highlights: Aquarium, Cave Experience, Big Tree Exhibit
It's no surprise that the Cook Museum of Natural Science is the USA Today best new museum winner for 2021. It invites children to explore the environment's various bodies of water, lands, and the animals living there through hands-on exhibits in 9 different galleries. The immersive cave experience and 15,000-gallon saltwater aquarium are also big draws. Kids love to climb the big tree exhibit at the indoor forest and explore the cabin at the top.
Highlights: Nickelodeon Play Lab, Hershey's Lab, Cloud Theater
The Amazeum certainly lives up to its name, with highlights including play labs sponsored by Nickelodeon and Hershey's, where kids can control a giant SpongeBob puppet or participate in chocolate experiments. Don't miss the Cloud Theater, an art installation that harnesses technology to simulate the feeling of floating high above the sky.

Everything at the Children's Museum of Atlanta is geared toward hands-on exploration.
Highlights: Rocket Launcher, Fishing Pond, Treehouse
Join the more than 200,000 guests who visit this museum every year for hands-on educational entertainment geared towards kids 0-8. Over 16,000 square feet of space beckons young ones to build, solve, and learn new things across six permanent exploratory spaces and rotating exhibits throughout the year.
Highlights: Castle of Dreams, Mt. MichiMu, Cruise Ship
With miles of beaches, amusement parks, and year-round summer temps, Florida makes a strong case for the most child-friendly state, and Miami Children's Museum is its best child-friendly museum. Around 20 different galleries and ever-changing traveling exhibits ignite hours of curiosity. Navigating the two-story Castle of Dreams, made from real luminous sand and pieces of colored glass, is a definite must-do. Plus, there's so much else to do in Miami with kids.
16. Explorium –– Lexington, Kentucky
Highlights: Wonder Woods, Sketch Pad, Bubble Zone
In Kentucky, the Explorium in Lexington earns top honors as the children's museum of choice. 9 different galleries dive into physics, bubbles, dramatic play, and the human body.
Highlights: Floating Classroom, Water Wall, Sedimentation Station
The Louisiana Children's Museum moved to a brand new facility in 2019 and was promptly named one of the ten best new museums in the country by USA Today in 2020. The state-of-the-art facility right on the water lets visitors interact with their surroundings by taking a floating classroom out onto the lagoon, learning about food in the edible garden, or building a pelican's nest for the local wildlife. Inside the museum, kids can play in the sand, learn a new instrument, or be wowed by the water wall. Plus, it's in New Orleans, which is a fabulous place to explore with kids.

Lynn Meadows Discovery Center has an outdoor area with a real-life subdivision in kid-sized proportions.
Highlights: Kids Street, WLMDC-TV, Super Colossal Climbing Structure
There's a world of wonder at Mississippi's Lynn Meadows Children's Museum. Play news anchor on a green screen at WLMDC-TV, check into the History Hotel, or scale to the top of the Super Colossal Climbing Structure. Lynn Meadows has indoor and outdoor exhibits open year-round.

You may have to visit a second day to make it inside the building at the Greensboro Children's Museum.
Highlights: The Growing Place, Outdoor Play Plaza, Transportation
Kids never want to leave the outdoor play plaza, which consists of two European-imported 30-foot-tall climbing structures connected by a 25-foot-long suspended net tunnel. But once parents entice them inside, they can hop inside real police cruisers and fire trucks or complete an obstacle course in the transportation exhibit. The whimsical Growing Place is an immersive digital experience that lets kids grow and maintain a whole forest using their hands and bodies. While Asheville is one of our favorite family towns in all of North Carolina, this museum makes Greensboro another great city to visit with kids.
Highlights: Airway Tube, Castle Maze, Sand Table
There are roughly 70 things to see and do between the two-story building and outdoor courtyard at Jasmine Moran, so plan on a jam-packed day at this museum. The Convair cockpit, pediatric clinic, and gentle dental exhibits might just give kids a glimpse into future careers. Catch some fresh air on the lake at the outdoor nature park.
Highlights: 3,2,1 Blast Off, Geo's Golf, The Climber
Three stories of educational thrills can be found at the Children's Museum of the Upstate, our South Carolina pick, which is an easy day trip from Atlanta. Kids can learn all about the history and mechanics of golf, examine the differences between perception and reality, and burn some energy on the two-story climber—and still have hours of stuff left to do here.
Highlights: The Tower, Barsamian Sculpture, Rooftop Garden
Chattanooga's Creative Discovery Museum is definitely the place for kids to get creative in Tennessee. There are multiple places to explore while getting a bird's eye view of the city from either the rooftop garden or The Tower. The Barsamian Sculpture is a stunning art installation that plays mind tricks on children and adults alike, using the scientific principle persistence of vision to make the viewer think it's animated. So next time you plan a trip to Dollywood, swing by Chatanooga for the kids.

Even the museums are bigger in Texas, as evidenced by the Children's Museum of Houston.
Highlights: SECRET Spy Game, Challenge Course, Cyberchase
They say everything's bigger in Texas, and that must include the amount of fun to be had at the Children's Museum of Houston, where there's absolutely something for everybody. Lots of the exhibits double as games, including the math adventure at Cyberchase and the code-cracking exercises at the SECRET spy game. The challenge course is great for burning some energy, American Ninja Warrior-style.
Highlights: Planetarium, Train Exhibit, Bubbles
Virginia is for lovers, and families will definitely love everything the children's museum in Portsmouth has to offer. This museum is home to one of the more impressive train exhibits we've seen, with 610 square feet of track and 814 different trains. Another popular exhibit is the bubbles, where kids can make their own giant creations using the sudsy solutions on hand.
Highlights: Q?rius, African Bush Elephant, David H. Koch Hall of Fossils - Deep Time
In DC, the best museums are free. That's just one perk of visiting our nation's capital, home to the Smithsonian collection of museums, which are all completely costless. The best place to take advantage of this perk with kids is the National Museum of Natural History. Henry, the 11-ton, 13-foot-tall African bush elephant greeting visitors on the first floor is an American icon. Kids can take a selfie in the jaws of an extinct megalodon, or visit Q?rius and Q?rius Jr. –– interactive experimental learning spaces designed with children in mind. And of course, there are dinosaur fossils … lots of them.
Highlights: Music Studio, Climbing Sculpture, Velocity
This is one of our favorite things to do in the whole state of West Virginia. At 12,000 square feet and three floors, the exhibits at this museum entertain for hours on end. Explore the science of sound, race golf balls down tracks to learn the basics of physics, and make mobile in the art space.
The Best Children's Museums in the Midwest
Highlights: Planetarium, Rock River Discovery Park, Ag-Zibit
There are more than 300 hands-on science and art activities spanning the Discovery Center, with the outdoor Rock River Park being a big fan favorite. There, kids can find their way out of a two-story maze, search for dinosaur fossils, or get wet and wild with water play. Inside, a planetarium shows multimedia astronomy presentations three times a day. This museum is an easy day trip from Chicago.

Kids get active at the Children's Museum of Indianapolis, the world's largest museum for kids!
Highlights: Dinosphere, Beyond Spaceship Earth, Riley Children's Health Sports Legends Experience
Welcome to the world's largest children's museum! The giant dinosaurs trying to break in and out of this complex won't scare brave kids who are ready for the ultimate combination of learning and fun at the Children's Museum of Indianapolis. Five floors of exhibit halls and more than 120,000 cool artifacts hold something for everyone. Recurring traveling exhibits like those featuring DC superheroes and the Paw Patrol add excitement to the bevy of permanent exhibits. Take a spin on the historic carousel before you leave.
Highlights: Flex Space, Build Zone, Cafe
Play and discovery blast off from the Launchpad, a parent-tested, kid-approved children's museum in Iowa. We love children's museums that pay tribute to local culture, and Launchpad has a super cool grain bin, a hog pen, and farm exhibits that honor the Midwest's agricultural roots. Kids won't want to miss the Flex Space, an area decorated like the bedroom from the book Goodnight Moon, where they're encouraged to let their imaginations run free.
Highlights: Illumination Station, Ropes Course, Epic Sandbox
The Kansas Children's Discovery Center is a truly unique place for kids, with 15,000 square feet of indoor space to build, play games, or run a lemonade stand. Outside, adventures really bloom in a 4.5 acre certified Nature Explore Classroom. Rummage through the treehouse, grab a net for the pond, or visit with pollinators in the butterfly garden.
Highlights: Ludrock's Sound Stage, Bubbles Galore, Creation Station
Located in Ludington right on Lake Michigan, Sandcastles emphasizes water safety through playful and fun exhibits, while also giving kids the chance to explore art, music, and technology. The event calendar here is packed with special programming, so be sure to check it out before you go.

Paging Dr. Child, you're wanted in Dino surgery stat at the Minnesota Children's Museum.
Highlights: Imaginopolis, The Scramble, Tip Top Scramble
Three floors of fun keeps kids occupied for the day here, engaging the brain and body through numerous hands-on experiences. Head to the roof to take in the sights and sounds of the city at Tip Top Terrace. The Sprouts gallery is specially designed for toddlers to explore at their own pace. There's even more to do here than there is at the Mall of America!
Highlights: Waterfall Patio, Children's Village, Traveling Exhibits
The Magic House is a fitting moniker for this St. Louis gem that Missouri parents rave about. Touching the electrically charged orb, spinning the kaleidoscope wheel, and gliding down the three-story slide are just some of the activities that children will want to do over and over. Traveling exhibits periodically bring sandcastles, dinosaurs, and more to town.
Highlights: Splish-Splash Garden, Carousel, Science and Technology Center
A national award winner from the Association of Science and Technology Museums, the Omaha Children's Museum is certain to get kids excited about learning in a fun atmosphere. Create something cool in the tinker studio, ride a few laps on the Bay Family carousel, or go outside during warmer weather and enjoy the splash pad.

Gateway to Science is filled with tricky brain teasers.
Highlights: Brainteasers, Robotic Arm, Air Cannons
The hands-on science activities here are hands-down the best option for a children's museum in North Dakota. Kids can stretch intellectual limits with tricky brain teasers, shoot an air cannon, or explore a robotic arm.
Highlights: The Woods, Kids' Town, Energy Zone
At this Cincinnati museum, youngsters are welcome to feel, crawl, and climb their way through a variety of educational activities, discovering more about themselves and the world around them in the process. The Woods is a wilderness adventure, Kids' Town is a mini neighborhood, and the Energy Zone allows them to become one with simple machines.
Highlights: Post Office, Tangle Town, Airway Adventure
The most educational fun on the prairie can be found here. There's tons of cool stuff to see and do, but we love the attention given to types of human habitats across different cultures. Kids can investigate what it would be like to live in a Dakota tipi, a concrete home in Guatemala, or a mud and thatch dwelling in Mozambique. All this culture alongside more traditional kids museum staples like a market, post office, and water tables make for a day of well-rounded entertainment.
Highlights: Trash Lab, Possible-opolis, Stair-Trek
Even the stairwells are interactive at this Wisconsin Mecca of kid-friendly learning experiences. Stair-Trek is one of the many places around the Madison Children's Museum that promotes the power of repurposing. Trash Lab is another, with fun activities highlighting why we should reduce, reuse, and recycle. We love the focus on sustainability interwoven with the activities, making this museum a must-do for local families and out-of-towners.
RELATED: Best US Aquariums for Your Next Family Vacation

Don't get lost in the Noodle Forest at the Children's Museum of Phoenix.
The Best Children's Museums in the Southwest and the Rockies
Highlights: Noodle Forest, Pedal Power, Whoosh!
Take a break from the scorching desert heat in Phoenix inside the Children's Museum of Phoenix, where over 300 interactive play areas await inquisitive young minds. Children will love sprinting through the noodle forest, donning NASA gear in the dress-up theater, or cozying up with a good read in the book loft.
Highlights: Adventure Forest, Bubbles, My Market
Prepare for loads of high-altitude fun at this museum for kids in Denver, which is divided into four sections: Investigate, Imagine, Explore, and Create. You'll find bubble play, a pet vet, an art studio, and much more inside, before heading outdoors to the Adventure Forest for panoramic views of the mile-high city from 90 feet in the air.
Highlights: Pet Vet, Transportation Center, STEM room
Young Explorers visiting the Children's Museum of Idaho can play dentist, chef, cashier, or astronaut at this kid-friendly learning center in Meridian. Check the website before you go, as the museum offers regular programming like touch-a-truck, yoga, and Mother Goose storytime. This spot is specifically for youngsters ages 2-8.
Highlights: Littlesville, Flight Zone, Parkour Square
The Children's Museum of Montana provides an action-packed good time with exhibits encouraging kids to brush up on their piloting skills and channel their inner ninja warrior. When they've had enough excitement, kids can calm down at the LEGO Zone, schoolhouse, or lending library. Fit in an interactive history lesson at the homestead.

From brainteasers to learning to change the wiper fluid in a car, kids love learning at The Discovery in Reno.
Highlights: Mindbender Mansion, Build it, Under the Stars
While there are actually loads of fun things for the whole family in Las Vegas, for our money, the best museum for kids is in Reno. The Discovery has transformed itself from a simple children's museum to a first-rate science center, but maintains its appeal for kids of all ages. The brainteasers in Mindbender Mansion will really activate critical thinking skills, while areas like Little Discoveries are tailor-made for tots. Nevada Stories focuses on the fascinating lifestyles of the region's early Native Americans through activities like archeological digs.
Highlights: Giant bubbles, Puppet Theater, The Backyard
Bigger isn't always better, and we think the cozy kid-friendly atmosphere at the Santa Fe Children's Museum makes it the best pick in New Mexico. Over 35 interactive exhibits both indoors and outdoors are on display, with designated space for toddlers. The Backyard offers over 1.5 acres of natural habitat to explore.

Imaginations take flight at the Museum of Natural Curiosity at Thanksgiving Point.
Highlights: Mazes and Brain Games, Canopy Tours, Trading Post
Just south of Salt Lake City is where you'll find this charming children's museum. Natural curiosity is definitely piqued here, where kids can flap their arms to see how they measure up against a hummingbird, check out x-rays of animal and human bodies, or scale a rock wall and build with oversized Legos. The Museum of Natural Curiosity is housed within the Thanksgiving Point Complex, so when you're finished there, you can check out the Museum of Ancient Life, Butterfly Biosphere, and Farm Country, among other family-friendly attractions.
Highlights: Wild Wind Machine, Light Box, Peg Board
Touring the exhibits at this child-friendly education outpost in Jackson Hole, kids will have the chance to experiment with simple machines, practice basic math skills, and understand how wind affects flight, all within a playful setting. The tot spot is a special place just for the museum's visitors under three, which local moms and dads really appreciate.

Learn about rainbows in (where else) Hawaii, at the Hawaii Children's Discovery Center.
The Best Museums in the West
Highlights: The Climber, Sensory Room, Imagineering Lab
Alaska is not too far to go for a great museum, and little ones will have mammoth fun at the Fairbanks Children's Museum, and can even add their own piece of yarn to the colorful woolly mammoth that serves as its mascot. A climbing exhibit to challenge budding motor skills was just completed in 2020 and joins an impressive lineup of kid-friendly attractions designed for preschoolers through elementary.

Parents love the Exploratorium almost as much as kids.
48. Exploratorium –– San Francisco, California
Highlights: Animation Station, Distorted Room, Anti-Gravity Mirror
Though it pained our Los Angeles editor, even she had to agree that San Francisco has the best children's museum in California. Sensory exploration goes into overdrive throughout this world-class museum's 650 plus interactive exhibits, sparking kids' imaginations through the mediums of art, science, and human perception. Located at San Francisco's Pier 15, the space makes use of its backyard bay with installations like Color of Water and Fog Bridge, sure to equally engage the minds of parents and children. The Exploratorium has been described as "a mad scientist's penny arcade, a scientific funhouse, and an experimental laboratory all rolled into one," and we couldn't agree more.
Highlights: Rainforest Adventures, Hawaiian Rainbows, Your Rainbow World
Without a doubt, Hawaii Children's Discovery Center is the number one children's museum in the number 50 state. Incorporating uniquely Hawaiian themes like rainbows and the rainforest, this center is a magical space that draws from the state's natural beauty and native cultures to educate and inspire.

Bring a change of clothes to OMSI, because kids love the water play.
Highlights: The Curium, Science Playground, Life Lab
OMSI is another first-rate science center on our list that really makes an effort to keep all the exhibits as appealing to children as possible. (RIP Portland Children's Museum, which closed forever in March of 2021.) OMSI uses a helpful key to let parents know which of its labs are best for age groups 0-6, 6-12, teens, and adults, and features plenty of options for all four. The Curium is designed specifically for those ages 4-8 to play with windpower, make music, and more. Of course, the science playground is a kid favorite.
Highlights: Imagine-Air, Tall Timbers Rooftop Adventure, Thinker Linkers
Children will enjoy getting their creative juices flowing inside or outside of this Washington state museum. Imagine-Air is a simulated plane where kids rule the cockpit. Interlocking wooden blocks called thinker linkers are almost impossible to put down once you pick them up. And on the roof, find over 9,000 square feet of tower climbing, dinosaur digging, and music-making.
What do you think of our list? Got a favorite you want to advocate for? Let us know on Facebook!
All photos are courtesy of the museums