25 Things To Do in Cincinnati with Kids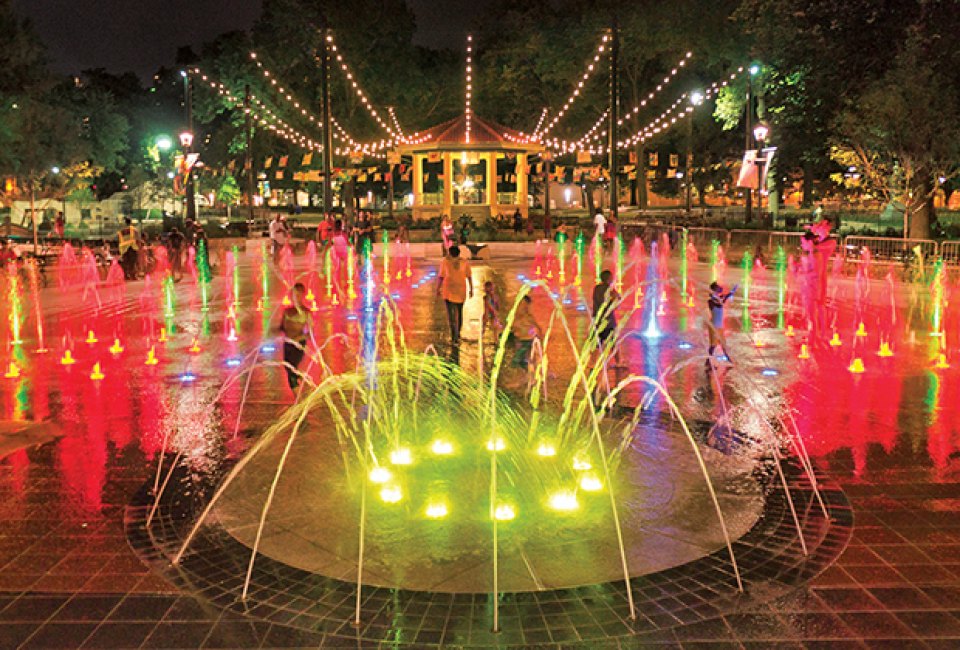 7/23/16
- By
Allison Tibaldi
Cincinnati, Ohio hits the highbrow and lowbrow sweet spot for families. It may be referred to as the Queen City, but there are no regal airs in this utterly unpretentious town.
Proud of its working-class roots, Cincinnati forges into the 21st century with plenty of innovations. Its compact core makes it ideal for walking and an eagerly anticipated new streetcar route opens in September, connecting its diverse outlying neighborhoods with the vibrant downtown. Nature lovers can bask in Cincinnati's leafy parks just minutes from the city center. Pro sports are a big deal, with baseball's Reds and football's Bengals leading the charge, but families with an interest in history and the arts have also come to the right place.
To help families get the most out a visit to Ohio's Queen City, we've pulled together a carefully curated list of things to see and experience with kids. For more stateside family vacation ideas, be sure to check out our United States Family Travel Guide.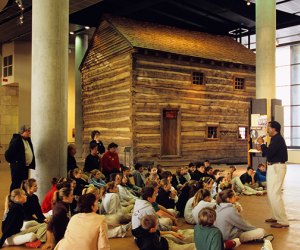 Discover living history at the National Underground Railroad Freedom Center. Photo by Discover Ohio Travel via Flickr.
1. Visit the National Underground Railroad Freedom Center, one of the best interactive museums we've visited, and a beautiful monument to all those who risked so much to fight for liberty.
2. Head to Eden Park, where you'll find the stately Cincinnati Art Museum, rich in children's programming and admission-free. The hands-on Rosenthal Education Center is stocked with a range of materials for creative art-making opportunities.
3. Get up close and personal with sea horses and other aquatic creatures at the Newport Aquarium, home to the most interactive sea horse exhibit in the country, showcasing up-close experiences with 10 different species of sea horses.
4. Party with the locals at Fountain Square in the heart of downtown, home to free events and performances all summer, including the family-friendly salsa dance party each Thursday evening.
5. Just minutes from the center of Cincinnati, enjoy Mt. Airy Forest's easy walking trails and the accessible Everybody's Treehouse.
6. Bring the tots to The Children's Museum, a great place for hands-on fun, including two exhibit areas designed for children preschool age and younger.
7. Enjoy the Museum of Natural History and Science, which encourages creative thinking through interactive exhibits.
8. Explore the Taft Museum of Art, housed in a historic mansion, and enjoy excellent children's programming and a lovely café with an inexpensive kid's menu.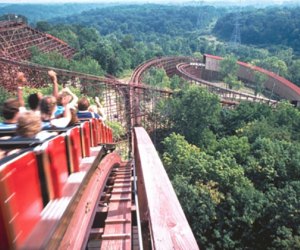 Thrill to a coaster ride above the treetops at Kings Island. Photo courtesy of the park.
9. For big thrills, head to gigantic Kings Island amusement park. It's not far from town and its Soak City Waterpark is a great place to cool off on dozens of splashy rides.
10. For more compact and classic amusement park fun, check out Cincinnati's Coney Island, complete with a water park and scores of rides for kids of all ages.
11. Experience rock climbing, racing slides, a fog mister, and other play equipment built from local, sustainable materials at the Grow Up Great Adventure Playground in Smale Riverfront Park.
12. Indulge in great eats at Findlay Market, one of the country's oldest continuously operated public markets, and a beacon of fresh food sold at reasonable prices.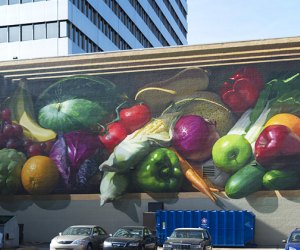 Savor the city's larger-than-life murals. Photo courtesy of ArtWorks.
13. Wear comfy shoes for a self-guided walking tour of some of the 100 bold and colorful public murals that adorn this city.
14. Take in a Cincinnati Reds baseball game at Great American Ball Park. Even if the Reds aren't in town, fans of the sport shouldn't miss the Cincinnati Reds Hall of Fame, a multimedia homage to America's first pro baseball team.
15. Visit the Contemporary Arts Center's spacious digs and funky rotating exhibits in the vanguard. Bonus: Admission is free.
16. See a kid-friendly show at the Children's Theatre of Cincinnati, part of the Taft Theatre, that gears its one-hour live performances to kids ages 4-12.
17. Don't miss Eden Park's Krohn Conservatory, an oasis of lush plant species, a rainforest, and an annual live butterfly show.
18. Stroll the boardwalk-style trails at the California Woods & Nature Center and you'll feel suspended in the greenery.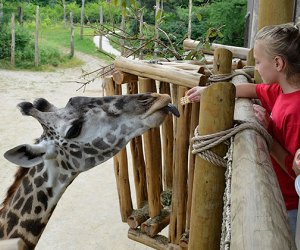 Share with friends at the Cincinnati Zoo. Photo by Michelle Curley.
19. Marvel at Cincinnati Zoo's more than 500 animals including two Nile hippos in the brand-new hippo exhibit, part of the zoo's eight-acre Africa section.
20. Commune with nature at the Cincinnati Nature Center, home to miles of relaxed hiking trails and the Rowe Visitor Center which is full of interactive exhibits.
21. Take a spin on a cicada, flying pig or giraffe at Smale Riverfront Park's Carol Ann's Carousel with its Cincinnati-themed scenes painted by a local artist.
22. Head to the Fire Museum of Greater Cincinnati which showcases the evolution of firefighting with a rich collection of artifacts.
23. Take a walk over the Ohio River on one of the city's scenic bridges and you'll stroll across the state line to Kentucky. Or meander down the Ohio River on a pirate-, princess- or superhero-themed cruise.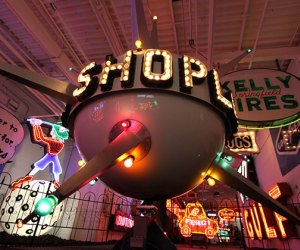 Pop culture comes alive at the American Sign Museum. Photo by Chris Miller via Flickr.
24. Gawk at the impressive collection of vintage signs at the American Sign Museum, a fascinating reflection on pop culture.
25. Savor this city's culinary traditions by participating in a guided food tour of the hipster Over-the-Rhine neighborhood with family-friendly Cincinnati Food Tours.
Eats
Cincinnati-style chili's savory soupiness is an acquired taste. But if you feel the need to experience it, head to Skyline and order a 3-Way (spaghetti covered with chili and a mound of shredded cheese).
No trip to Cinci is complete without a scoop of Graeter's ice cream. The hometown favorite flavor is black raspberry chocolate chip.
Many bakeries freshly fry donuts each day, but Holtman's in the revitalized Over-the-Rhine neighborhood is the hometown favorite.
Stay
21c Museum Hotel doubles as a public art gallery. Rotating site-specific installations by living artists make the hotel an epicenter of current culture. Service is hospitable, rooms are large, and playful touches like in-room yellow plastic penguins should keep the kids smiling. It is located next door to the Contemporary Arts Center and steps from the free performances (and ice rink in season) at Fountain Square.
For additional trip planning information, visit CincinnatiUsa.
Top image: Washington Park's fountain lights up at night from April through October. Photo by Gary Kessler/courtesy of Cincinnati Parks
Click Here to Sign Up!
i