New Art of the Brick Exhibit Dazzles at New York Hall of Science
10/10/19
- By
Drew Kristofik
Lego maniacs in the five boroughs now have an alternative to making a trek to Westchester (or awaiting the opening of the Legoland Resort coming next year to the Hudson Valley) if they want to commune with huge piles of colorful building bricks. The New York Hall of Science's spectacular Art of the Brick exhibit is on view now through January 26.
Using more than a million bricks, artist Nathan Sawaya created over 100 pieces for this exhibition, from recreations of iconic pieces of art to original sculptures including a stunning T. Rex. In collaboration with photographer Dean West, the exhibit also showcases an innovative multimedia collection of Lego art photography. For more details about the interactive play stations and installations, read on.
After entering the Art of the Brick exhibit, which requires an additional $7 entry fee and a special sticker, we were immediately swept up into art gallery mode. Imagine a museum where Mona Lisa sits next to American Gothic, The Scream, a giant Easter Island head, and Michaelangelo's iconic David...all made of Legos! Positioned among the familiar pieces are original sculptures, including a life-sized swimmer floating up from a table top, Yellow (the poster boy for the exhibit), plus a spooky gallery with skulls and Halloweenish scenes, as well as the lovely photo collaboration with West.
RELATED: 9 New York Hall of Science Exhibits Every NYC Kid Needs to See At Least Once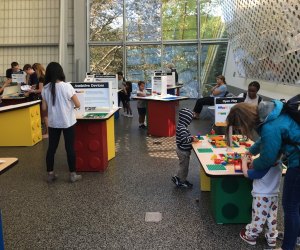 The Science of the Brick activity stations include a Duplo table just right for preschoolers.
On the far side of Sawaya's sculptures, you'll find the brightly lit interactive area called "The Science of the Brick," where kids (and adults) can work on several Lego brick building challenges, or free-play with an assortment of Legos and Duplos (the Duplo table is the perfect height for preschoolers and toddlers).
Nine (count em, nine) different activity stations in "The Science of the Brick" include:
Art & Architecture – Recreate famous buildings, bridges and structures using Lego bricks.
Hidden Hands – Build a mystery object inside a covered box using only your sense of touch.
Assistive Devices – Design a tool that will allow you to pick up an object through a series of obstacles.
Describe It – Build a simple object—then, see if your friend can build the same object based on how well you describe it!
Six Bricks – Find out how many different things you can build using only six Duplo bricks.
Lego Drag Race – Build a Lego brick car and test it out on ramps of different inclines.
Tilt Maze – Rearrange Lego bricks to create a maze for a wooden ball to navigate through on a tilt-table.
Lego Music Box – Create your own unique song using a device that converts Lego brick arrangements into your own original music composition.
Free Play – Use your imagination in the free play area with bins of Lego and Duplo bricks.
The stations are a bit small, with a limited number of Lego bricks, so it can be challenging to score a turn at one of the more popular stations, like the Drag Race. Our resident Lego pro loved the Hidden Hands station, and came close to creating the airplane he had in mind, and we all found the Music Box difficult to complete satisfactorily (we may have had our blocks too tightly spaced). But our three-year-old was too young to really do more than concoct constructions at the Duplo station, and he was happily engaged there for quite a while!
RELATED: 15 Best Science Museums and STEM Spots for Kids in NYC

Sit under a virtual waterfall in the Connected Worlds exhibit.
Pro parenting tip: If sensory overload leads to meltdown, meander over to the Connected Worlds permanent exhibit, on the same floor. Soothing sounds, dim lighting, and a magical virtual reality world are like a spa for the brain. We left feeling rejuvenated—and ready for another run through The Art of the Brick.
Know Before You Go
The entry fee for the Art of the Brick is $7 per person, plus NYSCI admission. Children under 2 and NYSCI Members are free. The Art of the Brick is open during museum hours Monday through Friday, 9:30am-5pm, and weekends 10am-6pm.
Photos by the author
Places featured in this article:
---
New. York Hall of Science
Click Here to Sign Up!
i