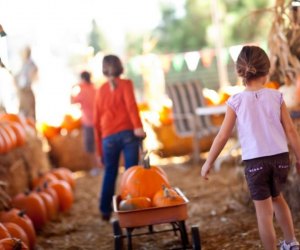 Things to Do in Houston This Weekend: Pumpkin Fest, The Original Greek Festival
Can we all say a little hooray for the (slightly) cooler weather we've been enjoying? Even a marginal break in the heat means that outdoor activities are infinitely more enjoyable, which is why we think now is the perfect time to take the kids to the Renaissance Festival, which is kicking off this weekend! We also highly recommend going on a family camping trip... OR you could even combine the two and camp at RenFest. Let's celebrate the change in seasons with all the outdoor activities!
Speaking of activities, there are no shortage of amazing events happening this weekend. Some highlights include the 40th Annual Festival Chicano, Stargazing with Houston Astronomical Society, and the Fort Bend County Fair. It's guaranteed to be a good weekend no matter what you pick, that's for sure!
If you have an event or activity coming up that you want to share, we want to share it too! Submit your event to our event calendar and we'll add it to our ever-growing list of awesome happenings around town. The start of a new month also means we have a brand new October GoList up, so be sure to stop by and check out some of the best events that are going on throughout the month so you can plan out your weekends with the kids and GO!
We also recommend signing up for our weekly newsletter so you can stay up to speed with everything happening on Mommy Poppins.
Without any further delay, let's check out what this lovely first weekend in October has in store for us.