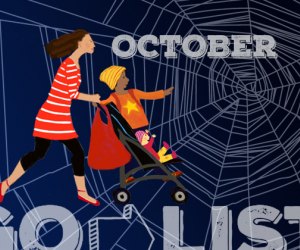 October GoList: Best Things To Do with Houston Kids This Month
You can almost hear the collective sigh of relief across the city as we finally enter fall. School may be in full swing, but there are plenty of opportunities for family fun you can take advantage of, like playing carnival games at a harvest festival. There are also lots of things to do for Halloween, from not-so-scary trunk-or-treats to getting treats at Houston's best events and neighborhoods. Don't forget, you can also visit Houston museums for free on certain days, and if you're not ready to let go of summer just yet, see our recommendations for best places to get cold treats and where to find splash pads around the city.
For ideas on activities and things to do this season, check out our Fall Fun Guide for Houston families. Make sure you continue to check our calendar for updates on what's going on every day around the city, but for now, here's a list of October events for the whole family.
Pumpkin patches - There are several area pumpkin patches you can visit throughout the month of October, such as:
Old MacDonald's Farm: The farm's regular attractions are open, including petting zoos, train rides, and playgrounds, but stop by this month to take pictures in the farm's expansive pumpkin patch.
Dewberry Farms: Take a wagon ride over to the farm's eight-acre pumpkin patch for pictures and pumpkin picking. There is also an eight-acre corn maze and hundreds of lighted pumpkins on display.
Oil Ranch: The Oil Ranch in Hockley has hosted its pumpkin patch and Scarecrow Festival for more than 20 years. There are 60 decorated scarecrows and thousands of pumpkins around the grounds.
Fort Bend County Fair - Rosenburg
Sept. 27-Oct. 6, 2019
The 80th annual fair is underway in southeast Houston. There's still time to check out the animals, carnival rides and plenty of local shopping.
OUR LATEST VIDEOS
Froberg's Farm Annual Corn Maze and Fall Festival - Alvin
Sept. 28-Nov. 3, 2019
South of Houston you'll find Froberg's Farm and its massive corn maze. Visit the farm any day to get lost among the husks, and on the weekends check out the hay rides, flower picking, pumpkin patches, and games.
Greek Festival - Downtown
Oct. 3-6, 2019
Houston's Original Greek Festival has celebrated more than 50 years in the Bayou City. In additional to the traditional dance performances, there is a children's zone with a variety of activities and shopping.
Texas Renaissance Festival - Todd Mission
Oct. 5-Dec. 1, 2019
The largest renaissance festival in the state sits just north of Houston near Magnolia and is full of medieval activities, shopping, and shows for the entire family. Dress up in your best period gear if you really want to blend in.
Katy Rice Festival - Katy
Oct. 11-13, 2019
Drive out west to Katy for some great old-fashioned suburbia fun. Celebrate Katy's history with live entertainment, music, shopping, and a children's area. If you're wanting to make a day of it, check out our insider's guide for things to do in Katy with kids.
Bayou City Art Festival - Downtown
Oct. 12-13, 2019
Hundreds of pieces of art are on display from area artists, and there is a Children's Creative Zone where your kids can flex their artistic muscles by making various crafts.
Conroe Cajun Catfish Festival - Conroe
Oct. 12, 2019
This tasty annual festival is the fall rendition of our beloved crawfish festivals - there's music, a market, delicious food, and - wait for it - A CATFISH PAGEANT. There's really nothing else to say.
Houston Zoo Boo - Downtown
Oct. 11-27, 2019
Bring out your family's wild side at the zoo. Dress your kids up and head to the annual Zoo Boo for pumpkin painting and pumpkin patches, a creature maze, trick-or-treat bags and tons of activities for kids of all ages. There is even a costume contest and also a dance workshop where participants learn the moves from the King of Pop's "Thriller."
ArBOOretum - Bellaire
Oct. 19, 2019
The Houston Arboretum and Nature Center hosts its annual Halloween event where kids can trick-or-treat in nature's backyard and learn about different animals and wildlife along the way. There is a petting zoo, hay rides, live animal demonstrations, pony rides, carnival games, and more children's activities.
Scream on the Green - Inner Loop
Oct. 25, 2019
Head downtown to Discovery Green for the city's annual costume contest. The contest is for everyone - even newborns - and prizes are awarded in age categories. There is live music, a movie screening, and prizes.
For more posts like this delivered straight to your inbox, subscribe to our FREE newsletters.
This article originally published in October 2016.