20 Things To Do in West Adams with Kids: A Delightfully Family-Friendly Spot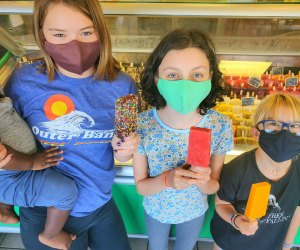 West Adams is one of the oldest neighborhoods in LA, and as you explore you can feel how right it is in culture, diversity, and history. But it can be tricky for visitors to locate the area's "hot spots"—which is one of the reasons why those living here love it! Knowing where to find the perfect taco, the perfect gift, or the perfect park, still feels like insider information. You are very much in the middle of a giant city here, but rarely are your favorite spots overcrowded. I love the many family-friendly surprises that this urban, creative neighborhood holds!
Here are 20 spots (and a bonus at the end!) in the greater West Adams and Mid-City area that families are sure to love. For more places to explore in Los Angeles, check out our favorite neighborhood and city guides that help families uncover every great hidden place in LA.
When I moved to Mid-City, almost twelve years ago, no one had any idea where it was. People would inevitably confuse it with Mid-Wilshire, but Mid-Wilshire it is emphatically not. Today, Mid-City is often lumped together with West Adams, due in large part to gentrification and the way the overall area has grown. The West Adams and Mid-City neighborhoods bump into each other—where one begins and the other ends is the subject of great debate, but there will be no debating today. I'm just here to share with you some favorite family-friendly spots that thrive in the Mid-City/West Adams neighborhoods.
These streets hold so many gems: tiny little shops not seen from the roadside, delicious take-out food that has a mere window for a storefront, a stealthily hidden skatepark in an alley, or even a giant playground sunken behind a fence you've driven by a hundred times and never knew was there!

The Plant Chica is a vibrant spot for both plants and community activities.
Great Shopping with Kids in West Adams & Mid-City
The Plant Chica's green thumb has turned this cool old Mid-City building into a magical, verdant resting spot for plants before they head to their final destination—your home. The Plant Chica is mom-owned and it shows; the mini borrowing library on site, the pull-wagons filled with plants, and the packed schedule of going-ons like Plant A Seed events or a Hispanic Heritage Celebration.
LA librería is an all-Spanish kids' bookstore with a huge selection. Whether your kids are fluent or learning Spanish as a second language, this is an amazing store to explore. The bright books practically jump from shelves, and the adorable kid-sized seats and tables provide a warm invitation for children to come, get comfy, and read!
The Wellington Square Farmers Market has been going strong for nearly a decade. Every Sunday from 9am-1pm, families can find a variety of fresh produce, friendly faces, and a whole lot more. There's always something great for kids to enjoy from a craft table to school bake sales. Parking is never a problem and there are always lots of smiling faces at this neighborhood weekend hangout.

Jump, climb, pounce, and dance at Blue 8. Dance and Parkour classes daily! Photo courtesy of Blue 8
Sporty Spots for Kids in West Adams & Mid-City
Blue 8 is West Adams' new dance and parkour studio, and it is amazing. Owned by a sister and brother team, Blue 8 offers a ton of classes for kids of all ages and experience levels. It's a huge asset to the community's families, offering top-notch instruction through a whole-child approach. Blue8 also has a sweet studio dog named Wesley who is sure to calm any jitters! The studio offers individual classes and even private lessons as drop-ins.

A skater's best-kept secret—the bowl at Babylon. Photo courtesy of Babylon
Got a kid who likes to shred? Impress them with a trip to Babylon! Babylon is a small boutique in the front, selling some gnar skater clothes...but go past the front desk, and the incredibly friendly staff who didn't bat an eye at this mom snooping around like a lost lamb totally out of my element, and head to the alley. Here you will find a "secret" skate bowl that's free and open to the public ... if you know how to find it. I actually wouldn't recommend this bowl for scooters or beginners. However, if your kiddo has a handle on their board, they are going to love it here.
Playgrounds and Perfect Picnics Places in West Adams
Westside Neighborhood Park is tucked away in a quaint little neighborhood, and you can't see any of the good bits from the street. Park at the curb, walk through the gate, and follow the path through the meadow. Soon you will come upon two great playground areas and lots of space to lay down a blanket or workout while the kids play. The only negative aspect of this park is that it has no public bathrooms, so hit up the potty before you arrive! No ice cream trucks or vendors hang out here, so if you find yourself perpetually saying "no" at parks, you won't have to do that here.
Vineyard Recreation Center is small but mighty. It's recently been completely renovated, so it's crisp and new and has all the playground essentials. This park also has a basketball court.

You can't help but smile here! Benny H. Potter Park is a bright spot in West Adams.
Benny H. Potter Park has a lot going for it. Remember how I mentioned that Westside Park is free from vendors and ice cream trucks? Benny Potter is the antithesis of that, but these musical trucks have their charms too! Just remember to bring cash for treats... This park is smack dab in the middle of a neighborhood called "West Adams Avenues" and the historic craftsman houses juxtapose themselves against the park's bright, new feel. There's a play section for the bigs and another for the littles, as well as basketball courts and a covered picnic area.
West Adams Restaurants That Picky Kids and Foodies Enjoy
Bee Taqueria just keeps winning awards for their beyond delicious tacos. The digs are unpretentious—a patio area fashioned by shipping containers—but your typical street taco is not what you'll find here. While there's plenty to keep the kids happy (including lots of space), grown-ups can satiate their palate with taco options that include ingredients like beets, lamb broth, and scallops.
Heard of Delicious Vinyl, the indie label that boosted the careers of iconic hip-hop artists like Tone Lōc, The Pharcyde, and Young MC? It's the longest-running indie label in history. Delicious Pizza was founded by two brothers, and one of them still runs Delicious Vinyl. This pizza spot magically merges hip-hop with marinara and has been a neighborhood fave since their opening—it's all about those fresh ingredients atop the incredible fermented sourdough crust!
Mizlala offers a small but mighty menu—you truly can't go wrong! All the best Mediterranean staples are presented beautifully: The build your own pickle bar is superb, and the exquisite shakes are to die for, with flavors like Halva Cinnamon, Chocolate Almond, and Salted Caramel. Mizlala offers take out but its patio is divine, and the food tastes even better al fresco, under the shade of trees.

Party Beer provides a huge outdoor patio so that you and the kids can, well, party.
Party Beer came onto the scene during the pandemic and managed to survive and thrive. Flaunting a huge patio, Party Beer is perfect for socially distanced sipping! Of course beer is on the menu, as is a rotating variety of hard seltzers. The food here is simple and kid-friendly: fries, small pizzas, focaccia, and a few sandwiches. Topo Chico and Mexican Coke in a bottle are offered up for those not wanting alcohol. Another bonus: you can bring your own food to enjoy with your drink if you want.
Almost the entirety of Highly Likely's storefront opens up, so when dining in, the inside is outside, too. The cafe offers a variety of unique American flavors in food, wine, and beer; but the offerings really shine where the coffee (and matcha!) is concerned. Highly Likely is smack dab in the middle of a ton of new businesses, easy to access, and well worth a visit any time of day.
Mian, which means noodle in Chinese, serves Sichuan-style noodles and traditional dishes. You can't miss this building as it pops out, decked out on both sides with an amazing mural that continues right on inside this hip, new restaurant. If you like spicy noodles, this is the place for you, but not to worry, there's something for the kids, too: The chicken and dumplings, chicken noodle soup, tomato beef noodles, and crispy chicken are all mild and delicious.

A chilly cheers to Mateos.
You absolutely, positively must take your child to Mateo's Ice Cream and Fruit Bars at some point in their childhood! Ice cream in literal mounds calls from the glassed-in freezer. The most delicious paletas are on display to salivate over—bright red strawberry, golden mango, cinnamon-speckled horchata ... it's almost impossible to choose just one. Go there for the kids ... yeah, for the kids.
This spot could have easily been included in the "Walk-Up Windows" section below because they do indeed offer a walk-up option, but that would mean you'd miss out on Johnny's awesome patios in the back. They're not visible from the front, but Johnny's offers not one, but two patios—one of which features chimineas flickering in the evening, making it quite a special little spot for evening dinners that are casual but full of ambiance. Johnny's is famous for its pastrami but offers other savories and sweets like a French Dip, a chicken Sandwich, and a stellar Matzo Ball Soup, to name just a few. Johnny's has a new adjacent bar serving up splendid sips. Johnny's also brings in live music on Fridays—as if the pastrami wasn't enough!

Loteria is back: Step on up to the window.
Great Walk-Up Windows For Take-Out (Genius, Right?)
When Lotería Grill left the LA Farmers Market, there were plenty of actual Angelino tears shed. If you mourned the loss of Loteria's tacos or their chilaquiles (swoon!), you will be ecstatic to hear that Loteria is now offering a take-out window from their long-time West Adams kitchen, which was never before open to the public. Walk on up to the window and get that nosh on that you've been missing.
Taqueria Los Anaya started as a tiny taco spot with a few tables and has since doubled in size. It also now offers a walk-up window that's perfect for a grab-and-go of the famous tacos. This taqueria is family-owned and you can definitely feel the love here! The enchiladas and tacos are a fan fave, while kids love the taquitos, quesadillas, rice, and beans.

Mel's Fish Shack is legendary—walk up to the window and order.
Mel's Fish Shack has been in West Adams for nearly forty years. It's no surprise that it is still going strong—the fish here is simply really, really good! Parents and kids love the famous (non-spicy!) hush puppies, but the real dilemma comes in when trying to decide which seafood to order: from fried shrimp and trout to grilled salmon on a salad, it's all super delicious and super fresh.
Two words: Breakfast Tacos! HomeState's West Adam's location offers a walk-up window and cute little shaded waiting area as well as reserved parking for pick-up, making this an extra convenient take-out window. There are lots of options here for the grown-up palate, including spicy potato or brisket tacos, but it also serves those delish breakfast tacos all day. A favorite around my house is an order of the homemade tortillas along with a side of rice and beans, and voila, the kids have a DIY taco bar for dinner! HomeState also serves canned margaritas and other mixed drinks to-go.

A brand new mural being painted on the corner of Jefferson and Potomac. It's so cool to see the artists at work.
And One To Grow On...
21. The Murals of West Adams
Los Angeles is a city of murals, boasting well over 1,000 of them, and the West Adams area continues to add to the city's artistic expression in big ways. There are murals throughout this area: some old, some new, and some restored. Take a Sunday drive through the streets and see how many murals your kids can spy!
All photos are courtesy of the author unless otherwise indicated.