Toddling the Upper West Side: 10 Spots in 10 Blocks for you and your toddler in the West 70's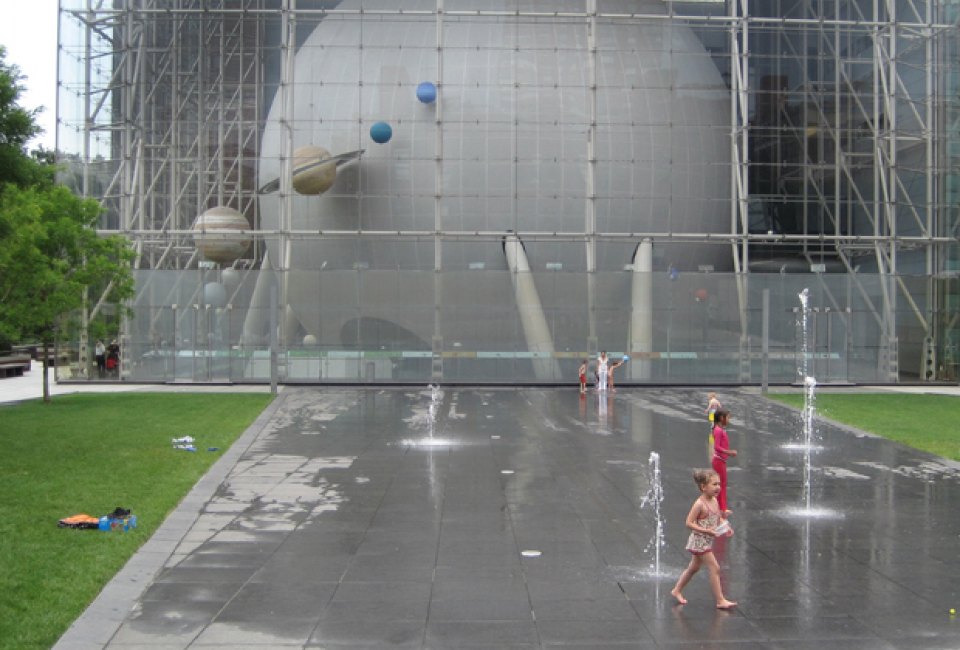 6/22/10
- By
Allison
We love exploring neighborhoods with our toddler. It gives you a whole new view of NYC. My 1-and-a-half-year-old and I have been exploring every square inch from Columbus Circle up to 100th Street, coming up with itineraries in 10-block stretches for parents and toddlers. We recenly posted about 10 toddler-friendly spots in the West 60s and this week we've dug up 10 cool finds in the West 70's.
Find out what to do, where to eat and how to have fun on the Upper West Side with your tyke in tow:
This is the coolest spot to visit with your toddler when it's nice out. The rooftop terrace holds a perfect little park that's centered around a stone patio with jumping fountains that children can run around and play in. There is a grassy area around the perimeter and several tables with umbrellas that are perfect for a picnic. The terrace gives a great view of the Planetarium and down onto a dog run. There isn't much shade around the fountains so bring sun protection. Enter for free up the stairs on the north side of the Museum of Natural History, or go inside the museum and take the elevator.
Massive exhibit halls filled with giant safari animals, ocean creatures, dinosaurs and more, this place has toddler written all over it. Go on off hours on a weekday when there aren't many crowds and let your toddler explore it all and practice his animal sounds. Click
here
for Mommy Poppins list of fun finds at the museum.
There is a little dock next to the Delacorte Theater that looks out onto Turtle Pond. It's a fun spot for toddlers to stand on their own and peer down at tons of turtles swimming below. They're usually right there at the edge of the dock waiting for food (though signs ask you not to feed the wildlife.) Stick around a bit and you'll probably spot a few ducks and fish too.
My friend takes her son here weekly for dinner and says it's seriously made her life easier. This restaurant is totally toddler-friendly with plenty of high chairs, outdoor seating and tons of appropriate menu options including rice and beans, sweet potatoes, steamed veggies and, of course, all kinds of chicken.
Sure, you're just a few blocks away from Central Park or Riverside, but leave it to the Upper West Side to have another cool playground smack in the middle. The Tecumseh Playground has a Wild West theme that may remind parents of playing "Oregon Trail" back in their school days. There's an area for smaller children to climb on equipment and play. There is no sandbox, but there is soft ground for toddler falls, as well as sprinklers.
This cafe is more like a diner and is flexible if you stray a bit from the menu to make special requests for your toddler. There are plenty of high chairs and they'll take your stroller and store it for you.
Little things can make a big difference when you are out and about with a toddler, like walking into a store on an errand and finding a little stash of toys there to keep your child entertained. Yes!! For that groovy move, this business makes the list.
Let your toddler dance around as Beatles fans play guitars and sing. Just keep an eye out for any non-toddler friendly things like large tour groups or lit candles placed on the ground.
9.
PIER I
(70th Street at the Hudson River)
This is a long pier that allows for some good toddling along the river, and it's a nice spot for adults to enjoy too. Point out the boats and helicopters travelling by and watch people fishing. The Pier hosts lots of toddler-friendly events year round from kiddie concerts in the summer to a county fair in the fall. Check out Riverside Park Fund website for a
calendar of events
.
It may not be gourmet, but it's an easy stop for a sandwich if you're near Riverside with your toddler. This cafe has tons of space for little ones to toddle around and take in the unique surroundings (under the west side highway and overlooking the river). It's very casual so it doesn't matter much if your table makes a mess or gets a little loud.
Did we miss your favorite spot? These are just a few favorite places to go with toddlers on the West 70's blocks of the Upper West Side. If you have other suggestions, share them with us below in the comments. Next time our neighborhood tour will continue as we head north and toddle through the West 80's. If you want to see more about what's going on on the Upper West Side check our
neighborhood guide
.
Top image: Arthur Ross Terrace at AMNH. Photo courtesy of Steven Chavez via Flickr.