Toddling the Upper West Side: 10 Spots in 10 Blocks For You and Your Toddler in the West 60's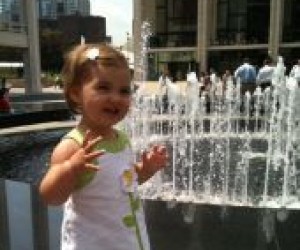 Ah toddlers, so full of energy and always on the go, much like our beloved NYC! I've been getting a unique new view of my neighborhood on the Upper West Side through a toddler's eyes with my one-and-a-half-year-old. It's a very child-friendly area from Columbus Circle at 59th Street Columbus all the way up to 100th Street. You're sandwiched between two amazing parks, but there are loads of other places to explore as well. So we're taking you and your toddler on a tour of the Upper West Side, 10 fun-filled blocks at a time. There will be lots of child-friendly play spaces and food options, and a little something for the adults to enjoy along the way too. In this first part of the series we tackle the West 60's. Here we go!
1.
Time Warner Center
(8th Avenue at 59th Street)
You will find tons of toddler entertainment at this city mall, and tons for parents to love too. There is level after level of cool, open toddling space with easy elevator access and plenty of big, clean bathrooms. The Borders bookstore on level 2 has a nice little children's section in the back. But the highlight at the Time Warner Center is the food options. Whole Foods downstairs has a huge selection for picky eaters and a roomy eating area with highchairs. Landmarc upstairs is a fancier option but still very child-friendly (weekend brunch is particularly popular for families with young children.)
2.
See the horses on Central Park West
The horses that clip-clop through the park all day stop and line up for a rest on the shady side of Central Park West. Its a good chance to see them up close. Watch as they get a drink and snack, and maybe a driver will let you feed them a carrot.
This is one of my favorite neighborhood spots to go with my toddler. Inside, this cool new
indoor public space
(and Lincoln Center ticketing location) has two humongous living walls climbing with green plants galore. There is space to toddle around a fountain and stare up at the nifty displays projected on the media wall. We usually have no problem getting a table to eat a snack from the cafe and take it all in. And hey, while you're there, you may find a deal on tickets to a show too.
The new, dazzling fountain at Lincoln Center puts on quite a show. It's rings of water spout high and low. Sit on the raised marble rim with your little one if you dare to get wet, then go dry off on the new sloping lawn near the reflecting pool.
5. Le Pain Quotidien at Mineral Springs (Central Park at 69th Street)
Finally a better (and healthier) food option for those long afternoons spent toddling around Central Park with your little ones. This cafe just opened and serves a selection of salads and sandwiches. (The curry chicken salad is a favorite.) There is a nice patio with lots of seating in the back, as well as some tables for eating inside. You can expect to sit beside other tables with toddlers here. The cafe sits on the north side of Sheep Meadow.
This is a huge B&N bookstore with a great children's section easily accessed by the elevator if you come with a stroller. But what I like best about this spot is the FREE music class put on by East Side West Side Music Together on the first Thursday of the month at 4pm. In order to enjoy it get there early and avoid bringing your stroller if possible because it does get very crowded. But they handle the mobs pretty well. The humongous event room has a stage and tons of space for toddlers to run around, dance and have a great time interacting with the show. This branch has lots of other children's programs too. Check the website for their event listings.
This popular cupcake joint is a hit with Upper West Side crowds, and for good reasons. Thankfully it's bigger and not as crowded as its downtown sibling and we've always been able to nab a seat to enjoy a treat. The spacious back room has its own street entrance that is perfect for stroller-toting customers.
This NYPL branch has a fun children's section upstairs with a unique layout for toddlers. Rather than shelved, you'll find the board books stacked and strewn on a raised platform with a few small steps that are perfect for climbing and sitting on. There are organized story times held in the library's event room, however we tried twice to attend and found the events too crowded to enjoy.
This gets our vote for Best Toddler Playground. It's a great place to let toddlers loose to explore on their own. All of the equipment is age appropriate for toddlers, and the whole enclosed area is small enough to keep an eye on them wherever they roam. The highlight is the train with various cars that tots can easily climb in and out of. My only complaint is the lack of shade. But the picnic tables (a rare treat at area playgrounds) are an added bonus, so pack a lunch!
The stretch of Riverside Park in the West 60's is enjoyable for both adults and toddlers to amble along. Enjoy the river and beautiful landscaping while your toddler has a mini-adventure on the many pathways, nooks and lawns. See and touch all kinds of grasses and plants, or climb up onto the arty benches and lounge chairs and watch the boats passing by.
Did we miss your favorite spot? These are just a few favorite places to go with toddlers on the West 60's blocks of the Upper West Side. If you have other suggestions, share them with us below in the comments. Next time our neighborhood tour will continue as we head north and toddle through the West 70's. If you want to see more about what's going on on the Upper West Side check our
neighborhood guide
.