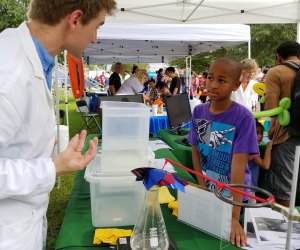 Things to Do in Houston This Weekend: Energy Day Festival, Freight Train Food Truck Festival, Oct. 19-20
With Halloween right around the corner, we've been busy compiling everything you could possibly need to have a fun, safe holiday. We've got you covered with the best places for trick or treating, Halloween movies that will offer chills and thrills alike, area trunk-or-treats, the spookiest haunted houses, pumpkin carving ideas, and more.
And that's not all! You can find even more Halloween-inspired fun on our event calendar and in our Halloween Fun Guide; they have all the resources you need and events happening throughout the city over the weeks leading up to our favorite candy-coated day. For monthly fun, head to our October GoList, which highlights the biggest and best events occurring around town throughout the month.
Hosting an event? We would love to share it with our readers! All you have to do is submit your event to our calendar for our review, and we'll handle the rest.
Want to stay in the loop with everything Mommy Poppins has to offer? Sign up for our weekly newsletter to have everything we published delivered straight to you.
But that's enough of that; it's time to see what this weekend has in store.