Exploring LEGOLAND Discovery Center San Antonio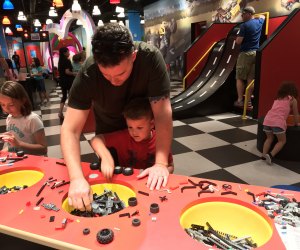 While there are a plethora of fun things to do with kids in San Antonio and the surrounding areas, on a recent trip from Houston, my husband and I took our 5-year-old to explore LEGOLAND Discovery Center. If you've been to a LEGOLAND Discovery center in another region, such as Westchester, Boston, or Philadelphia, you'll find much of the same type of interactive fun at the San Antonio location. We took a break from our adventures down the Riverwalk to find an entire world of LEGO magic tucked away inside of the Shops at Rivercenter, and I am incredibly glad we did.
Although it is completely unassuming from the outside (it is inside of a shopping mall, after all) inside of LEGOLAND Discovery Center we found the perfect mix of theme park thrills and children's museum-level enchantment. Once we took the captivating LEGO-themed elevator ride from the lobby to the Discovery Center, we immediately walked into Miniland San Antonio — an entire replica of the city of San Antonio built entirely from LEGO bricks. I literally could have ogled at the masterfully built displays for hours. Every few minutes, the entire room would go dark and the displays would light up to reveal a view of the miniature Riverwalk, Alamo, and various city landmarks at night. Our son got so excited to see everything all lit up and we marveled at the intricacies of the designs. To us, the crown jewel was a miniature version of the San Antonio Spurs' arena, complete with LEGO minifigures posing as fans. It was fun to try and spot different characters (your favorite Star Wars legends, familiar LEGO Movie characters and more) sitting in the stands cheering on the team.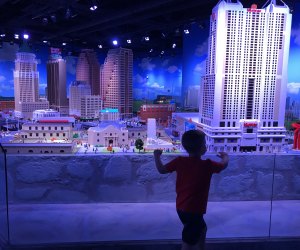 Checking out the lighted San Antonio Miniland.
The Kingdom Quest ride was up next on our adventure through the Discovery Center. Although no photos were allowed on the ride, we didn't mind much as well used the laser shooters attached to our cart to zap creepy trolls and skeletons on a quest to save the princess. It was thrilling to keep up with the different targets to shoot at, but the ride was nice and slow (although it did get dark at times) and my personal take is that it would be fun for kids ages 3 and up. Riders under 4'3" must ride with an adult, and all riders under 4'3" must be old enough to walk themselves on and off of the ride.
The next area that we entered is the main area for the entire center with an open floor plan featuring a variety of attractions that kids can easily hop back and forth between. Situated in one corner is the LEGO City Play Zone — a giant climbing area with tunnels and slides built to look like a police station and fire academy. Our son could have stayed on this jungle gym for over an hour if we had let him. There is plenty of seating nearby for adults to relax, but during our trip, there was a LEGO Masterbuilder putting together a massive display right next to the play area, so we mostly watched her and picked her brain about what it's like to work as a real Masterbuilder. She was happy to talk to us, and it kept us entertained while our son played. If you plan for your kids to spend time in the Play Zone, be advised that socks are required.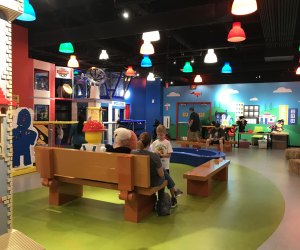 LEGO City Play Zone offers kids the opportunity to burn off some energy climbing and sliding.
Another highlight of this area was building and racing our own LEGO cars. Instructions for how to build a car are found throughout the building area, as well as bins with the required parts. It was relatively busy on the day we went, so finding the correct parts to build our cars was a bit of a challenge. We had to improvise a bit, but eventually built a couple of cars that we were able to race down the giant sloped racing hills and across the large drag strip-style race track.
The other building area features a LEGO Friends theme and all of the required parts to build model buildings. It is situated right next to the Duplo Farm and Duplo village, so if you have kids with a large age gap, this might be your favorite area to hang out. Older kids can spend time building LEGO Friends buildings while younger siblings (ages 2-5) can enjoy racing down a toddler-sized twisty slide, building with Duplo bricks, or playing with soft foam Duplo replicas in a safe environment designed just for little LEGO lovers. This entire area is also in clear view of the cafe, so if you want to grab a snack while your kids play, there are plenty of options to choose from and seating near the play areas where you can enjoy your food and drinks.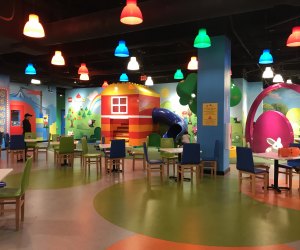 Little kids will love exploring the Duplo area while you grab a snack at the cafe.
In the 4D theater, three different LEGO-themed mini-movies rotate showtimes every 15 minutes. We thoroughly enjoyed seeing the one with LEGO Movie characters and experiencing the wind, snow, and light rain that the 4D experience offers. Our only regret is not seeing one movie earlier on in our time at the center and then returning to see the others in between exploring the other attractions. On our next visit, we'll be sure to rotate in this way so that we can see all of the movies.
Our favorite ride in LEGOLAND Discovery Center was Merlin's Apprentice. This carnival-type ride takes riders taller than 3' on a magical journey up, down, and around, flying through the air while pedaling an enchanted cart. The faster you pedal, the higher your cart goes. We rode it several times giggling and laughing the entire time, and there was never a line. We just hopped off, walked around to the entrance, and hopped right back on.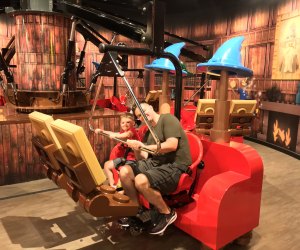 The Merlin's Apprentice ride is one you will want to enjoy over and over again.
When we were finally finished exploring all that the LEGOLAND Discovery Center had to offer, we exited through the LEGO storefront where options for buying new LEGO sets were conveniently displayed. In total, we spent a little over 2 hours on our trip, but I feel like we could have easily stretched it to 3 if we had truly let our son play as long as he wanted and had seen all of the mini-movies.
Before our trip, I had heard mixed reviews about whether or not the experience was worth the admission price, that some kids didn't want to spend as much time at the center as their parents had intended, and that it did not keep older kids entertained well. To us, it was a great way to dip our toe in the water before investing in a full out Lego-themed resort vacation to LEGOLAND Florida or California. I would agree that it is best enjoyed by kids ages 3-10, but as an adult, I loved it as well. It was truly worth every penny of the admission price, and something we are already looking forward to doing again.
What To Know Before You Go:
Tickets can be purchased in person at LEGOLAND Discovery Center or online through their website to receive a $3 per ticket discount. Kids 2 and under are FREE.
LEGOLAND Discovery Center only allows a certain number of admissions at any given time to keep the attractions from getting overcrowded. Online ticket purchasers must select an admission time.
The best place to park is in either the Crockett Street or Commerce Street garages. Bring your garage ticket to the admissions desk to receive 2 hours of discounted parking for $3.
Annual passes and group rates are available on the LEGOLAND Discover Center website.
All photos by the author