LEGOLAND Discovery Center Celebrates One Year with New Interactive Exhibit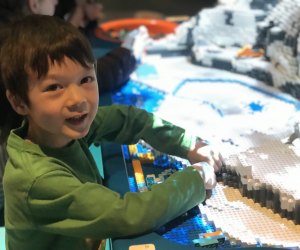 This month the LEGOLAND Discovery Center Philadelphia celebrated its first birthday with a new play experience, Arctic Base Camp! The new play experience submerges LEGO-lovers into an arctic world with new digital features and an impressive life-sized polar bear. We got a chance to check out the new exhibit and play in this awesome creative space.
The new LEGO play experience takes place in their rotating, or special exhibit, space. Although small in size, the space is big on ideas. This new feature introduces a never-before-seen interactive build table with arctic-themed builds, digital interaction sensors, and a seriously impressive mountain scene.
My son is almost five, but has lately become a major LEGO fan and loves tackling new build sets, so he was simply bursting when I told him we were going to LEGOLAND!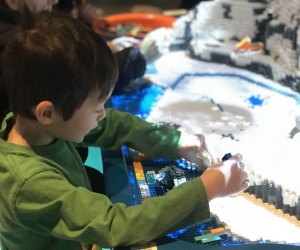 I was pretty impressed with the interactive table. You wave your hand over build elements and you can create interactive movements, such as avalanches, as well as sounds. The main attraction is the build table, and kids were definitely loving this icy mountain scene that is home to penguins, polar bears, seals, and motorized vehicles.
The build table also included interactive screens. These allowed the builders to construct one of three elements: a seal, a polar bear, or a snowmobile. We chose the polar bear and quickly discovered they had someone on hand to give us bags that contained all of the necessary pieces to keep us from hunting for the 50-odd pieces on the table. Following step-by step-guidance, we attempted to build the polar bear. However, patience and a slightly poor choice (building a white polar bear on a white table) proved this element to be slightly beyond our skill set.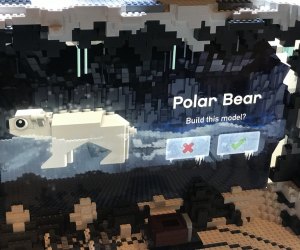 Another fun element of the play area is an opportunity to find "hidden gems" with a conveyor belt-like device that kids can load with LEGOs and search for favorite or desired pieces.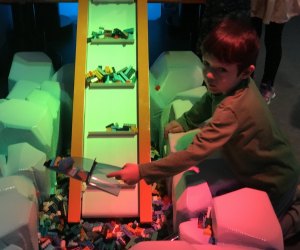 There is also a really amazing polar bear in the space that is great for photo ops!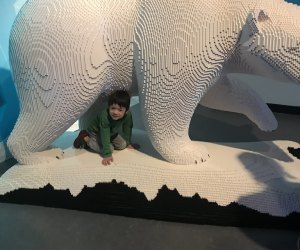 We stayed in the Arctic Base Camp for about an hour, focused on building, before making our way throughout the rest of the space. During your own visit, don't forget to check out the first anniversary cake, designed by local master builders and featuring elements that are specific to the Philadelphia LEGOLAND.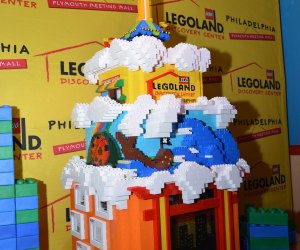 This new traveling exhibit is on display through 2018 and into early 2019. Although we were there on a Tuesday mid-morning, I cannot stress enough how important it is to buy your tickets in advance. The lines were deep when we got there, and while there was ample room inside, it is worth cutting out the headache of onsite ticket purchasing.