Swimming Camps for Houston Kids To Spend Summer in the Pool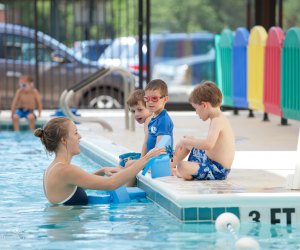 Photo courtesy of YMCA of Greater Houston
Year-Round Swim Options:
Saint Street Swim - Inner Loop
Classes are organized by age group and experience level at Saint Street Swim, making it easy to find lessons appropriate for your child. Parents are able to enroll children as young as 1, and starting at age 6 kids can begin swim team prep courses. There is a maximum of four students per class, and each instructor works to meet the needs of the individual child. When enrolling you can choose to attend either once or twice per week, and classes are offered year-round. Lessons are charged by the class.
Gigglin' Marlin Swim School - Inner Loop
Starting at 6 months old, children can begin swim lessons at Gigglin' Marlin Swim School with a parent or caregiver to get comfortable being in the water and begin learning the basics of swimming and water safety. From there, children progress through different levels that are determined by age and ability. Lessons are 30 minutes in length and are scheduled in month-long packages. There are also daily and monthly memberships available for anyone wanting to take advantage of the lap pool.
Goldfish Swim School - West Houston
Goldfish Swim School offers year-round classes for children ages 4 months to 12 years and caters to all experience levels. The goal is not just to teach children how to swim, but to teach them how to survive in the water. Parents can choose to enroll kids in swim lessons by age, Goldfish swim team (ages 5-12 years), and Jump-Start Clinics that introduce the fundamentals of water safety and get kids water-ready in a short amount of time.
Houston Scuba Academy Swim - Southwest Houston
Kids can begin taking private swim lessons that are 30, 45 or 60 minutes long at Houston Scuba Academy at age 3, with the option to switch to group lessons at age 4. Group lessons are scheduled in four-week increments and parents have the option of choosing one, two, three or four classes weekly. Both private and group lessons are available year-round. Additionally, Houston Scuba Academy also offers a Summer Swim Program for children ages 4 and up. These two-week sessions have eight classes that are 45 minutes in length and focus on getting your children comfortable in the water as quickly and safely as possible. All classes offered at Houston Scuba Academy are charged by the class.
YMCA - Multiple locations around Houston
In YMCA swim lessons, students set the pace. With a focus on mastery of skills, your child receives personalized attention from a certified instructor and learns new skills when they're ready. All of the Y's wide range of swimming options build confidence in the water, teach personal safety and improve swimming skills. Students learn water safety and build stroke technique, developing skills that prevent chronic disease, increase social-emotional and cognitive well-being, and foster a lifetime of physical activity. Options are available for all ages and abilities. YMCA of Greater Houston is offering free swimming classes May 6 and 7. Those interested can register at their local YMCA.
Houston Swim Club - Multiple locations around Houston
With a curriculum developed by University of Houston head coach and U.S. Olympic coach Phill Hansel, parents can trust that the methods employed by Houston Swim Club are both safe and effective. Other perks include small class sizes, 30-minute lessons and the option to enroll year-round. New students are required to enroll in a two-week session. After completing this course, you can then enroll in monthly lessons that meet once, twice or more times per week. Pricing is per class.
SafeSplash Swim School - Multiple locations around Houston
The lessons at SafeSplash consist of 11 different levels with each level building on the fundamentals learned in the previous level. Courses start with a "Parent-N-Me" introductory class and progress from there all the way up to a Level 8 Advanced Swimmer. Classes are 30 minutes long, once per week. Tuition is billed monthly. There are also Swim Camps and Swim Team Conditioning courses offered on a seasonal basis, as well as a Special Needs Program.
Aqua-Tots - Multiple locations around Houston
Parents can begin enrolling their children in Aqua-Tots swim lessons as early as 4 months of age, with classes focusing on really driving home the importance of swim safety. Levels of swim instruction start with "Parent & Tot" and proceed up to "Advanced," and each level focuses on mastering a new skill, such as comfort or independence in the water. Aqua-Tots also offers a recreational Swim Club, competitive Swim Team, and various Specialty Classes. Lessons are 30 minutes long and pricing varies by location.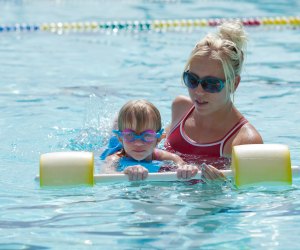 Photo courtesy of YMCA of Greater Houston
Summer Swim Camps & Specialty Water Camps
Quillian Recreation Center Swim Lessons - West Houston
Campers attending Summer Camp at Quillian Recreation Center have the option to enroll in Red Cross Swim Instruction taught by Greater Houston Pool Management for an additional flat fee. These lessons teach kids the basics of water skills and safety and the six different swim strokes. Each class focuses on improving students' current abilities and allows a natural progression that is dependent on each child's personal skill level.
Quillian Recreation Center Water Polo - West Houston
For children 8 years of age and older who have mastered swimming, Quillian Recreation Center offers the option to attend Water Polo summer camp. In this specialty camp, kids will learn the fundamentals of playing water polo and will scrimmage each other daily. This camp is not for beginner swimmers. Camps are charged in week-long sessions.
Houston Scuba Academy Try Scuba - Southwest Houston
Starting at age 8, aspiring divers can take the "Try Scuba" classes offered at Houston Scuba Academy. These classes focus on teaching the basic skills and safety guidelines for diving. Classes are two hours long and cover scuba equipment, under water breathing and key scuba diving skills.
Gigglin' Marlin Snorkeling Lessons - Inner Loop
Kids who are 3 and older can enroll in snorkeling lessons at Gigglin' Marlin Dive & Swim. Lessons are one hour long and cover how to put on and take off snorkeling equipment, getting in and out of the water safely, checking for buoyancy, surface swimming, clearing water from your snorkel and performing surface dives. Individual lessons are available, as are group lessons for two people.
Gigglin' Marlin Scuba Certifications - Inner Loop
Children as young as 8 can begin taking scuba diving lessons at Gigglin' Marlin. There are several scuba programs offered that are broken up by age groups and certifications received from previous courses taken. These lessons teach kids the ins and outs of scuba diving, get them comfortable diving and lay the foundation for a successful and safe foray into scuba diving.
Swimming Camps at Houston Sports Camps - Inner Loop
For the more serious swimmers out there, Houston Sports Camps is hosting two sessions of a Comprehensive Stroke Camp and Starts & Turns Camp over the summer. These day camps focus on honing in on and refining the competitive swimmer's skills. Comprehensive Stroke Camp lasts four days and Starts & Turns Camp is two days long. Both camps provide lunch and advance registration is required. These camps are open for kids ages 7-17.
Summer Camp at Wake Nation - Southeast Houston
Budding water sport enthusiasts can fine-tune their skills by attending Summer Camp at Wake Nation. In this four-day camp, campers will learn how to wakeboard, wakeskate, waterski, kneeboard, and climb the aerial ropes course. Summer Camp is open to everyone, whether you're just starting out or already comfortable on a board and in the water. Sessions run from June through August and are from 9 a.m.4 p.m. Monday through Thursday. Lunch is provided daily for the duration of camp.
Originally published April 10, 2017, updated since
Top image courtesy of YMCA of Greater Houston