Online Robotics Camp
Young Gates - Kids Online Personalized Classes

Artificial Intelligence with Scratch Online Camp
Young Gates - Kids Online Personalized Classes

Spark Math: Free Trial Class
Virtual
Sign up for our free newsletters.
Four Fantastic Face Painters for NYC Kids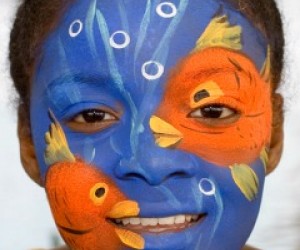 6/19/13
- By
Raven Snook
Being a diva must run in my DNA: My seven-year-old daughter and I simply cannot pass a face painter without asking to be done up. During the summer, this can become an expensive habit. We seem to run into face painters everywhere, especially at street fairs and festivals and in Central Park.

Sometimes we end up looking pretty fabulous! And sometimes, well, let's just say Bozo the Clown would probably laugh at us. After years of shelling out cash to a wide variety of face painters, I've come across a handful who are truly exceptional. They don't just turn kids into standard superheroes and princesses, they transform them into unique works of art.

Although these face painters aren't the types who set up shop on random city corners, all of them are available for birthday parties. You may also run into a few of them at NYC's top family events, like SummerStage Global Family Day in Central Park. So get ready to be wowed: Here are four phenomenal face painters for NYC kids and adults!
Agostino Arts
516-771-8086 or info@agostinoarts.com
I first came across Agostino Arts at the annual Blessing of the Animals at the Cathedral Church of St. John the Divine. Unlike most face painters, the artists of Agostino Arts don't take requests. Instead, they ask kids to pick their favorite color and then they create a unique nature or folk tale-inspired design on the spot. That's my daughter twice in the slide show, as a pink bird and then a blue one. The company's co-founder, Christopher, has even written a book about his particular approach to face painting. Agostino Arts is available for special events and birthday parties, and also offers an interactive StoryFaces show, when Christopher tells stories while creating the illustrations on audience members' faces. This video gives you a good idea of what the company is capable of. Agostino Arts also keeps a calendar of public events and often paints faces at NYC zoos.

Peanutbutter
215-235-5030 or offbeatartsy@gmail.com
Based in Philadelphia but able to travel to NYC, Peanutbutter face painting is unlike anything I've ever seen. I first saw them in action at the World Science Festival's Ultimate Science Street Fair a few years back. After chatting with my daughter, the artist (who was pretty decked out herself) cut out an abstract design on a piece of paper, put it on my child's forehead and then sprayed the paint on. This gave the design a neat jagged edge. Afterward, she carefully added jewels, beads and glitter to complete the look. The result was one-of-a-kind and very glamorous. The face painting pics in this slide show really speak for themselves.

Juliet Jeske
347-819-3194 or jsjeske@gmail.com
I originally hired the multitalented Juliet Jeske to entertain at my daughter's fifth birthday—she sings, does magic tricks, plays the ukelele and is a general hoot. But she also paints faces and it was definitely the highlight of the party! Juliet doesn't work off a design sheet but she does take requests, and will even work with kids to create an abstract design. (Or she can just turn them into a princess again.) She's also really good with "boy" face painting, i.e. skulls, dragons, snakes, Spider-Man, etc., an area that's challenging for some other artists.

Face Art by Melissa
917-330-1924
Melissa is probably the most traditional face painter of the bunch, but I mean that as a compliment. The fact is, most kids request the same sorts of things, like butterflies, flowers and skulls, all of which are well represented in her online gallery. I first saw Melissa's work at a corporate Halloween party, and I was impressed with how quickly and cleanly she worked. She even came up with a cool abstract design to suit my daughter's vague "make me look famous" request.

Find more awesome birthday party ideas in our Party Guide.