Free Outdoor Summer Music Festivals & Concerts in NYC: Best Bets for Families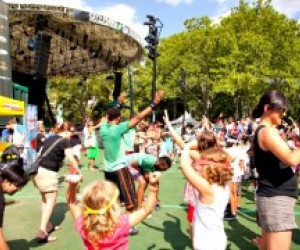 Although some New York City outdoor music and performance series are created specifically with children in mind, there are lots of grown-up ones that families can enjoy, too. At these wonderful alfresco events—most of which take place in parks and plazas—families can pack a picnic, stake out a spot, lay down a blanket and soak up some culture at no cost. Don't worry if the kids aren't totally into it; sit along the perimeter and let them run around, dance and play and they'll be happy.

While many series including SummerStage, Celebrate Brooklyn! and Lincoln Center Out of Doors host dedicated family days, it's worth browsing their full schedules. There's no minimum age to enjoy jazz, classical or rock, right?

We've rounded up NYC's best FREE outdoor music and performance series and highlighted the events we think will be of particular interest to families. You can find even more family fun in our jam-packed Summer Guide.
SummerStage – Citywide
Tuesday, June 3-Sunday, August 24
Most events are FREE, a few require paid tickets
This massive festival sponsored by the CityParks Foundation boasts more than 100 performances throughout NYC including lots of no-cost circus, music and theater performances just for kids in parks and playgrounds all summer long. The big family events are the FREE SummerStage Family Days held in every borough except Staten Island.
Celebrate Brooklyn! – Prospect Park Bandshell
Friday, June 4-Sunday, August 9
FREE but there is a $3 suggested donation (save for benefit concerts, which are ticketed and cost more)
One of the city's premier summer performance fests, Celebrate Brooklyn! always has an eclectic lineup of live acts and films, and this year is no exception. Since none of the performances have an age minimum, it's worth browsing the entire schedule in case you have an adventurous tween or teen. But keep in mind that most performances attract an adult crowd. Highlights for families are:
River to River Festival – Downtown Manhattan
Thursday, June 19-Sunday, June 29
FREE
Since this formerly month-long fest has been condensed to 11 days, there aren't as many events as in years past. However, it's still worth heading to downtown Manhattan to check out some of the 35 eclectic art experiences that comprise the 13th edition. Offerings of particular interest to families include:
You can also just walk around lower Manhattan: There are so many things going on as part of this fest, you very well may stumble upon something offbeat and cool.

Lincoln Center Out of Doors – Upper West Side
Sunday, July 20-Sunday, August 10
FREE
One of our favorite things to do at Lincoln Center with kids, this genre-spanning fest features more than 35 music, dance and interdisciplinary performances on the culture center's grounds. The main events for families are:
New York Philharmonic Concerts in the Parks – Citywide
Wednesday, July 9-Tuesday, July 15
FREE
The famed orchestra will play outdoor evening concerts in Brooklyn's Prospect Park (Wednesday, July 9), Queens' Cunningham Park (Thursday, July 10), Central Park (Friday, July 11 and Monday, July 14) and Van Cortlandt Park in the Bronx (Tuesday, July 15), plus an indoor matinee at the College of Staten Island (Sunday, July 13). Fireworks will follow the alfresco concerts in Manhattan, Brooklyn and the Bronx.
Metropolitan Opera Summer Recital Series – Citywide
Monday, June 23-Thursday, July 10
FREE
More classical music in all five boroughs, including two Manhattan concerts. A word of warning for families: These performances attract many serious listeners. Happily, they tend to sit right up front, which means if you head toward the perimeter, you'll most likely avoid condescending stares.

Harlem Meer Performance Festival – Harlem
Sundays, June 15-August 31 at 2pm
FREE
This intimate concert series takes place beside the picturesque Harlem Meer in Central Park. The lineup includes local emerging and established Latin, jazz, world and Mambo artists. The gorgeous Conservatory Garden, catch-and-release fishing and the recently renovated East 110th Street Playground are nearby so it makes for a great afternoon outing.

River & Blues – Battery Park City
Thursdays, July 10-Thursday August 7 at 7pm
FREE
Enjoy blues concerts by a diverse lineup of artists like The Wiyos and Heritage Blues Quintet in Wagner Park.

Hot Summer Nights at Kingsborough – Manhattan Beach
Saturdays, July 5-26 at 8pm
FREE
Enjoy live music at the oceanfront campus of Kingsborough Community College. The lineup includes patriotic pops, swing and jazz concerts. The gates to the grounds open at 7pm so bring a blanket and picnic while the sun sets.

R&B Festival at MetroTech Commons – Downtown Brooklyn
Thursdays, June 5-August 7 at noon
FREE
The Brooklyn Academy of Music's lunchtime concert series takes place on a grassy, tree-lined strip of downtown Brooklyn. The music sure is fabulous: Singer Darlene Love and Grammy-winning band Snarky Puppy are just two of the rhythm and blues greats you can see here!

Madison Square Music – Flatiron
Wednesdays, June 18-August 6 at 6 or 7pm depending on night
FREE
Catch jazz, bluegrass, folk, R&B, soul and pop performances at this lovely green space, which also hosts a fabulous kids' concert series on Tuesday and Thursday mornings throughout the summer.

Broadway in Bryant Park – Midtown West
Thursdays, July 10-August 14 at 12:30pm
FREE
Who needs TDF? On Thursdays at lunchtime, catch performances by the casts of big Broadway shows right in Bryant Park at no cost. The lineup won't be released until June, but in years past The Lion King, Wicked and other kid-friendly hits performed. Also check out Bryant Park's After Work concert series Wednesdays June 18-August 27 at 6pm to catch local jazz, classical and world music artists.

Stars of Tomorrow – West Village
Thursdays, June 5, 19, 26, July 17 and 31 at 6:30pm
FREE
Hudson River Park's Pier 45 hosts performances by the talented students from the New School for Jazz and Contemporary Music, and Mannes College the New School for Music.

Sunset on the Hudson – West Village
Fridays, June 6-August 22 at 7pm (save for July 4)
FREE
Cap off the week at one of our favorite picnic spots with free nighttime concerts on Pier 45. Dine alfresco as you catch live performances by local jazz and blues bands.

RiverRocks – Midtown West
Thursdays, July 10, 24 and August 7 at 6pm
FREE
Pier 84, the largest of Hudson River Park's public piers, hosts a trio of rock concerts this summer. The spot also has a Blues BBQ on Saturday, August 23 at 2pm featuring yummy eats and live blues music.

Naumburg Orchestral Concerts – Upper East Side
Tuesdays, June 24, July 15 and 22, August 5 and 12 at 7:30pm
An oldie but a goodie, this classical music series has been going on in Central Park since 1905! Unlike most of the other concert series in this post, you can actually sit on chairs at these shows, assuming you arrive early enough to snag one.

Martin Luther King Jr. Concerts – Prospect Lefferts Gardens
We're still waiting for 2014 dates for this series, however, we do know that its sister series, Seaside Summer Concerts in Coney Island, isn't happening this summer.

And if you're wondering about the concert series hosted by the Today Show at Rockefeller Center and Good Morning America at Rumsey Playfield in Central Park, here's the deal: Yes, your family can catch big names like Demi Lovato, Robin Thicke, Ariana Grande, John Legend, Jennifer Hudson and Pharrell, but seeing these concerts is a serious commitment. Be prepared to arrive around dawn (in the case of hot stars, long before the sun comes up) in order to snag a halfway decent spot. Some of the shows require tickets and if you sign up for Today's Concert Series newsletter you can enter a lottery to win a Fan Pass, which guarantees you a good spot. Good luck!

Be sure to check the New York Parks Department's calendar for even more FREE concert listings.

Find out about other seasonal fun in our Summer Fun Guide.