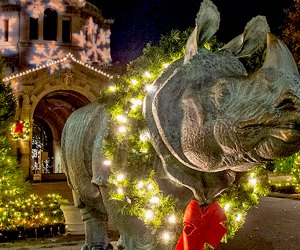 20 Things to Do Thanksgiving Weekend in NYC With Kids
The Thanksgiving holiday break is nearly here, and while Thursday is likely filled with giant helium balloons and hearty portions of Thanksgiving dinner, you've got three more days to entertain the kids after everyone's stuffed.
Whether you're entertaining out-of-towners or enjoying a family staycation, we've got you covered. From only-in-NYC experiences to fun holiday happenings and a slew of kid-friendly shows, we've rounded up 20 fun ways to spend some quality time with your family over the long weekend.
OUR LATEST VIDEOS
2. Dive Into a Slimy Good Time
Roll up your sleeves for a visit to the Sloomoo Institute in Soho for an over-the-top sensory experience.
RELATED: Guide to Thanksgiving in NYC For Families

Wollman Rink has re-opened just in time for the holiday season. Photo by Jody Mercier
3. Go Ice Skating
The holiday season heralds the opening of ice skating rinks around the city including a revamped Wollman Rink. It's also the perfect excuse for a mug of hot cocoa.
4. Go to CAMP
Check out the PAW Patrol Experience at the Hudson Yards branch of CAMP. There's more fun to be had at CAMP's other locations in Manhattan and Brooklyn.
5. See a New Exhibit at an Old Standby
The American Museum of Natural History's Color of Nature exhibit is a must-see—and closes Sunday, December 5—and you can check out the return of the Butterfly Conservatory and origami tree while you're there.
6. Visit the Statue of Liberty
Whether or not you've got family in town, Lady Liberty is still a worthy outing. While the crowds are focused on Midtown's shopping hot spots, head way downtown and hop a ferry to visit Lady Liberty. The lines will be shorter, the crowds lighter, and the views just as stunning. Make sure to visit the Statue of Liberty Museum and save time for Ellis Island, too.
RELATED: Awesome Things To Do in New York City in November 2021 With Kids

Play with Legos and much more at New Jersey's mega mall, American Dream. Photo by Diana Kim
7. Check out the Mega Mall
There's plenty to see and do at American Dream. Check out the Nickelodeon Universe Theme Park or indoor ice rink, the Dreamworks Water Park, the Legoland Discovery Center, and Sea Life Aquarium, plus plenty of high-end shopping.
8. Visit Hudson Yards
There are so many things to do in Hudson Yards, it's a perfect way to spend an afternoon during Thanksgiving weekend. Marvel at the views from thrilling heights at Edge, take on a terrifying open-air climb from even higher, or just peruse the shops and marvel at its beautiful holiday lights.
9. Book a Tour
Whether you go by boat or double-decker bus, you just might learn something new on a tour of your hometown.
RELATED: 12 Must-Do Holiday Activities and Christmas Events in NYC for Kids in 2021

We can't wait to see what this year's holiday window displays have in store. Photo by Jody Mercier
10. See Midtown's Holiday Windows
Our annual holiday windows walk is one of our favorite holiday traditions. The best part: It doesn't cost a thing. Start at 59th Street and work your way down to Macy's, where you can visit Santa and get your requests in early.
11. Scale the Skyline
Take the glass-enclosed elevators to the top of Summit One Vanderbilt and snap an only-in-NY holiday photo.
12. Support a Small Business
Skip the big-box stores and direct some of your holiday spending to your favorite local business. Park Slope marks Small Business Saturday with a holiday tree lighting and plenty of neighborhood cheer. Other options: Check out the booths at the holiday pop-up shops in Union Square, at Bank of America Winter Village at Bryant Park, Central Park, and more—many are owned by local artisans.
RELATED: Polar Express and Christmas Trains Near NYC in 2021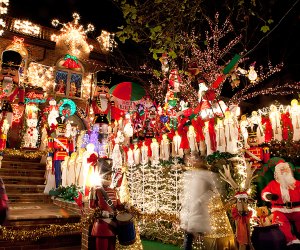 Dyker Heights is a destination for the over-the-top decorated houses and Christmas cheer. Photo by Marley White
13. See the Dyker Lights
There's nothing quite like the spectacle that takes over the neighborhood of Dyker Heights, Brooklyn, each holiday season. Block after block is decorated with over-the-top twinkling lights. It's a must-see marvel for city families.
14. See the Trains
The beloved train show at the New York Botanical Garden welcomes visitors again, while the New-York Historical Society's antique display is chugging throughout the holiday season, too.
RELATED: Best Ice Skating Rinks in NYC for Kids and Families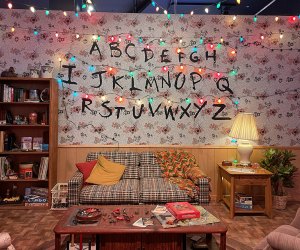 The Stranger Things pop-up store offers plenty of photo-ops and cool-themed merchandise. Photo by the Diana Kim
15. Shop at a Pop-Up Store
If you've got a Stranger Things fan in your life, create some unique gift bags with one-of-a-kind merchandise and memorabilia from the newly opened Stranger Things pop-up in Times Square.
16. Run Away to the Circus
For a unique, immersive circus experience, step right into the Empire Circus, an open-air performance allowing audience members to choose their circus adventure. Or revisit a revamped classic in the Big Apple Circus, which contains plenty of star power with Nik Wallenda.
RELATED: Guide to Holiday and Christmas Events in NYC

Winnie the Pooh—in puppet form—stars in a new musical stage show. Photo courtesy of the production
17. Enter the Hundred Acre Wood
Winnie the Pooh takes to the stage in stunning puppet form. This live adaptation of the beloved kids' classic is the perfect way to introduce theater to your kids.
18. See a Seasonal Show
It's the opening weekend for The Nutcracker at Lincoln Center, plus a handful of other more kid-friendly iterations, the Rockettes are kicking at the Radio City Christmas Spectacular, and A Sherlock Carol begins its off-Broadway run.
19. Celebrate Hanukkah
The Festival of Lights kicks off on Sunday, November 28, and we've found menorah lightings, concerts, and more family-friendly celebrations to mark the Jewish holiday.
20. Get Out of Town
If you're hoping for a quiet moment before the craziness of Christmas sets in, consider one of these picture-perfect seasonal day trips, ranging from Santa trains to Christmas lights and more low-key destinations.
This post, originally published in November 2018, has been updated for 2019.