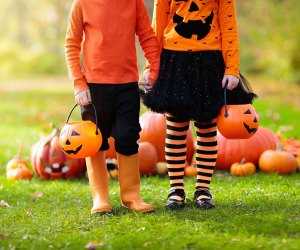 'Halloween Is On,' New Jersey Governor Declares
"Halloween is on," declared Governor Phil Murphy at Monday's COVID-19 press conference. The New Jersey governor made the declaration as the state department of health released its full Halloween 2020 safety guidelines for Jersey families, schools, and organizations.
The state is not banning trick-or-treating, but rather asking the public to modify the format to reduce contact with those not in your household. It's also encouraging proper mask wearing and outdoor Halloween activities instead of indoor events.
Late last month, the CDC ruled trick-or-treating, and most Halloween activities, as high-risk unless strict social distancing can be observed.
The New Jersey Department of Health's full Halloween guidelines discourage trick-or-treating with anyone outside your immediate family and encourage social distancing between groups while collecting candy. Communal treat bowls are discouraged as is "placing treats directly into the bags of trick-or-treaters," Murphy said. Instead, treats should be arranged so kids can "safely and quickly access [them] without multiple pieces being touched." Non-food goodies are also encouraged.
When it comes to costumes, both the guidelines and the governor encourage everyone to wear a mask that covers the face and nose. "A costume mask does not count if it does not provide the necessary level of protection," Murphy said.
Holiday revelers are also reminded that outdoor activities are safer than indoor ones. "We are also strongly encouraging all Halloween activities to be outdoors as we know the biggest threat to viral spread remains indoors," Murphy said. All events are subject to New Jersey's coronavirus-era crowd limits, too. These include limiting indoor gatherings to 25 people or 25 percent of a room's capacity and a maximum of 500 people for an outdoor gathering. Masks must be worn indoors and whenever social distancing cannot be practiced outside.
New Jersey also issued guidance on traditional seasonal fun, including hayrides, corn mazes, and haunted houses. Masks should always be worn when participating in these events. Vendors are encouraged to stagger entry times to limit crowd sizes. Shared equipment on hayrides should be sanitized between use. Corn mazes should move in a one-way direction, and haunted houses without live actors, held outdoors, are preferred over indoor events.
The Department of Health guidelines suggests at-home movie nights, drive-thru attractions, pumpkin carving, decorating homes and yards, and virtual costume parties as the safest ways to celebrate the holiday.
New Jersey, which was hammered by the virus in the spring, has seen more than 14,000 confirmed deaths due to COVID-19 but has since flattened the curve with infections and hospitalizations falling to some of the lowest rates in the country. The transmission rate was 1.27% while the daily positivity rate was 2.62%, the governor reported Monday.